The Superpole race saw Toprak Razgatlioglu (Pata Yamaha) claim his 2nd win of the weekend, followed by Jonathan Rea (Kawasaki KRT), and Andrea Locatelli (Pata Yamaha).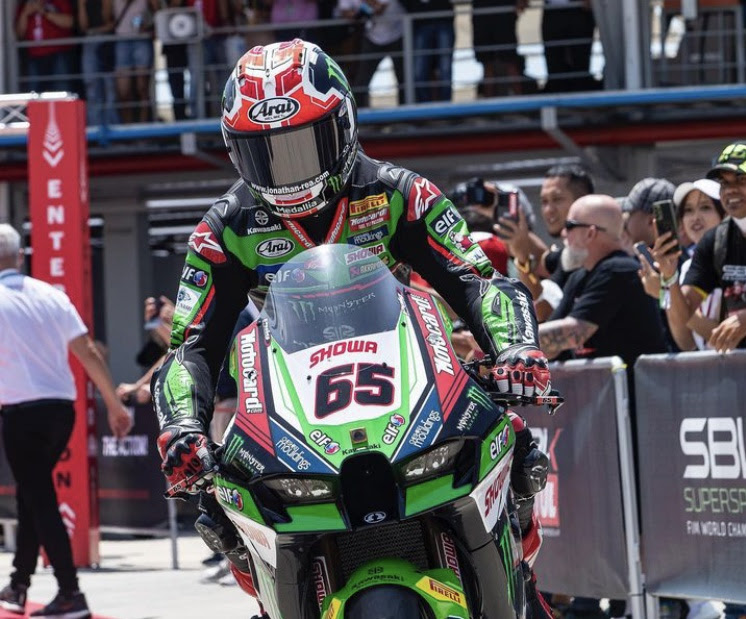 Bautista (Aruba.it Ducati) would need a podium finish to claim his first championship, and Ducati's first championship for 11 years. Could Toprak stand in his way?
Lights out and it was Toprak with the hole shot into turn 1, followed by Rea, who quickly sensed an opportunity and made a quick pass to take over the lead, followed by Locatelli and Bautista. Redding (BMW Motorrad) was in 5th.
Next lap and positions were as follows: 1. Rea 2. Toprak 3. Locatelli 4. Bautista 5. Bassani (Motocorsa Ducati) 6. Redding 7. Lowes (Kawasaki KRT) 8. Vierge (Honda HRC) 9. Gerloff (GRT Yamaha) 10. Vd Mark (BMW Motorrad).
With 19 laps to go the lead group of 4 were already pulling away from the rest. It was Locatelli with the fastest lap a 1:33.2. Meanwhile further back it was 11. Baz (Bonovo Action BMW) 12. Rinaldi (Aruba.it Ducati) 15. Nozane (GRT Yamaha).
With 17 of 21 laps to go, it was Bassani with the fastest lap a 1:32.9. Bautista then came through on Locatelli to take 3rd. Bassani had now caught up with the lead group, now made up of 5 riders. The Italian was looking aggressive and barged through on his fellow countryman Locatelli, to take 4th.
Next lap and Toprak made his move on Rea into the hairpin corner at turn 10 taking the lead. Redding meanwhile dropped down to 10th, allowing both Gerloff and Rinaldi through.
Next lap and Rea ran wide, allowing a grateful Bautista to come through into 2nd. Toprak held a gap of 0.4s at the front.
With 14 laps to go Bassani came through on Rea, the Ducati's acceleration proving too much for the ZX 10-RR, which couldn't match it in the high track temperatures, which were nearing 70 degrees Celsius.
Coming up to half race distance, and Rea fought back taking Bassani with a neat pass up the inside into turn 12 to move back into 3rd. Meanwhile a miserable season for Nozane (GRT Yamaha) got worse with him crashing out into turn 11, and his race was over. At the front Bautista was right on Toprak and looking for the win to cap his impressive season off.
With 9 laps to go, Redding came through on Lowes to take 7th. Meanwhile Gerloff lost places and dropped down to 10th. Then as we've seen a number of times this season, Bautista used the power and speed of the "red missile" to blast past Toprak, and fire himself into the lead into turn 1. Toprak however, was up for the fight and snapped straight back a few corners later to retake the lead, and again Alvaro would again take the lead. This was a becoming a good scrap.
With 6 laps to go Bautista was still out in front. Meanwhile Toprak held a gap of 0.5s to Rea behind in 3rd. As was also the case for much of the season, these three were away, and clear from the rest of the field. Rea in 3rd held a gap of 2.5s to Bassani 4th, Locatelli 5th held a gap of 4.2s to Vierge in 6th.
Next lap and Toprak wasn't going to let the win go without a fight, and he passed Bautista once again to take the lead.
With 4 laps to go Toprak continued his late race charge, and set a new fastest lap of 1:32.846 in the process, increasing the gap to Bautista behind to 0.6s. Meanwhile Bassani and Locatelli were battling it out for 4th.
Next lap and Toprak continued to widen the gap, now at 1.1s. Bautista looked content to take 2nd. Meanwhile Gerloff had fought back to 8th behind Vierge in 7th.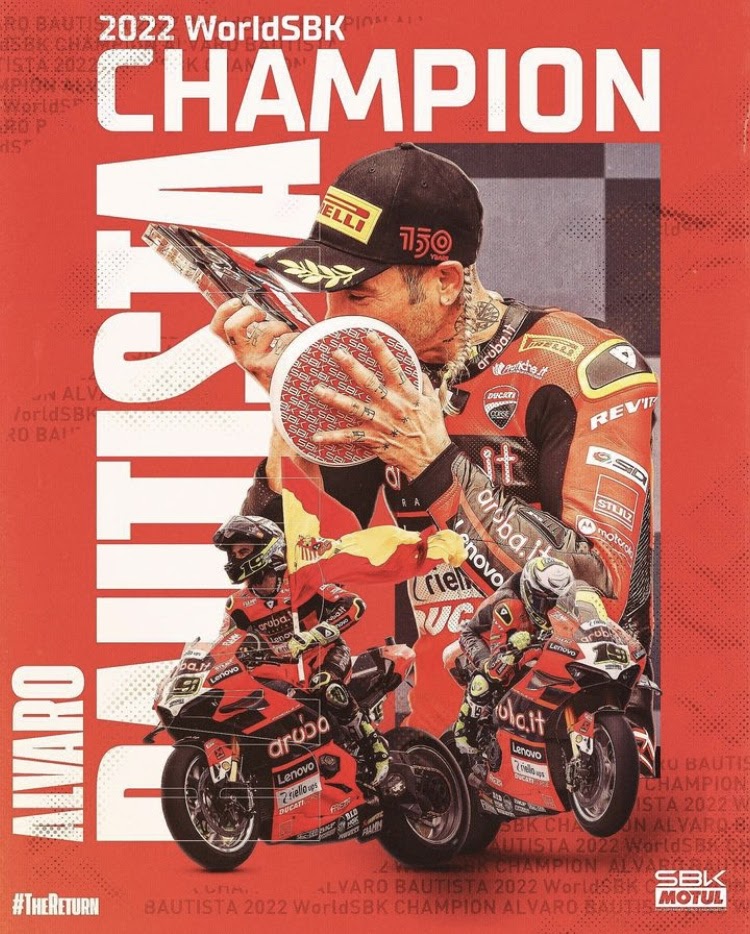 Last lap and Toprak crossed the line to take his 3rd win of the weekend, but it was Alvaro Bautista who claimed the championship coming over in 2nd, Rea in 3rd, Locatelli 4th, Bassani 5th, Redding 6th, Vierge 7th, Gerloff 8th, Lowes 9th, Rinaldi 10th.
Result top 5:
Razgatlioglu (Pata Yamaha)
Bautista (Aruba.it Ducati)
Rea (Kawasaki KRT)
Locatelli (Pata Yamaha)
Bassani (Motocorsa Ducati)
Championship top 3:
Bautista – 553 pts
Razgatlioglu – 487
Rea – 450