Shakedown took place on Thursday morning, with Ott showing great pace, and the two top championship protagonists in third and fourth.
SHAKEDOWN STANDINGS
Tänak / Jarveoja (Toyota Yaris WRC) 2:52.9
Latvala / Anttila (Toyota Yaris WRC) 2:53.1
Ogier / Ingrassia (Ford Fiesta WRC) 2:53.5
Neuville / Gilsoul (Hyundai i20 WRC) 2:53.6
Sordo / Del Barrio (Hyundai i20 WRC) 2:53.8
Breen / Martin (Citroën C3 WRC) 2:54.3
Evans / Barritt (Ford Fiesta WRC) 2:54.3
Lappi / Ferm (Toyota Yaris WRC) 2:54.7
Ostberg / Eriksen (Citroën C3 WRC) 2:55.4
Suninen / Markkula (Ford Fiesta WRC) 2:55.9
Mikkelsen / Jaeger (Hyundai i20 WRC) 2:57.3
Later in the same day, we had the first stage of the day and with Ott taking and early lead from Kalle Rovanpera who is driving a Skoda Fabia WRC2 in this event! Real giant killing driving! In fact, there were a number of WRC2 drivers inside the top ten.
Onto Friday's action and with six stages, who would emerge in front? The start list looked like this – Neuville, Ogier, Tänak, Lappi, Sordo, Mikkelsen, Latvala, Evans, Ostberg, Breen, Suninen.
Seb won SS2 from Thierry and Ott third and with it took the lead by just eight tenths of a second from the Estonian. The road was becoming quite gravel strewn by the time Craig came to it, with him finding he needed to be cautious, and getting his braking points right, so made it through with no moments.
Onto SS3 and there was a change in the lead, with Ott five seconds faster than Seb in the stage. Everyone who finished the stage before Craig had a clean run, but three or four km's into the stage the heavens had opened and it was really wet! His Citroen teammate, Mads had a spin in a hairpin as well, so not a great stage for their team.
It was a Toyota 1-2 in SS4 with Ott faster than Esapekka, and Thierry taking third, closing the gap to Ogier a little. Further back, Latvala passed Elfyn, moving into sixth.
It was time for service, and the opportunity to change some aspects in the car set up.
Into the afternoon stages, and Ott won SS5 by just three tenths of a second from Seb. There was a big change though, with Elfyn jumping from seventh to fourth overall with a great stage time. Mads sadly had a car problem, losing engine power. Craig was also on the move in his Citroen, passing Andreas in their battle for eighth overall.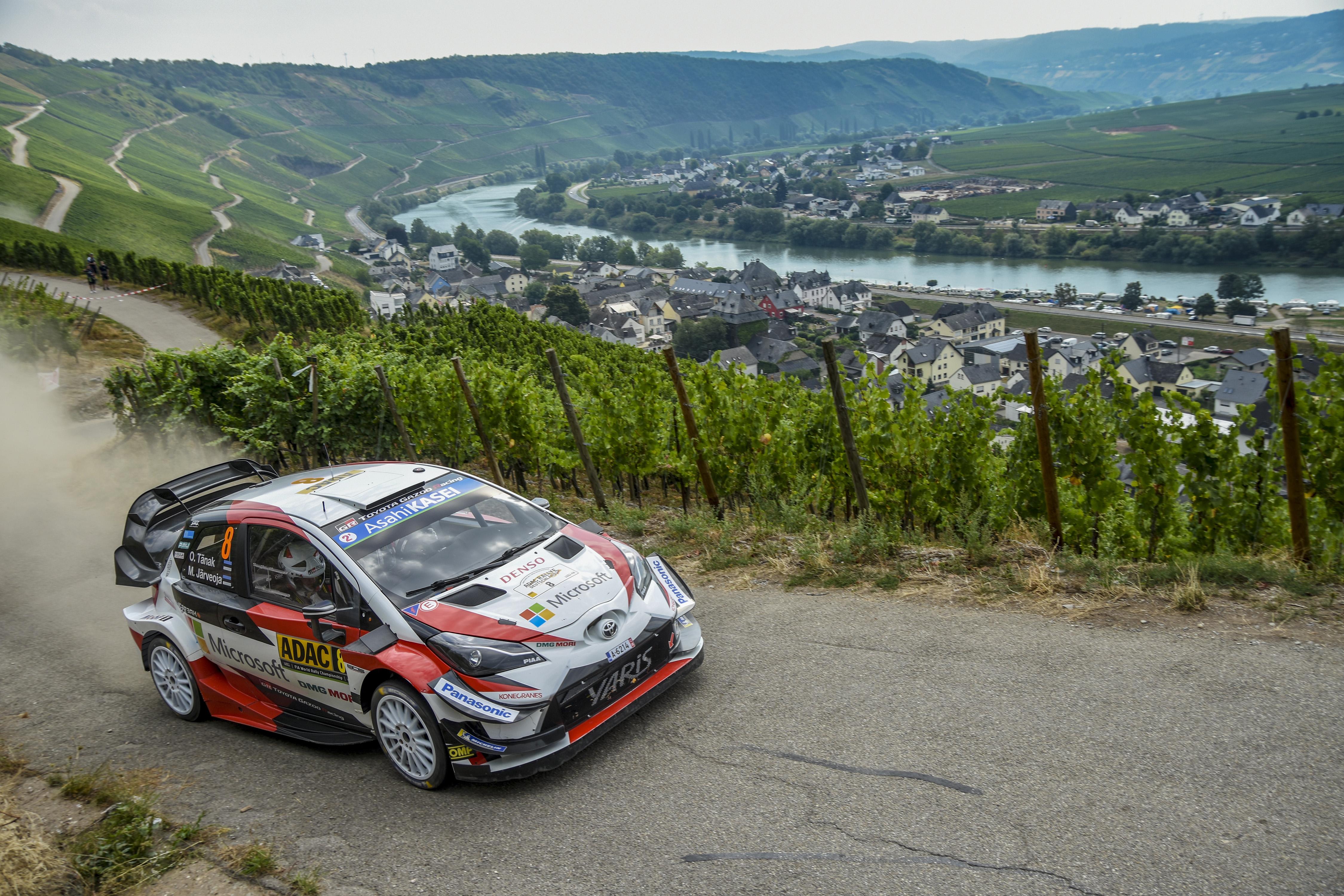 Well, SS6 had dried out since the run in the morning and Ott won again, increasing his lead a little bit over Seb. Mads lost some more time with his engine problem dropping out of the top ten. There was another change in the top ten, with Dani getting past Esapekka Lappi into sixth.
The final stage of the day and SS7 was won by Ott again, whilst Lappi and Sordo were ahead of Seb. Ott's lead over Seb was now 12.3, with Thierry in third overall. Craig was optimistic that Saturday would be better too.
Here's the top ten then after Friday's stages.
STANDINGS AFTER DAY 1
Tänak / Järveoja (Toyota Yaris WRC) 59:22.6
Ogier / Ingrassia (Ford Fiesta WRC) + 12.3
Neuville / Gilsoul (Hyundai i20 WRC) +27.4
Evans / Barritt (Ford Fiesta WRC) + 37.8
Latvala / Anttila (Toyota Yaris WRC) + 38.8
Sordo / Del Barrio (Hyundai i20 WRC) + 42.7
Lappi / Ferm (Toyota Yaris WRC) + 42.8
Breen / Martin (Citroën C3 WRC) + 58.0
Mikkelsen / Jaeger (Hyundai i20 WRC) + 59.0
Suninen / Markkula (Ford Fiesta WRC) + 1:21.4
Ostberg / Eriksen (Citroën C3 WRC) +1:28.1
Here's the thoughts of the drivers then – Top three first
Ott Tänak
"I think we have had close to a perfect day today. The driving was clean and the car was working really well. Everything was new for me, driving this car on these very specific stages, but I could adapt quickly, the rhythm was there from the first stage and I was able to push hard all day. This afternoon it was more difficult because it rained during lunchtime and every corner had a different level of grip, but we had a clean run with no mistakes. Tomorrow is a different day with more demanding stages on Baumholder, but the mindset is still the same. There is a long way to go and we just need to keep focused and keep concentrated."
Sébastien Ogier
"I'm pretty happy with my day. I was pushing hard all the time and the car feels good. The chassis is working really well this weekend and I had a lot of fun driving.
"Hats off to Ott [Tänak] for a really strong day – but of course it is frustrating to see him just that little bit faster than us on almost every stage; making the gap 12 seconds at the end of the day.
"We need to keep trying tomorrow and with Baumholder having a different characteristic you never know what's going to happen.
"The main target is to stay ahead of Thierry [Neuville], but the second target is to win the rally – so I'm only halfway there! Tomorrow will be a long day and we have to keep trying."
Thierry Neuville
"I think we have done all we could today with no real mistakes. We had one minor problem this morning, which we were able to resolve and we can reflect on a safe start to this rally. In the morning loop we took the safer option with two spare tyres, and lost some time because of the extra weight. It was also quite dusty. It's been difficult to match the times of Ott and Seb, but we are in the podium fight, which is good. I am not in the mood to take big risks being in the lead of the championship."
M-Sport Ford WRT
Elfyn Evans (4th)
"It's been an okay day and I think we can be pretty happy with the way things have gone. It was a bit of a shame to lose so much time this morning, but that's just the way it goes sometimes and we have to keep trying. It's extremely close in the mid-pack, but we'll give it a good push for the podium positions tomorrow."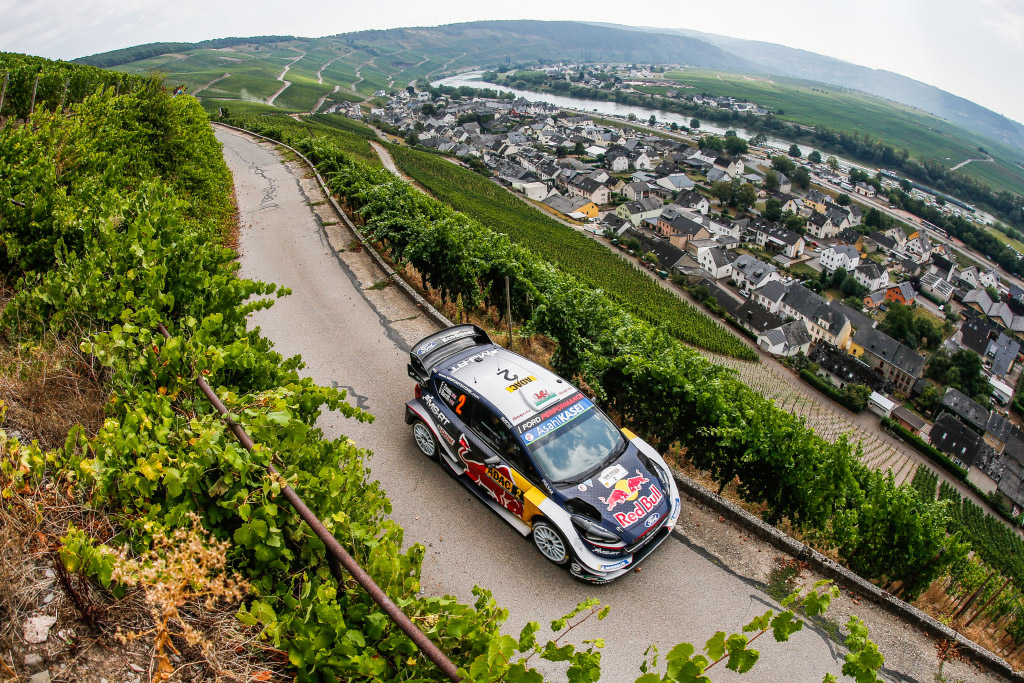 Teemu Suninen (10th)
"The feeling has been getting better and better and I have been really happy with the car. This is my first time with this car on Tarmac, but already the level is quite good. There is still a lot to learn and the main thing is the braking and turning with these cars, but I'm enjoying and looking forward to another challenge tomorrow."
Toyota Gazoo WRT
Jari-Matti Latvala (5th)
"This morning I lacked a little bit of confidence in the conditions: with my road position there was more dirt coming on the road than I was used to here before. In service we made some changes with the front differential and the afternoon was definitely better for me. I was very happy with what we did on the second run over Mittelmosel in particular. It's going to be a good fight tomorrow. For me, tomorrow's stages are the best ones on this rally. It's wider and you can use racing lines more, and that's what I like. Also, the roads will be cleaner than today and that should suit me better."
Esapekka Lappi (7th)
"I was quite pleased with the morning loop. The conditions were quite nice and the car worked really well. The afternoon was then quite tough. The vineyard roads got really dirty in some corners and I struggled a lot in these places. The car feels fine, it's just a lack of confidence on my side because I don't want to make a mistake and I am backing off too much. Still, tomorrow is a long day and we have a good road position, and we are only five seconds away from fourth place."
Hyundai Motorsport
Dani Sordo (6th)
"It has been a difficult start to the rally for us. I wasn't particularly happy on the morning loop and struggled to find grip. We have continued to push as hard as possible but the times at the front are very quick and we haven't been able to match them. We have suffered with understeer and just haven't been able to get into the required rhythm. The stages tomorrow will give us a different tarmac challenge, so we will continue to do what we can. The fight for fourth place is very close!"
Andreas Mikkelsen (9th)
"We have spent the day working hard on adapting my driving style as well as making some adjustments to the car. It was clear during the morning loop that I had to be more aggressive on the steering. We looked closely at the situation at service, and my engineer did a great job to help us make improvements. The afternoon was definitely a step in the right direction. Changing my style of driving after ten years is not the work of a moment but I hope we can continue in this way for the remainder of the weekend."
Citroen Abu Dhabi Racing WRT
Craig Breen (8th)
"It really does seem that I can't get a break on a Friday. Things didn't go the way I had hoped, but there's still a long way to go. The weather is forecast to be dry and sunny tomorrow and I'll have a decent road position, so hopefully I can show what we're capable of."
Mads Østberg (11th)
"I'm still learning about the car, and getting used to racing on tarmac again as well. Given the conditions, the morning went fairly well for us in terms of our pace. The afternoon was harder with the engine issue, but I really hope that tomorrow's leg will work out better for us."
Day Two – Saturday
Into Saturday then and with eight stages run, a much longer day to deal with. The start list reflected the top ten – Serderidis, Ostberg, Suninen, Mikkelsen, Breen, Lappi, Sordo, Latvala, Evans, Neuville, Ogier, Tänak. Certainly, Craig was looking to a better day, with his best road position since Sweden.
The first one, SS8 saw Latvala go fastest with Dani and Craig just a tiny gap behind. Jari-Matti's pace took him past Elfyn. Craig's pace took him closer to Lappi, with the Citroen driver so much faster than the Finn.
The next one, SS9 saw a fastest time from Dani Sordo and with that, he jumped into fourth passing Elfyn who now fell to sixth. Ott Tanak's lead was now 13 seconds over Seb. Mads, who was looking to get back into changed part of the setup, but it introduced understeer when on the power, making the car hard to drive. Craig was fourth as well, getting a little closer to Lappi.
It was Lappi though who hit back in SS10, winning the stage from Jari-Matti with Ogier third. This moved him ahead of Elfyn. Mads and Teemu continued their battle for the final points position, with just a little over a second between them, but in Teemu's favour.
Disaster would befall Elfyn in SS11, after he went off. Craig Breen won the stage, from Lappi with Mads and Ott sharing the third fastest time. Dani could only manage the eighth fastest time whilst Thierry was ninth, meaning they'd both been passed by Jari-Matti who was now in third place overall.
A service break followed, with Thierry looking to make some changes to his car, so that he would feel a lot more confident with it. Ott said that he wasn't that happy with his car
Into SS12 then, and Dani won the stage, moving ahead of his teammate, Thierry, who was now in fifth place. The gap closed a little between Ott and Seb, but not really anything to get too excited about with the gap still at over 13 seconds between them.
Massive change happened in SS13. Another stage victory for Dani – he was really in the groove – moved him ahead of Jari-Matti, and with Ogier getting a puncture 8.4km into the stage, he only managed 21st fastest, losing 1 minute 43 seconds and dropping to ninth overall. Mads didn't understand why he was slow, after reporting that his car felt great in the stage. Dani was now in second overall.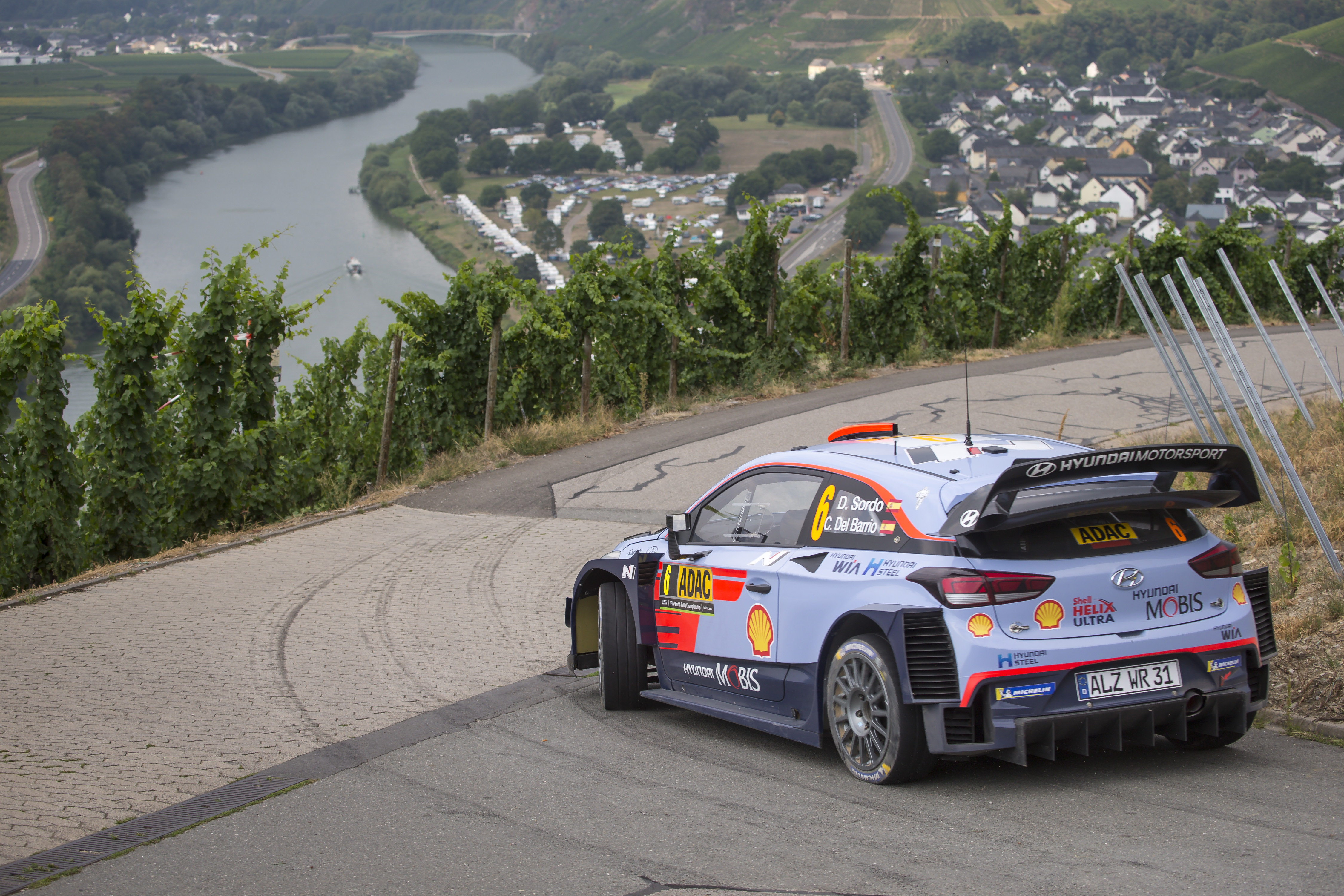 Just two stages remained and the first, SS14 was won by Seb, fighting back after his problem in stage 13. Lappi and Latvala were second and third after setting the same time. Top three overall was Ott, Dani and Jari-Matti. Ogier's pace was good enough to put him up one place into seventh, Teemu dropping behind. Andreas will be Seb's next target, with just 3.5 seconds between them.
Okay, the final stage of the day, SS15. Drama for Craig, who went off the road, damaging the rear left tyre. He lost so much time and dropped to tenth place, behind Mads. Winner of the stage was Jari-Matti, four tenths faster than Esapekka whilst Ogier set the third fastest time and this meant the gap to Andreas had come down to just half a second. But what a day that Ott had?! His lead over second placed Dani stood at 43.7 seconds and now Jari-Matti was just eight tenths of a second behind the Spaniard.
STANDINGS AFTER DAY 2
Tänak / Järveoja (Toyota Yaris WRC) 2:23:2711
Sordo / Del Barrio (Hyundai i20 WRC) + 43.7
Latvala / Anttila (Toyota Yaris WRC) + 44.5
Neuville / Gilsoul (Hyundai i20 WRC) +52.5
Lappi / Ferm (Toyota Yaris WRC) + 58.8
Mikkelsen / Jaeger (Hyundai i20 WRC) + 1:50.7
Ogier / Ingrassia (Ford Fiesta WRC) + 1:51.2
Suninen / Markkula (Ford Fiesta WRC) + 1:57.0
Ostberg / Eriksen (Citroën C3 WRC) +2:20.4
Breen / Martin (Citroën C3 WRC) + 2:34.4
Thought's then of the drivers – Top three first
Ott Tanak
"Obviously it has been another good day. This morning it wasn't easy, because I had to get used to driving on different types of road in this car for the first time, and I needed to push hard because it was a really close fight. In the afternoon my feeling was much better and I was enjoying it a lot. The changes we made during lunchtime service were a good step in the right direction and the car is really comfortable to drive. Now we have a big gap behind us and there are some nice stages tomorrow, so the most important thing will be just to enjoy it."
Dani Sordo
"All in all, it has been a competitive day for us and it's encouraging to be involved in such an exciting fight for the podium in the team's home rally. We have taken three stage wins and have pushed really hard throughout the day, I felt really comfortable and competitive in the Panzerplatte stages, getting absolutely everything out of the car. We struggled a bit in some other stages, especially in the morning, but we couldn't do more. Jari-Matti closed the gap a lot on the final stage, after I lost quite a lot of time, so we will be focused on defending our position from him on Sunday morning."
Jari-Matti Latvala
"It has been a really enjoyable day. It started well this morning and then I was delighted with how the afternoon went. I couldn't match Dani Sordo's pace in the military area, but then on the Saarland stages on the farm roads I tried to push harder. He was better in one area and I was better in the other and now we are really closer to each other. To be fighting like this is a really nice feeling and I am looking forward to continuing the battle tomorrow."
Hyundai Motorsport
Thierry Neuville (4th)
"We have to accept that we haven't really been on the pace today. We have struggled with the handling of the car, and have had to be careful not to push too much because we know how easy it is to make a critical mistake. There's a lot to think about so we have to remain calm and just do what we can. I didn't do some of these stages last year, so we have been using Dani as a reference and have to be satisfied, even if we're not completely happy."
Andreas Mikkelsen (6th)
"It has been another challenging day, that's for sure, but we have fought hard and continued to find out little things which we can use to improve. All the stages have their own characteristics so we have had to continue trying and evaluating different driving styles. We have been working closely with the team and I've tried to be more aggressive with the handbrake. We want to be fighting for better results than we are currently. The time sheets don't make for good reading but we are taking steps and that is the most important thing right now."
Toyota Gazoo Racing WRT
Esapekka Lappi (5th)
"Overall, today has been quite average for me. In the Baumholder area I struggled a bit. This morning I had too soft a setup for those stages, and although I think I managed to improve that for this afternoon, I still lost a lot of time there for some reason and that is frustrating. On the other hand, on the other stages among the fields everything felt nice and the times were good, even when there was dirt on the road on the second pass. The gap to fourth place is still quite small so let's see how it goes tomorrow."
M-Sport Ford WRT
Sébastien Ogier (7th)
"We had some bad luck today. We know that this stage has a lot of stones everywhere and that it's always a bit of a lottery whether you will pick up a puncture. Unfortunately, this time, we didn't win that lottery.
"It was a slow puncture after seven kilometres and we had to stop and change it. After that I took some crazy risks as I had nothing to lose. I was pushing super hard to finish the day, but there isn't so much we can do now – only some points in the Power Stage.
"We made a good effort this weekend and were doing a good job. It's frustrating not to get the reward for that, but we will come back stronger."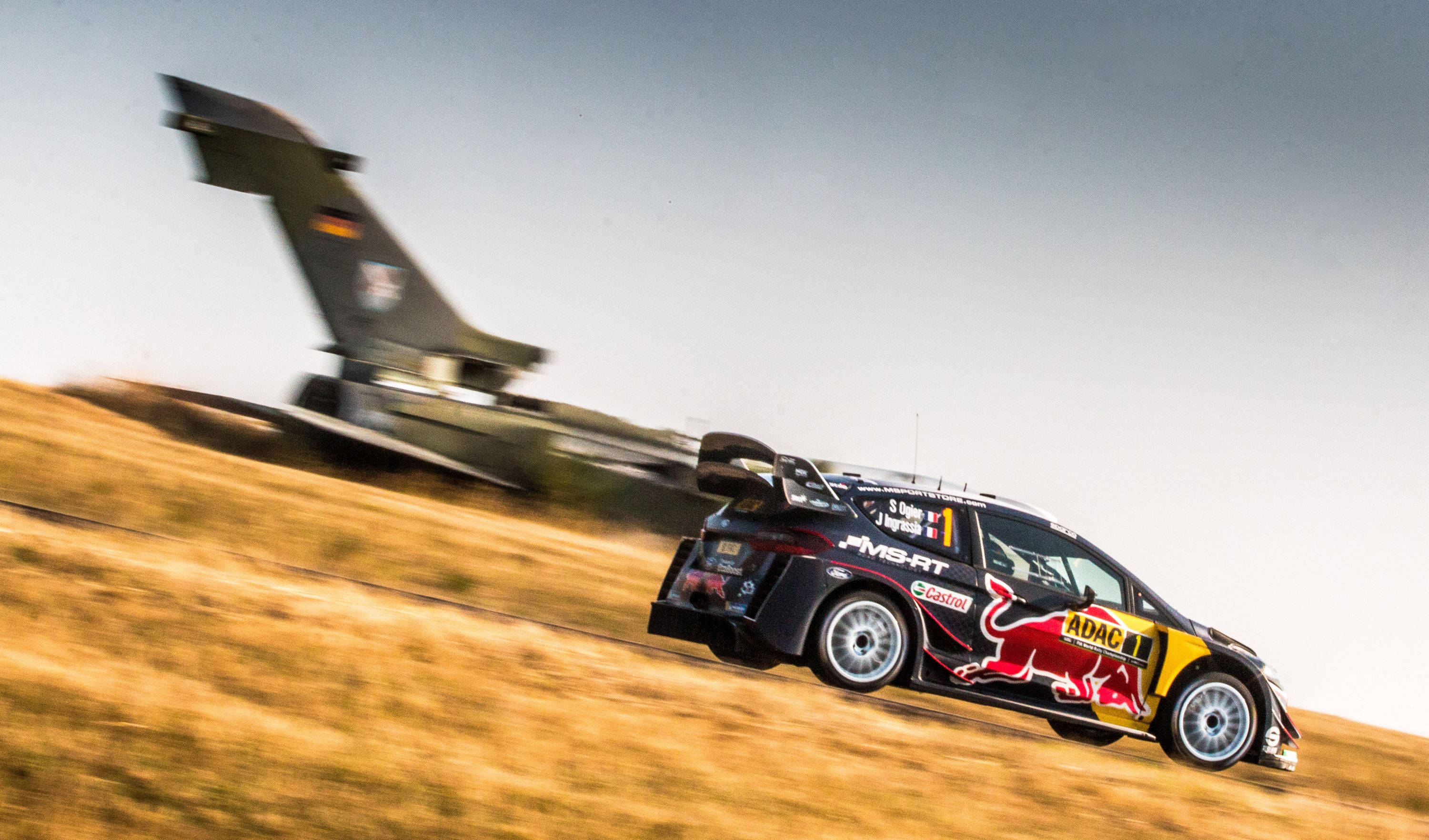 Teemu Suninen (8th)
"It's been a good day and the driving is starting to be on a good level now. I was able to be much closer to the fastest guys which was really good, and I know where we can be faster. That is a big positive as I already know how to make the fastest times."
Elfyn Evans (Rally 2)
"It didn't go fantastically well for us today. We spun at the start of the third stage in the loop [SS10], and then on the fourth one [SS11] we hit some gravel and understeered off into a field. Unfortunately for us, there was a big concrete block on the line we took and that broke the suspension which meant we could go no further."
Citroen Abu Dhabi Racing WRT
Mads Østberg (9th)
"There were highs and lows today, with some difficulties in finding the right rhythm in the military base. The main thing for me was that I managed to set a few good times, particularly the third-place finish this morning. I can't wait to get back out there tomorrow to keep learning about this car on this surface, especially as the Power Stage, for example, is being contested on similar roads to the sections where I have been the most comfortable so far."
Craig Breen (10th)
"It had been a positive day for us, setting quite a few good times, until this final stage. Unfortunately, on a fast, difficult right-hander, there was a bump on the inside of the corner that sent me slightly off the line and I ran wide into a field. Obviously, I'm very disappointed for the team, but I'm going to try and find some confidence again tomorrow and the same sort of pace we had today."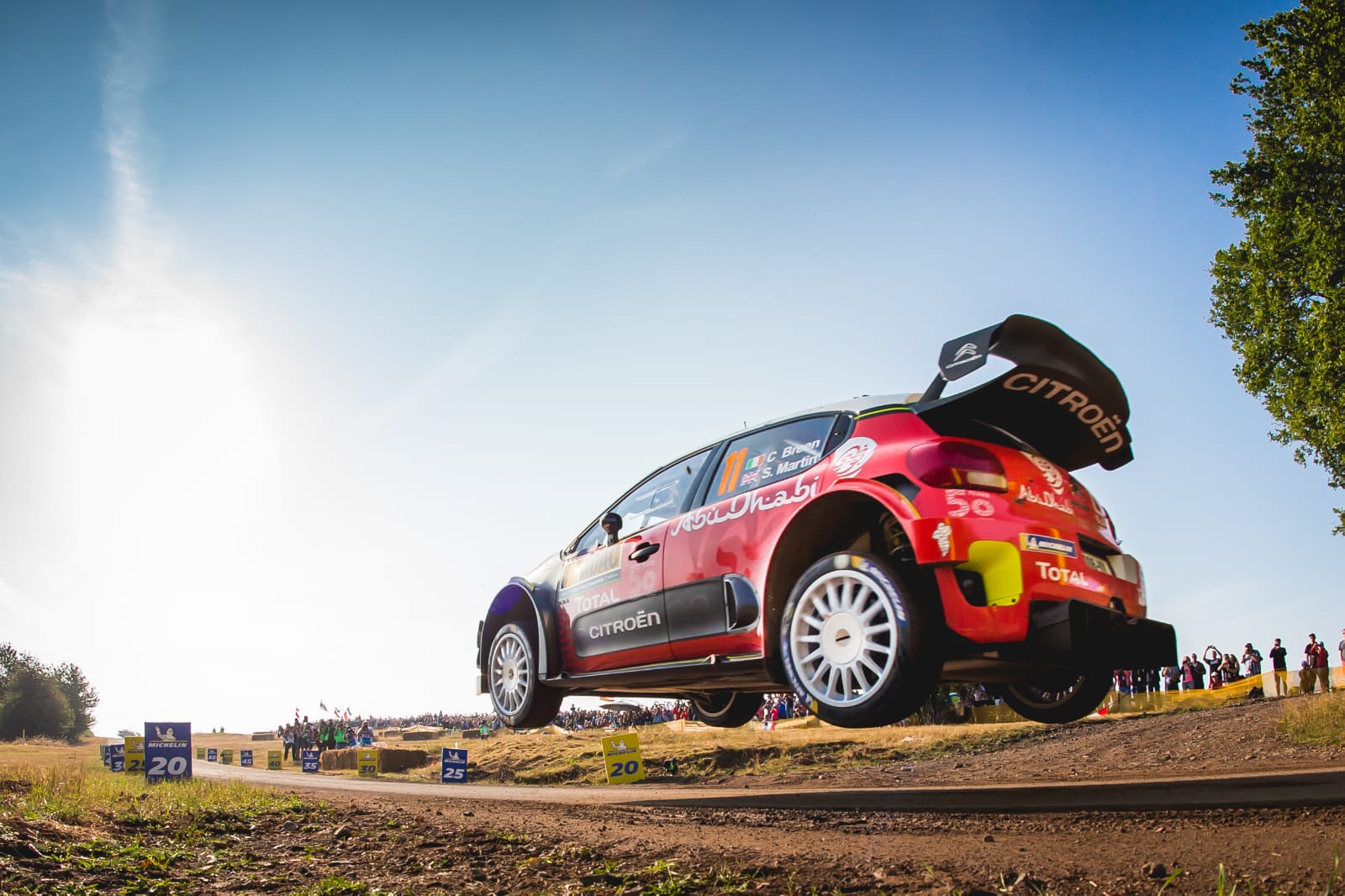 Sunday
The final day then and three stages remained. Interestingly, the power stage would only be run once. The start list looked like this – Serderidis, Breen, Ostberg, Suninen, Ogier, Mikkelsen, Lappi, Neuville, Latvala, Sordo, Tänak, Evans. We had just a little under 45km's to run.
There would be drama from the get go in SS16! First up, Jari-Matti had the bonnet up on his car before the start of the stage…. What was happening? Meantime, Dani had lost time, and there were reports of a damaged right-front corner and a smashed windscreen. Trouble for both of those in second and third… Jari-Matti appeared to have a problem with changing gear, as he was using his manual gear change. It all came to naught, just a kilometre from stage end, Jari-Matti pulled over and it looked like transmission failure for the Finn. With Dani, he reported that he'd lost the car in a right-hand corner and hit the vineyards. Mads also went off in the stage, so it was all over for him. All of this had the result of bringing Thierry, who won the stage, and Esapekka into second and third!
Before the re-run of the same stage, both crews were attempting to start the next stage. Sadly, despite their best efforts, they didn't manage to do it. Still, SS17 saw Seb win from Thierry and Craig who was now up to seventh overall.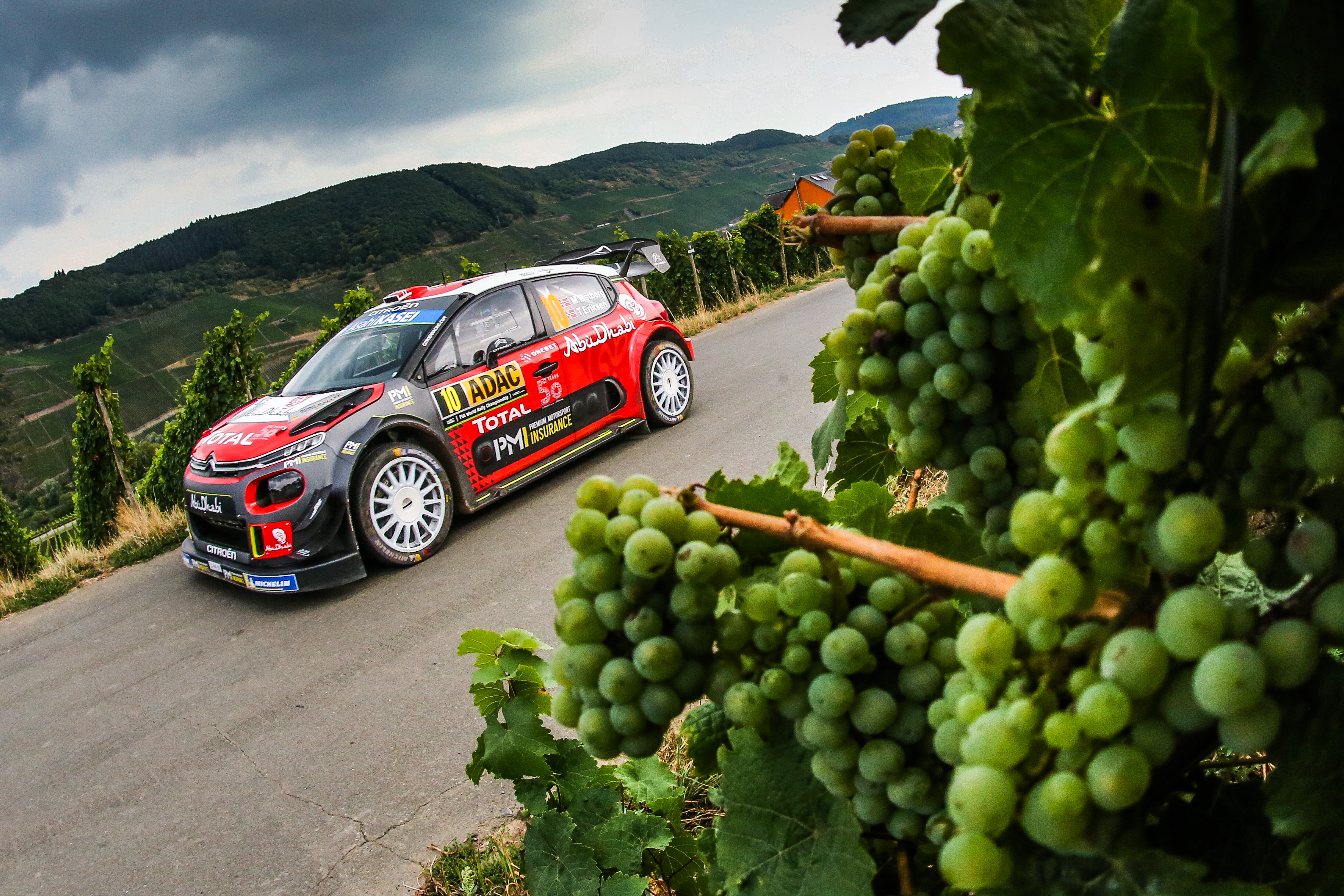 The final stage then – SS18. Top five was Seb, Ott, Esapekka, Craig and Thierry! Ott was so close to taking the stage, just one tenth slower than Seb! The Estonian was bringing himself back into the title fight though. What a drive, and it meant that he now matched Markko Martin for WRC victories, both of them on five apiece. A very impressive drive from Esapekka Lappi, plus a mechanical failure for his teammate Jari-Matti, brought him to a good podium, but he still has more to learn, as Dani, Craig and Elfyn could all have finished ahead of him.
FINAL CLASSIFICATION
Tänak / Järveoja (Toyota Yaris WRC) 3:03:36.9
Neuville / Gilsoul (Hyundai i20 WRC) + 39.2
Lappi / Ferm (Toyota Yaris WRC) + 1:00.9
Ogier / Ingrassia (Ford Fiesta WRC) + 1:34.5
Suninen / Markkula (Ford Fiesta WRC) + 2:02.9
Mikkelsen / Jaeger (Hyundai i20 WRC) + 2:13.8
Breen / Martin (Citroën C3 WRC) + 2:39.1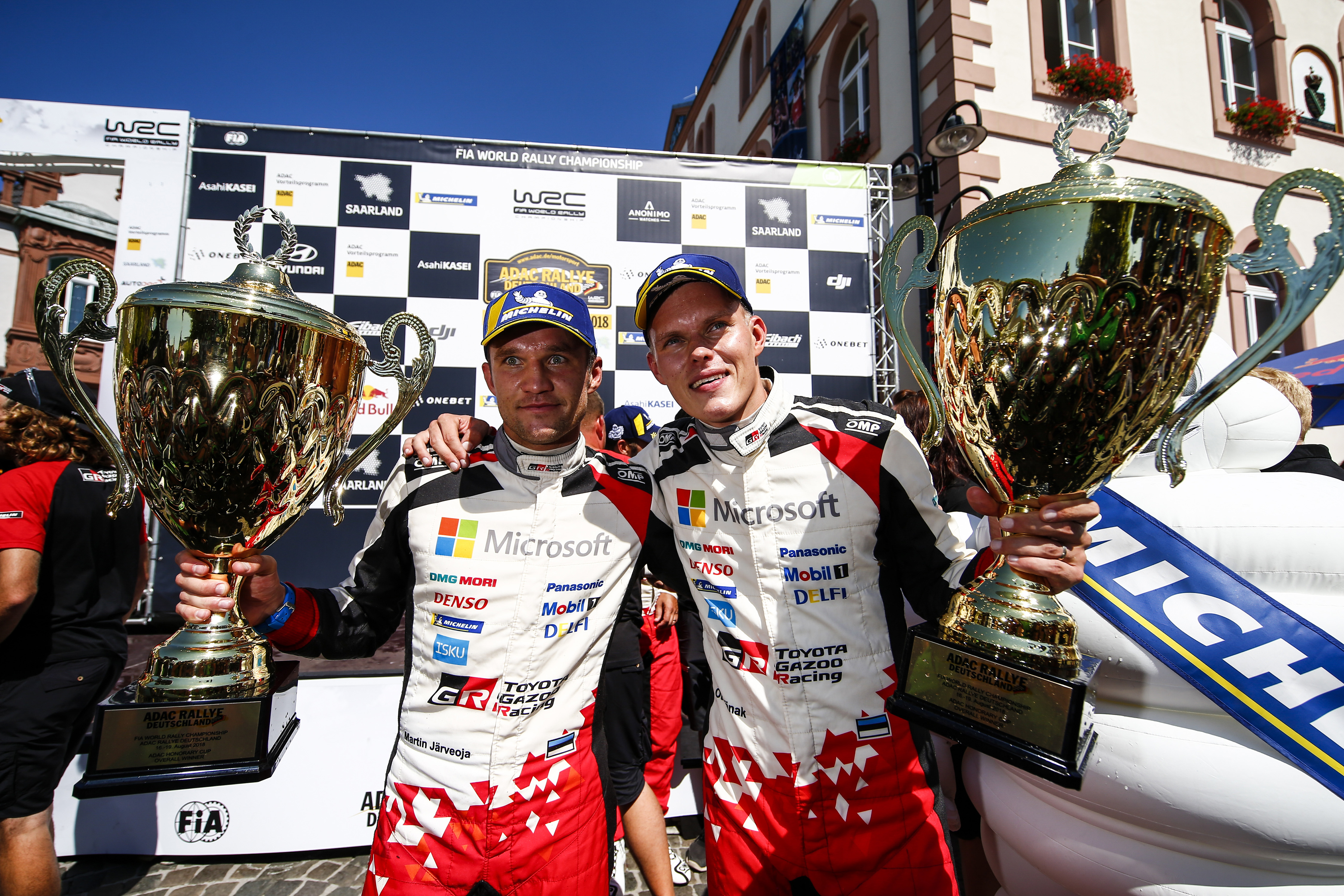 Drivers points after Rallye Deutschland
Thierry Neuville – 172 points
Sébastien Ogier – 149 points
Ott Tänak – 136 points
Esapekka Lappi – 88 points
Andreas Mikkelsen – 65 points
Dani Sordo – 60 points
Jari-Matti Latvala – 55 points
Elfyn Evans – 52 points
Mads Ostberg – 48 points
Craig Breen – 47 points
Manufacturers standings
Hyundai WRT – 254 points
Toyota Gazoo Racing – 241 points
M-Sport Ford WRT – 224 points
Citroën Total Abu Dhabi WRT – 159 points
Here then are the thoughts of the drivers – Top three first
Ott Tanak
"This was definitely the hardest victory I have ever had. For the majority of the weekend it was a really close fight and I had to push so hard. On Friday in the vineyards I felt very comfortable with the car. On Saturday morning I did not feel so confident, but the team really improved the car in service. Today I just needed to keep it clean. I am really happy for the whole team: we were really strong this weekend. We are moving in the right direction in the championship but I am still taking it event-by-event: Now my focus is on Turkey and trying to be as well prepared as possible."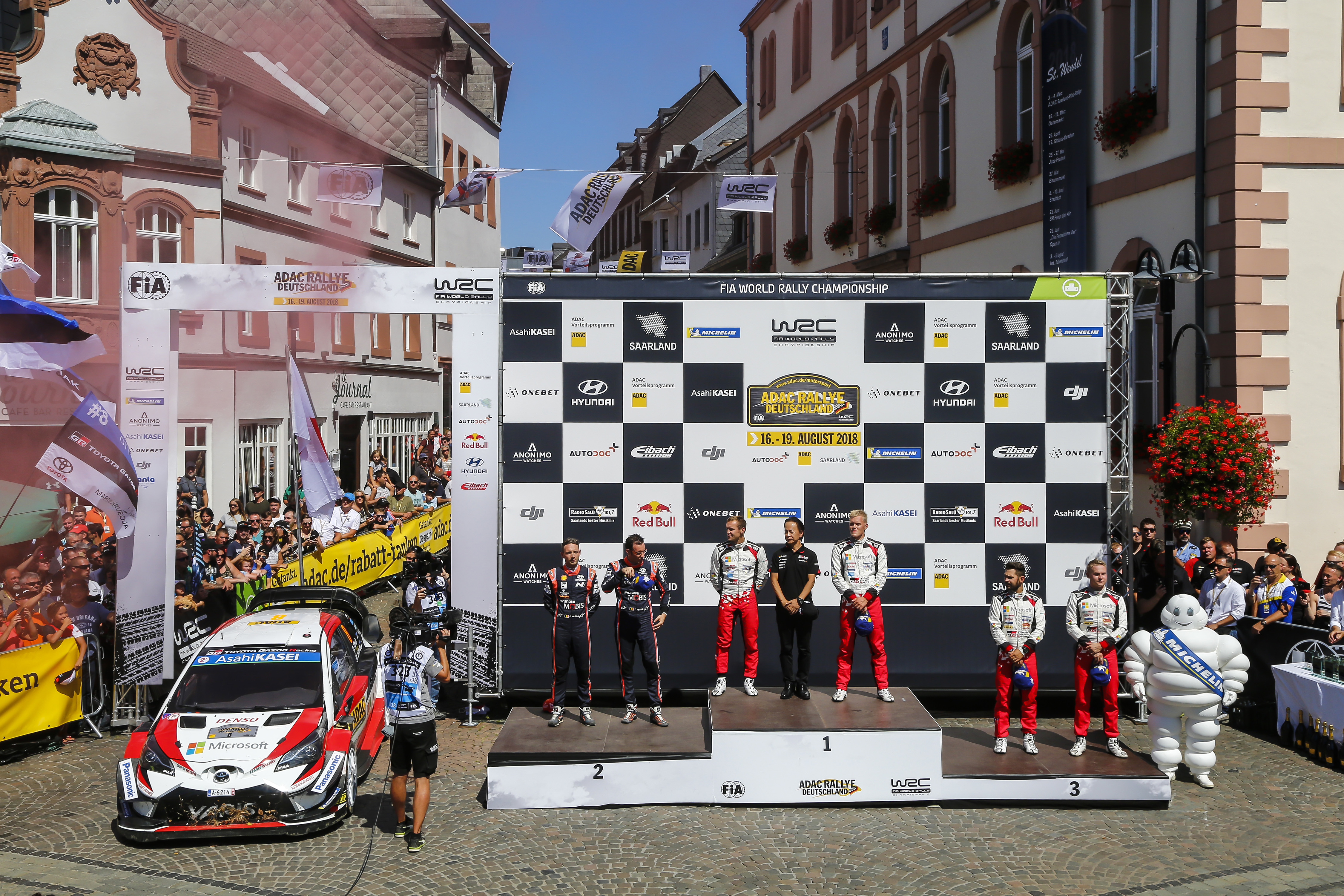 Thierry Neuville
"It has been a challenging weekend so to come away with second is a job well done. I have been able to increase my lead in the drivers' championship slightly, which was the objective. I was hoping to take a few more points in the Power Stage but unfortunately, I made a mistake and had to reverse, so I took it steady after that. We have struggled with confidence and pace, even if we have been consistent over the weekend. Not an easy weekend but we've done what we needed. The championship battle is going to be closely fought right to the end of the season!"
Esapekka Lappi
"It has been a difficult weekend but it was also a clean one with no issues and that has brought us this podium. There was a lot of drama for the others yesterday and this morning as well. That is rallying and we have been in that position before. I think we made some good progress during the weekend. I think I still need some more mileage to understand what the limits are when these roads are dirty. There is not much room for mistakes and I really didn't want to make one this time."
M-Sport Ford WRT
Sébastien Ogier (4th)
"We deserved more this weekend so I can't say that I am happy with the result, but that's rallying and we just need to accept it. We saved the day by winning the Power Stage and now we just need to focus on the next one."
Teemu Suninen (5th)
"It was a really great weekend of us and I was improving the driving a lot and finding a good set-up with the car. From the beginning of the rally until the end we made a lot of progress and I was able to set some really good times. Of course, I couldn't drive all of the stages like this, but I know what it takes – I just need the experience."
Elfyn Evans (25th)
"We had a positive first day and, considering our road position, I think we did a pretty good job. But unfortunately, Saturday just didn't go our way at all. We lost a bit of time on the opening stage [SS8], had a spin in the third one [SS10] and then a trip into the field in the fourth [SS11] which ended in retirement. It certainly wasn't the result we came here for, so now we just have to look forward to the next one."
Hyundai Motorsport
Andreas Mikkelsen (6th)
"This weekend has been one of experimentation with the car, trying to adapt the settings and my driving style to match the demands of these tarmac stages. We have found some things that have given us a positive feeling but there have also been things that worked less well. To get a top-six finish is not too bad considering. We didn't take any risks at all in the Power Stage because these points are too important for the manufacturers' championship. When you don't feel completely comfortable, it's easy to make a mistake when you push. We have a lot of homework to take away from this weekend, to prepare for the tarmac stages in Spain. For now, I am looking forward to getting back on gravel where I feel more confident with the car."
Dani Sordo (DNF)
"I am incredibly disappointed for the team and for myself. We had put ourselves into a strong position after Saturday's stages and the car this morning – in the first kilometres – felt amazing with lots of grip. I had a lot of confidence. I was a bit late braking into a corner with some gravel in the road that sent us wide into the vineyards. The windscreen was completely smashed and there was some damage to the radiator. We tried to repair it but the temperatures were too high to continue. In any case, our rally was already over with the time lost in the stage. We take comfort from knowing we were able to fight for the podium. The speed was there, but the result this time was not. I can now only look forward to my home event in Catalunya in October."
Citroen Abu Dhabi Racing WRT
Craig Breen (7th)
"Obviously, it's a shame about the rain on Friday and my mistake yesterday afternoon, because I really wanted to fight with the very best drivers throughout the race. But we managed to make it through yesterday and I also had a good feeling again in the car today. I'm going to give it my very best shot to secure a good result in Turkey. Everyone will be starting from scratch there, so we should be in with a serious chance."
Mads Østberg (DNF)
"On a fast left-hander, I oversteered and ran wide into the bushes. The impact caused damage to the car's cooling system and we were unable to continue. It's a shame, but there were still some positives this weekend. We gradually upped our pace and managed to set some decent times despite a lack of knowledge of the car on this surface."
Toyota Gazoo Racing WRT
Jari-Matti Latvala (DNF)
"On the road section to the first stage I stopped and when I selected first gear it didn't take the gear. The hydraulic pump stopped, and although I could switch to the manual gear lever, there was a lot of stress for the gearbox and eventually we lost drive completely. We have had a lot of bad luck this year, but I had a great feeling this weekend. The car's performance was very good, I was really enjoying the fight and that's the most important thing."
Well, just an incredible event. Two wins in a row for Ott Tanak has done amazing things for the championship. At the end of Sardinia, the points standings between the top three looked like this
Thierry Neuville – 149, 2. Sébastien Ogier – 122 3. Ott Tänak – 77
The gap between Ott and Thierry stood at 72 points. After Finland it had reduced to 46 points, and now just 36 separate them. Now, it's a tall order with four events remaining for Ott to catch and pass Thierry and win the title, but he's certainly capable of winning the remaining events. Turkey next time out will be an all new event, so anything could happen there. It will be a fascinating championship run in.