After not being able to race at Qatar in 2020, audiences were eagerly awaiting the first Moto GP race of 2021.
But, did it live up to everyone's expectations? Under those amazing bright lights, we got to see the new glistening colours of the teams, the glittering helmets of the riders and one intriguing race.
All teams chose to start with both front and rear soft tyres, which would always be an interesting factor as the laps progressed.
The Ducati's, who had dominated Qatar in 2019 and 2018, got an amazing start with four of their bikes leading the pack from the beginning. Bagnaia was out in front from Miller, who was participating in his 100th Moto GP start, following him were Zarco and Martin. Martin managed to make up an impressive 10 places from the grid and Zarco made up four. The Ducati power was definitely something to witness, three Yamahas then followed suit.
Sand being blown over the track due to the high winds caused Petrucci to be the first to fall on lap one.
By lap two Zarco had passed Miller to take second place. However it was Bagnaia that managed to clinch fastest lap by lap 3. Quartararo was also pushing hard and managed to get fourth place in the same lap. Last year's champion Mir, was now pushing through the pack and was behind Rossi in ninth.
Fastest lap went to Quartararo on lap 4, who was behind his teammate at the time.
Martin in his first race in Moto GP, battled hard to keep his position but the Yamahas proved to much for him and he went to sixth place on lap 5. Vinales then took fastest lap from his teammate, whilst taking his new position past Martin.
Bagnaia, Miller, Quartararo and Vinales managed to break- away from the pack and create their own race. With Aleix Espargaro slowly hunting Valentino down, who was on the next Yamaha along, in his new team Petronas. Espargaro managed to pass him on lap 7. In the meantime Rossi's new team mate, Morbidelli had fell to position twentieth.
Unfortunately for last year's pole man and Honda's top qualifier this year – Nakagami crashed out on the same lap. Meanwhile, Rins and Mir, on the two Suzuki's, carried on tracking down the front five.
By lap 12, Vinales had made it to second place and was showing Bagnaia that he meant business. His teammate (20) went backwards to sixth place.
Martin had gone backwards as well to thirteenth place on lap 13. Zarco was remaining steady in third.
By lap 14, Vinales was pushing Bagnaia, but neither one was willing to give in. Alex Marquez then finished LCR's hope to get any points during the race by also crashing out. Both riders were un-hurt.
A new contender for the front was appearing, Rins seemed to be the one to watch. With 8 laps until the end he and Miller were battling on the track.
Lap 15, Vinales took the opportunity and passed Bagnaia for prime position. He pushed straight away and managed to make a gap from the super-quick Ducati's.
Reigning champion Mir, was still slowly progressing and took fifth place from Miller on lap 16.
On the first corner of lap 17, Zarco on the satellite Ducati passed the full factory Ducati rider Bagnaia, whose tyres may have been degrading faster then others by this point, having lead for most of the race.
Vinales now lead Zarco, Bagnaia and the two Suzuki's. Had the Suzuki's qualified better, they may have been further up the pack quicker and would have been fighting for the all important podium positions.
With five laps to go Rins looked menacing behind his teammate Mir. But it was Mir that lined up to pass Bagnaia and finally took third place on lap 20. But Bagnaia didn't want to give up the place easily. Mir who had been steadily chipping away, coming from 10th on the grid was now in third place, with Zarco still in second and Vinales leading.
Into the final lap, Mir passed Zarco on turn 15, for second place. Fighting constantly against the raging winds, the two Ducati's were now following as he tried to get away, but he missed the apex into turn 16 and went slightly wide. Mir held firm but as the Dukes shifted into third gear, the speed proved to be too much again for the Suzuki and they passed the number 36 on the final straight. A crest-fallen Suzuki team and many fans had their hearts in their mouths while witnessing yet again the might of the Red Devils.
Top Gun, who proved to be super smooth, won the opening race with Zarco (who had not left the top three from lap one – remaining constant throughout) and Bagnaia taking third on the podium.
Last points scorer went to Martin.
Bagnaia commented at the end of the race "…my bike saved my podium…" with Vinales saying that the "…Ducati's are unbelievable…". Is this the first glimpse of Ducati's come-back?
Qatar will once again host the Moto GP race next weekend at the same time. Will we see the same people battling it out at the front? Or have people shown their hands? And how will others respond?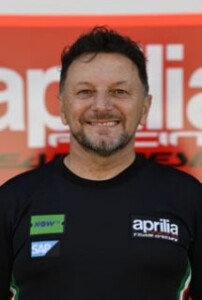 Lastly, it was with great sadness to hear that recently Moto GP lost someone very special – Fausto Gresini. He will be greatly missed within Moto GP, Moto 2 and 3.
Featured image courtesy of Yamaha Racing