World Super Bikes makes a welcome return to Donington Park after missing out last year due to the Covid 19 restrictions. The historic track, being the place where it all began back in 1988, hosting the first ever WorldSBK race.  Would we see history in the making this weekend?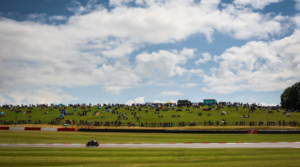 Championship leader Jonathan Rea (Kawasaki) was looking in scintillating form, setting the fastest time in FP 1, as well as in a wet FP3. With the heavens opening to make for a wet Superpole, it wouldn't dampen Rea's pace, topping the grid in an unbeaten time of 1:40.101. Completing the front row would be the BMW teammates, Michael van der Mark  1:40.626, and Tom Sykes in 1:40.763.
The weather for Race 1 was looking typically mixed for a British summers day. With a massive downpour earlier in the morning, the race was declared wet, even although by start time the track was dry in most places. Tyre choice would be crucial, and it seemed most of the grid was going for slicks.
Lights out, and it was Jonathan Rea who got the hole shot into turn 1, closely followed by the two BMWs of van der Mark, and Sykes. It was Toprak Razgatlioglu (Yamaha) with a wonder start who was grabbing all the headlines early on, scything through the field from a lowly qualifying position of 13th, by turn 1 he was already up to 5th place. Winner last time around in Misano race 2, Razgatlioglu (TR) wasn't hanging about, getting past both BMWs by the end of the first lap.
T.R was now hunting down Rea, who nearly went down after his rear tyre hit a damp patch. Further back in the field it was still very close, Gerloff (Yamaha) was passed in the Melbourne Loop by Redding (Ducati) who subsequently went down at the top of Craner Curves. The damp track was causing havoc, who was going to be able to hold their nerve? Another crash through the Craner Curves and its Christophe Ponsson (Yamaha) who went down.
T.R was now caught up to Rea and made his pass on lap 2. Across the start/finish line to begin lap 3, Rea again slides at the top of Craner Curves, this time running off the track and down across the wet grass, somehow managing to avoid a massive crash, rejoins the track to remain in 2nd place. Razgatlioglu lays down the first marker by putting in a fastest lap of 1:33.292.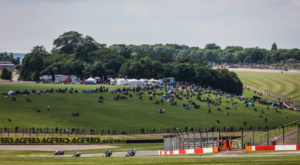 Van Der Mark (BMW) was now right behind Rea after his excursion, and looking for a way past. Further back it was Leon Haslam (Honda) in 5th place clawing his way up to Sykes in 4th, while Gerloff in 7th was closing up to Alex Lowes (Kawasaki) in 6th. Both Razgatlioglu and Gerloff were using the slick soft X-tyre, and it was noticeable in their times.
With 20 laps to go, Razgatlioglu already held a gap of 3.1 to Rea, and was slowly applying more pressure, putting in another fastest lap of 1:32.706. The world champion would respond the next lap setting a new fastest lap of 1:31.441. It was turning out to be 'anything you can do, I can do better.'
Again, with 18 laps to go Rea puts in another fastest lap of 1:30.648, reducing the gap to T.R to 1.948. He wouldn't be giving up any time soon. With the track mostly dry now, faster times were being set. Razgatlioglu responded with 17 laps to go, setting a new fastest lap of 1:30.126. The drying track was still catching some riders out, with Andrea Locatelli (Yamaha) crashing hard, but he managed to walk away unhurt.
Another big moment for Rea at Redgate turn 1 with 15 laps to go, the rear stepped out, the slide is saved, but Rea lost valuable time to T.R. With the sun now shining down onto the track, the fans were being treated to absolutely sublime racing. Donington we missed you!
With 13 laps to go, van der Mark was getting closed down quickly by his team mate in 4th, and Lowes in 5th. Gerloff got through on Haslam with 12 laps to go. In a ding-dong battle, Sykes decides to make a move on his teammate, opening the door for Lowes, van der Mark now going from 3rd to 5th. All the while Gerloff was gaining on the trio.  Into the Melbourne Loop van der Mark runs in hot, and bumps shoulders with Lowes, somehow both riders managed to stay on, but this allowed Gerloff to gain a place – moving up to 5th.
Meanwhile at the front with 11 laps remaining, Rea puts in a new fastest lap of 1:28.908, hoping to claw his way back to T.R. The gap now at 3.4. Immediately the next lap T.R responds with a 1:28.815, not allowing Rea to have any momentum. Tito Rabat (Ducati) retires due to a mechanical problem.
With 9 laps to go Lowes makes a move on Sykes, out-braking him into the Melbourne Loop – pushing him wide, this in turn leaves Gerloff space to dive inside Sykes, going from 3rd to 5th in one corner. Last corner, turn 12 (Goddards) and Gerloff drives up the inside of Lowes, aggressive riding by the Texan – now on for a podium.
Razgatlioglu now lapping Jonas Folger (BMW) with 8 laps to go, showing no signs of slowing down. The gap to Rea now at 3.9. Drama for Gerloff going into turn 12 with 7 laps to go, he loses the front end and goes down, managing to get back on track now in 8th position, no doubt seething under his helmet after all the work he did earlier.
Lap 18 of 23 and the gap between Razgatlioglu to Rea now at 4.2, with Rea seemingly having accepted his 2nd place, or possibly not able to respond anymore to Razgatlioglu's lap times – tyre wear almost certainly an issue for both riders now.
With 5 laps remaining Alvaro Bautista (Honda) had steadily moved up to 7th from a grid position of 16th, although he had Gerloff looking to make a pass on him, which he did, pushing him back a position. Gerloff was now hunting down Haslam in 6th place with only 4 laps remaining. Meanwhile at the head the gap between Razgatlioglu and Rea was now up to 5.0.
Last lap – late drama, Razgatlioglu's bike looks to be spluttering from low fuel, he managed to cross the line, but lost the gap he made to Rea, who crossed in 2nd place.  Lowes the local lad, gets 3rd place for his 200th WSBK start.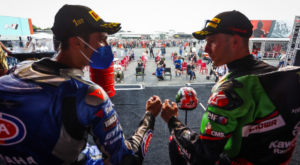 There is a star on the Turkish flag, and Razgatlioglu no doubt surely is one, with a bright future ahead of him. After an action packed race 1, what will the Superpole race, and race 2 bring?
Race Results:
Toprak Razgatlioglu – Yamaha
Jonathan Rea – Kawasaki
Alex Lowes – Kawasaki
Tom Sykes – BMW
Michael van der Mark – BMW
Leon Haslam – Honda
Garrett Gerloff – Yamaha
Alvaro Bautista – Honda
Lucas Mahias – Kawasaki
Axel Bassani – Ducati
Out – Jonas Folger – BMW, Tito Rabat – Ducati, Andrea Locatelli – Yamaha, Scott Redding – Ducati, Christophe Ponsson – Yamaha.
Championship Standings:
Rea – 169 pts
Raz – 154
Red – 104
Low – 104
Rin – 86
(Featured image – courtesy of: BBC)