The decider down under had it all! Here's the story of how the title was won, while Jari-Matti took victory!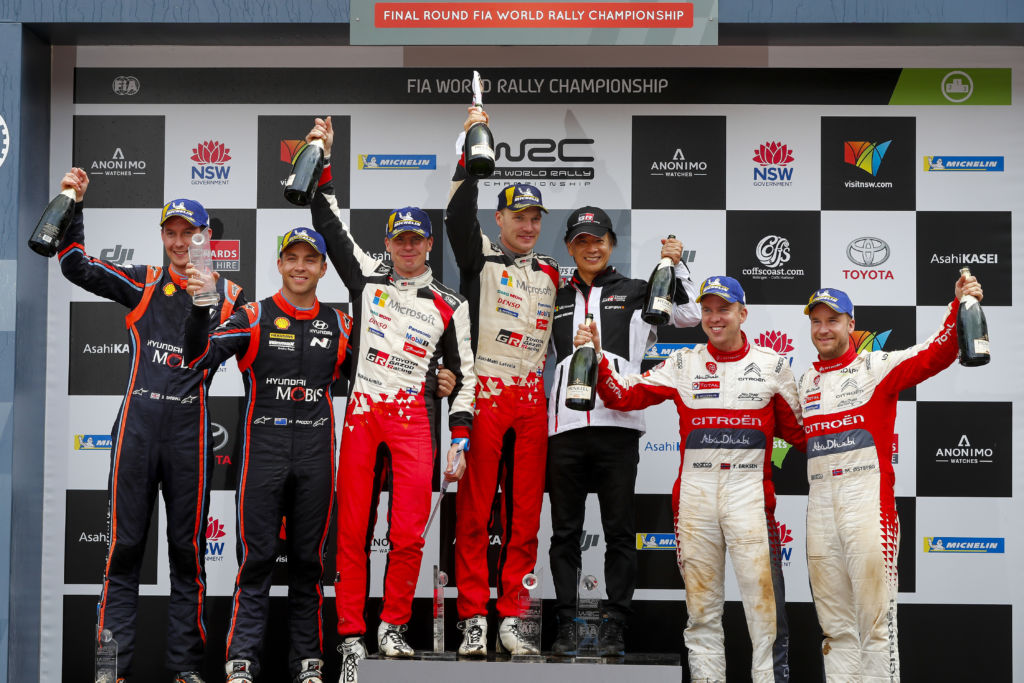 Shakedown took place on Thursday, with these results.
SHAKEDOWN STANDINGS
Ogier / Ingrassia (Ford Fiesta WRC) 2:53.8
Mikkelsen / Jaeger (Hyundai i20 WRC) 2:54.0
Tänak / Järveoja (Toyota Yaris WRC) 2:54.0
Neuville / Gilsoul (Hyundai i20 WRC) 2:54.1
Breen / Martin (Citroën C3 WRC) 2:54.6
Paddon / Marshall (Hyundai i20 WRC) 2:54.7
Latvala / Anttila (Toyota Yaris WRC) 2:54.9
Lappi / Ferm (Toyota Yaris WRC) 2:55.0
Suninen / Markkula (Ford Fiesta WRC) 2:55.1
Evans / Barritt (Ford Fiesta WRC) 2:55.2
Østberg / Eriksen (Citroën C3 WRC) 2:55.4
Friday
There would be 52km's of stages on Friday with runs through Orara East, Coldwater and Sherwood run twice and a double run of Destination NSW spectator special at the end of the day. There were rumours of rain developing adding to the anticipation. The start list looked like this – Ogier, Neuville, Tänak, Lappi, Latvala, Mikkelsen, Evans, Breen, Paddon, Suninen, Ostberg, Serderidis. There would be a service break after the first three stages.
With Seb opening the road, he was hoping it would rain, thus giving him an advantage. However, this didn't happen. The rain did arrive, but only in the service park, thus not affecting the stages.
The short SS1, Orara East stage, saw Esapekka go fastest, and therefore lead from his Toyota teammates, Ott and Jari-Matti. On such a short stage, Ogier was not losing too much time, completing the stage just 2.6 seconds slower in eighth place, just half a second behind Thierry who held fifth place. Craig Breen hit a kangaroo, but the car wasn't badly damaged, allowing him to continue.
The longer SS2, 14km Coldwater stage would shake things up a bit more with the rain holding off. It was certainly very dry out there, and starting to warm up too as the final cars completed. Jari-Matti took the stage victory and moved into a shared lead with his younger teammate, Esapekka. Craig said his car was understeering, but he still was on the move up the leaderboard anyway, moving to sixth from eleventh. Meanwhile, Mads was just 2.4 seconds behind the overall leaders. Those to lose time were Ogier, who fell to eleventh, but still keeping Thierry in sight who was one place ahead.
The final stage before service, SS3 Sherwood, at 26km's did see some drama! Sixth on the road, Andreas came across a tractor on the stage, and whilst taking avoiding action, crashed out damaging his radiator and putting him out for the rest of the day. Now there has been a lot of debate as to why it was there. One thing I know, is that it was there to help manage the chicane that was in this stage. Anyway, the stage was won by Mads and Craig was second fastest despite believing he had a cracked brake disc, and this speed moved him up to fourth! The top two in the championship were rounding out the top ten.
After service, the re-run of Orara East, SS4, was won by Ott, thus moving the Estonian into fourth overall. Ogier also went well, setting the third fastest time and keeping Thierry insight. Mads was still leading overall, now 4.5 seconds ahead of Lappi.
It was all change in Coldwater, SS5. Thierry won the stage and moved up to seventh place overall, almost ten seconds ahead of Ogier. Lappi lost time, dropping almost 23 seconds and falling to ninth. Our top three was now Mads, Jari-Matti and Ott.
There was more drama in the longer SS6, Sherwood stage though! After setting the fastest time, Craig moved up to third from fifth, now just 7.5 seconds from the lead that Mads still had. However, it was one of the championship contenders that suffered misfortune. Thierry had a tyre come off after landing from a jump, losing close to a minute and severely denting his hopes of winning the championship as he was now thirty seconds behind Ogier.
After the double run in the spectator friendly stage, Destination NSW, which completed the first days action, the only change in the leaderboard was that Craig had brought himself into second overall, giving Citroen a one-two at the end of the first day.
Here's the day one standings then.
Ostberg / Eriksen (Citroën C3 WRC) 53:37.4
Breen / Martin (Citroën C3 WRC) +6.8
Latvala / Anttila (Toyota Yaris WRC) +8.7
Paddon / Marshall (Hyundai i20 WRC) +12.5
Tänak / Järveoja (Toyota Yaris WRC) +16.9
Lappi / Ferm (Toyota Yaris WRC) +28.3
Ogier / Ingrassia (Ford Fiesta WRC) +38.2
Evans / Barritt (Ford Fiesta WRC) +45.2
Suninen / Markkula (Ford Fiesta WRC) +47.2
Neuville / Gilsoul (Hyundai i20 WRC) +1:11.9
Here's the drivers views then….
Mads Østberg
"I thought I would need time to get used to the car again, having not driven it since Wales but I felt confident in the car very quickly. I gradually got my bearings again and adjusted my driving stage by stage. In the end, I really enjoyed it. For sure, we pushed but without risking everything. Obviously, we are right in the mix and I'm really determined to stay there!"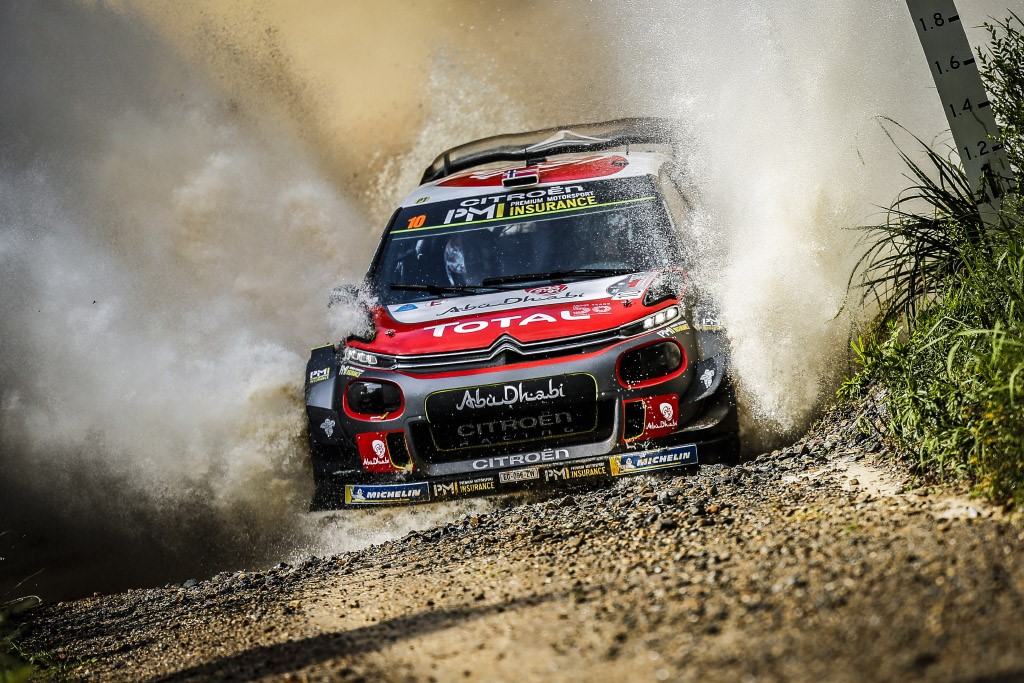 Craig Breen
"Other than the first stage of the loop, where I wasn't quite on it a couple of times, I had a good opening leg. We were right on the pace all day, which you can see with our win on the longest stage. Importantly, that helped us to gain a place in tomorrow's running order. I can't wait to get out there again, because the second leg looks like it will be the best day of the weekend!"
Jari-Matti Latvala
"Today has mostly been very good. This morning I did some mistakes and lost a little bit of time, but in the afternoon loop in the forest stages I was really satisfied with how it went: the driving was very consistent and clean. I did lose some time on the super specials, as I had the hard tyres and I was missing some traction. Still, everything remains close and tomorrow we will have a good road position, which is going to be important."
Hyundai Motorsport
Hayden Paddon (4th)
"We have had a nice clean day and find ourselves involved in a close fight at the front. The feeling inside the car has been pretty good on all stages. I have spent Friday just trying to get the natural rhythm back, learning to push in the car and gaining confidence. Our approach was right. We had an issue midway through the afternoon when a tyre came off the rim; we were forced to use a worn soft tyre for the second run through Sherwood. I was surprised not to lose more time than we did. We can definitely go faster, and we have to keep pushing for the team. There's no other option."
Thierry Neuville (10th)
"We can't lose our hopes despite what's happened. It's still only the first day and although our championship chances are now reduced, we don't know what's going to happen over the next two days. It had been going quite well. Even from second on the road this morning, the cleaning was huge and our aim was just to stay in front of Sébastien, which we were able to do. A stage win in the afternoon was nice but then, in SS6, we were on a long right-hander with a few bumps, and on the landing of a jump we took the tyre from the rim, which lost us a lot of time. We will continue to drive and see where we end up on Sunday."
Andreas Mikkelsen (Retired/Rally2)
"What happened today pretty much sums up my season, to be honest. We approached a crest and saw a marshal waving us down. Anders told me to stop so I slowed right down and saw a tractor driving out of the chicane. We kept going but my head was in a different place rather than the pace-notes that were coming up and we went off. I am disappointed and angry. This situation has destroyed a really important rally for us, and it should never have happened. It's a shame because we were feeling comfortable and doing well up to that point. We will be back on Saturday but there's not much we can do now."
Toyota Gazoo Racing WRT
Ott Tänak (5th)
"Overall, the morning loop was good and we were in a nice rhythm. This afternoon there were some mistakes from my side, which I cannot be happy about. On the first stage of the afternoon loop I hit a gate, which did some damage to our suspension. Then on the second stage, in a big watersplash we lost the front bumper so we had a lot less aero than usual. The car wasn't easy to drive but we did all we could, and we are still in the game and everything is possible."
Esapekka Lappi (6th)
"Everything went really well and smoothly this morning. I was quite surprised: I expected to lose more time as we were running quite early on the road. Unfortunately, one watersplash this afternoon ruined our day. I tried to approach it the same as I did on the first pass, but it didn't work out at all. We lost a lot of time but thankfully we could continue. I have been really enjoying the driving and everything on the car is working nicely, so I am looking forward to tomorrow."
M-Sport Ford WRT
Sébastien Ogier (7th)
"Every stage has been like a Power Stage for us today. Opening the road is really tough here and we had to push really hard through every stage. It's always a little frustrating when you're not in a position to fight for the top results, but that's the way it is."
"Unlike our rivals, we didn't make any mistakes and we're in a good position for the championship which is the main objective this weekend. A big thanks to my team mates also for their help this afternoon which should make our road position better for tomorrow."
Elfyn Evans (8th)
"We focused on delivering a clean and tidy drive through today's stages. The competition was really close and I think we did a pretty good job – not far from the lead before the last gravel stage of the day."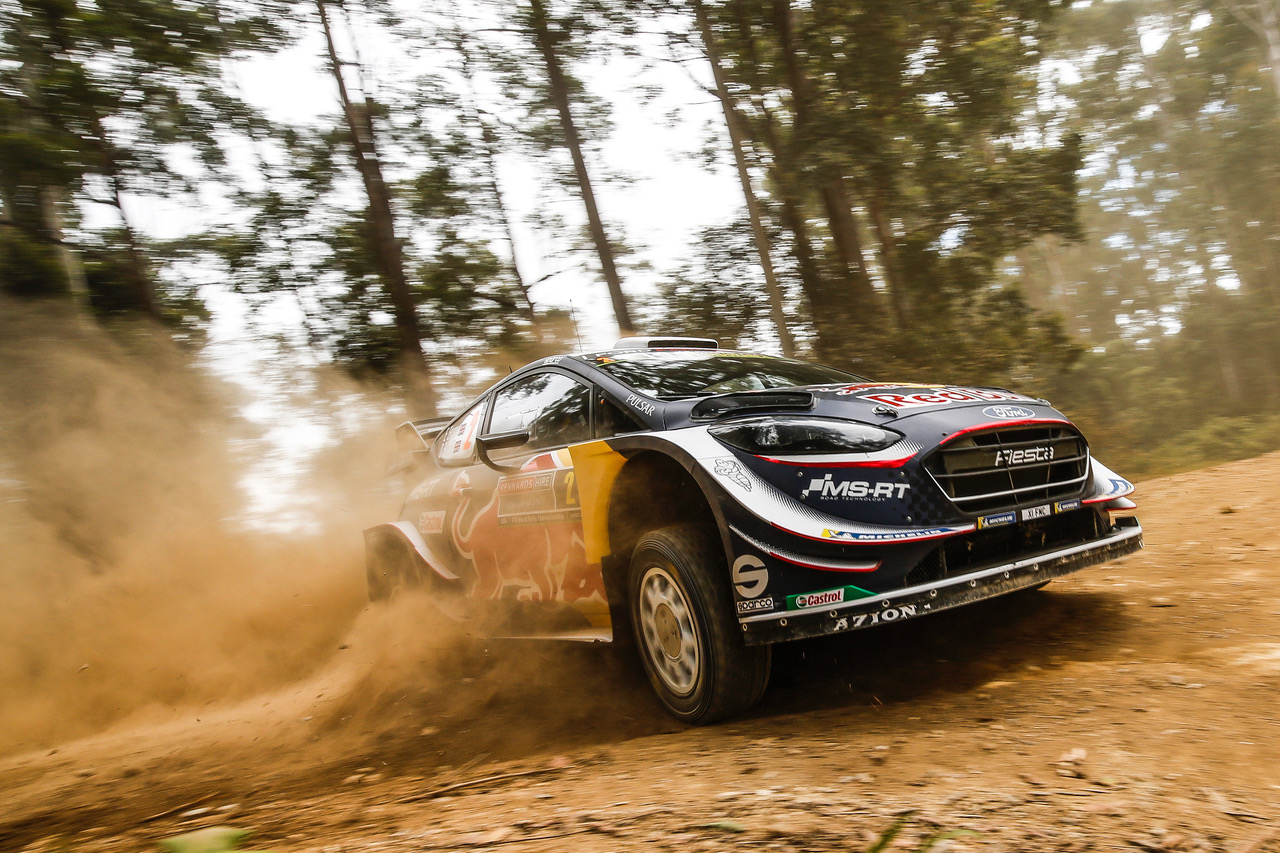 "But this is a team sport as well as an individual one and we had to play our part to give Seb the best possible position going into the weekend. We're all competitors and we all want to compete, but we're also here to do a job for the team and we have to respect that."
Teemu Suninen (9th)
"I think we've had a good day. The pace has been good and we were able to improve a lot over the second pass – just 0.1 seconds away from a stage win on the middle one this afternoon [SS5]. On the next stage we had to give the position to Seb, but that's part of the game – he's fighting for the championship and we need to play our part to help him."
Saturday
Day two would see the crews tackle much more stages, adding up to 133km's of action. The starting line up looked like this – Serderidis, Neuville, Evans, Suninen, Ogier, Lappi, Tänak, Paddon, Breen, Latvala, Ostberg, Mikkelsen.
A much longer day featured four stages run in the morning, with the loop repeated in the afternoon and then a double run at the end of the day in the spectator friendly stage.
Into SS9, Argents Hill Reverse then, quite literally run in the opposite direction to last year and Hayden started well, winning it from Latvala and Andreas. Craig dropped behind Jari-Matti who was now Mads closest rival for the lead. Thierry was also finding things hard, second on the road again and losing more time to Ogier.
The second stage of the day, SS10, Welshs Creek reverse was won by Ott from Latvala and Hayden. Mads lead was reduced by a little over three seconds and he revealed that he was not happy with his tyre choice. Meantime, Craig was suffering from a throttle that was sticking open when he was on the brakes, making the car push on and very tricky to drive indeed, and he dropped to fifth overall! Hayden moved into third as a result of this. Ogier was still in the box seat for the championship, with Thierry now 43 seconds behind the Frenchman.
Onto SS11, Urunga. It was all change in this one. Mads lost 13 and a half seconds, falling from the lead, to third overall. Those to benefit were Jari-Matti and Ott who were now first and second respectively. The gap widened even further for Thierry, now almost fifty seconds from Seb in tenth. Craig was suffering with his tyres and this led to a spin, which then resulted in damage to his left rear suspension.
SS12, so named Raleigh, saw Elfyn and Ott share honours with the fastest time. Breen however picked up a time penalty after arriving late for the stage. He and Scott worked on their car between the stages, fixing the broken suspension as best they could and they were now in tenth place.
After service, came the second run of Argents Hill, SS13, which saw Hayden take another stage victory, thus consolidating fourth overall and keeping him and Seb Marshall close to the podium positions, with Mads in third still, only three seconds ahead of the Kiwi. Thierry needed a mistake from Ogier to bring himself back into the fight, but it was hard to see him taking the title now. In fact, Ott had a more realistic chance given how close he was to the leader, who was his teammate, Jari-Matti.
The longer Welshs Creek followed, SS14, and Ott moved ahead of Jari-Matti into the lead. Also, on the move was Thierry who moved ahead of Teemu, but had actually lost a further few seconds to Ogier, who was now in sixth overall. The Belgian was going to need a miracle now, as he was almost two and a half minutes from the leader.
The second run of Urunga, SS15 saw Hayden set the third fastest time and with Mads only tenth fastest the Kiwi was now in third overall, behind Ott and Jari-Matti. Thierry was doing his best to keep the gap to Ogier under a minute, and he was a second faster than the Frenchman.
The short Raleigh, SS16 stage followed, with Ott, Elfyn and Seb the top three. Ott's lead was now almost ten seconds from his teammate, Jari-Matti.
After the double run of Destination NSW, during which the rain came, causing all sorts of mayhem, the Estonian had widened the gap to Latvala giving him a lead of twenty seconds, whilst Hayden had consolidated his third place overall, a full twenty seconds ahead of Mads. Thierry was in eighth place, fifty seconds behind Ogier. The chance to win the title was getting more remote.
So, let's hear then from the drivers at the end of day two.
Tänak / Järveoja (Toyota Yaris WRC) 2:07:52.0
Latvala / Anttila (Toyota Yaris WRC) +21.9
Paddon / Marshall (Hyundai i20 WRC) +26.3
Ostberg / Eriksen (Citroën C3 WRC) +46.6
Lappi / Ferm (Toyota Yaris WRC) +50.4
Ogier / Ingrassia (Ford Fiesta WRC) +1:44.8
Evans / Barritt (Ford Fiesta WRC) +2:04.6
Neuville / Gilsoul (Hyundai i20 WRC) +2:35.2
Suninen / Markkula (Ford Fiesta WRC) +2:49.0
Breen / Martin (Citroën C3 WRC) +6:26.8
Ott Tänak
"It has been a good day. This morning, we were back in our normal rhythm and the car was feeling good. I tried to attack a bit and we managed to take some time back. This afternoon we continued to push to make more of a margin to the drivers behind. Tomorrow we know there will be some tricky stages and maybe some tricky weather too, so it won't get any easier. But for the moment everything is going in the right direction and we are doing everything that is in our control."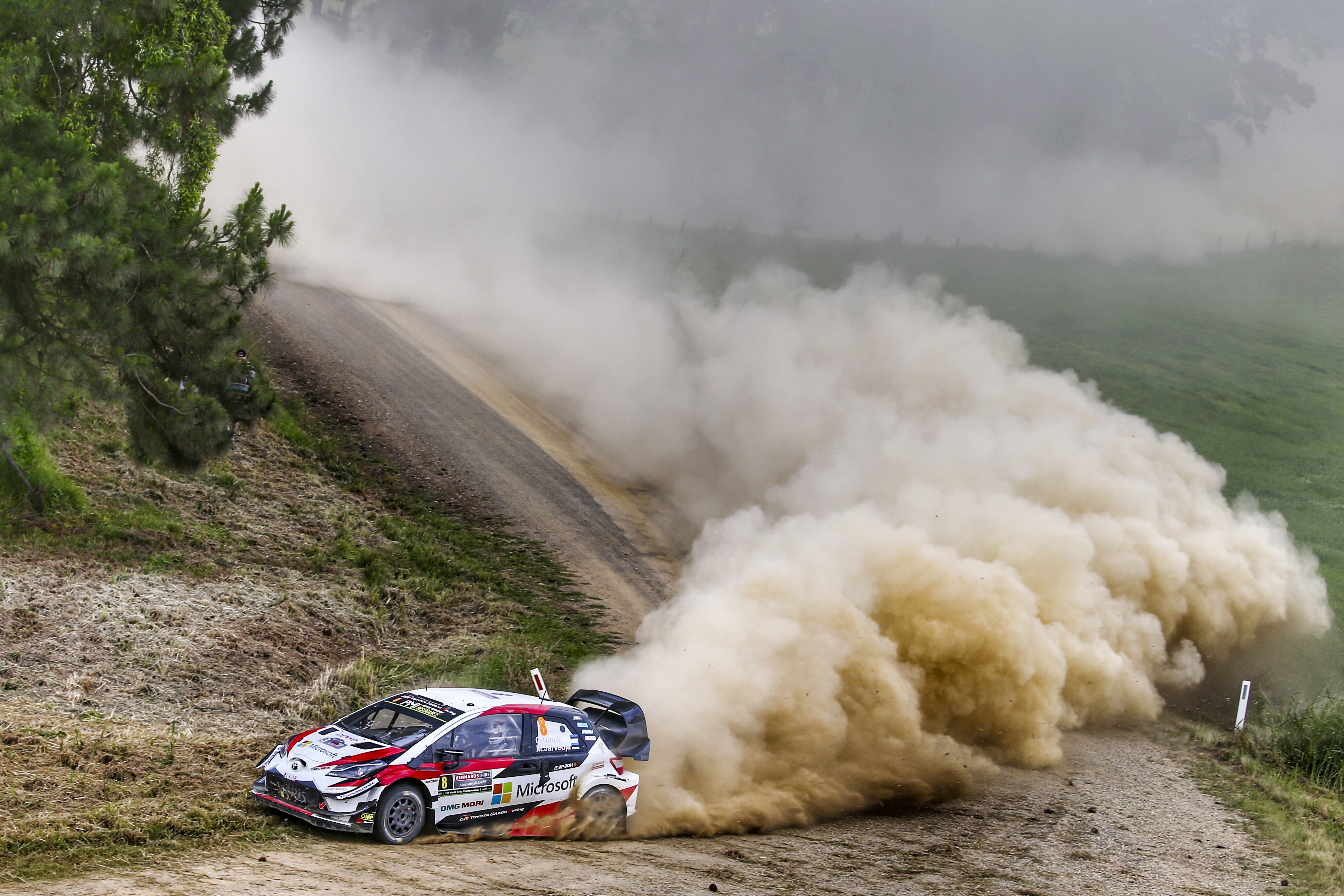 Jari-Matti Latvala  
"I had a really good morning. The car was working really well, I was enjoying the driving and we were able to gain some places. The afternoon started well but I was probably too aggressive with the tyres. They became very worn, so I had to back off and I started to lose some time. Then in the super specials we were unlucky with the conditions. Still, we are in second place and we just need to bring that to the end: this would be really important for the manufacturers' championship and for myself and to finish the season with a good feeling."
Hayden Paddon
"It has been nice to get back onto some of my favourite stages of the year. I have really enjoyed myself out there. There's still more pace to be found, but we set ourselves the minimum target of a podium and we're looking in good shape for that so far. The weather might still have a role to play tomorrow so we have to keep pushing. I've had a great feeling from inside the car and started to really get into the groove. Winning the repeat of the Argents Hill stage was probably the most fun I've had in a rally car all year. We now have one final day to see what more we can do – it's still pretty close up top."
Citroen Racing
Mads Østberg (4th)
"We struggled a bit more today to find the right rhythm and balance, especially on the second loop of stages, then we were really hampered by the sudden rainfall on this evening's super special stage. But together, we fought hard and gave a good account of ourselves. We didn't give up at any point, and that'll be our mindset tomorrow as well."
Craig Breen (10th)
"It just wasn't our day today. I was unlucky this morning with a minor mistake that proved to be a very costly one. It's especially disappointing because we still had the speed to do well. Although we'll be first on the road tomorrow, we're going to enjoy these magnificent stages as much as possible right to the end."
Toyota Gazoo Racing WRT
Esapekka Lappi (5th)
"I think we have done a good job today. The gaps were quite big in front and behind me so I was a little bit in no-man's land, and it's hard to keep the concentration when you don't need to push so much. In the second stage of the afternoon I tried to back off a bit and immediately I started to make mistakes, so I decided to push again and we were fastest on the next stage. That helped bring us quite close to fourth, but tomorrow the main aim is to bring the car to the finish."
M-Sport Ford WRT
Sébastien Ogier (6th)
"The loose gravel has made it a difficult rally for us so far, but it's been a positive day in terms of the championship and I'm very happy with that."
"First on the road yesterday was really tough. Fifth on the road today was a little bit better, but we still lost a lot of time compared to the guys starting further back."
"It was a bit frustrating sometimes, but the main target is the championship and scoring the points we need. That's what we're doing at the moment, but tomorrow's final kilometres will feel pretty long and we'll need to be focused."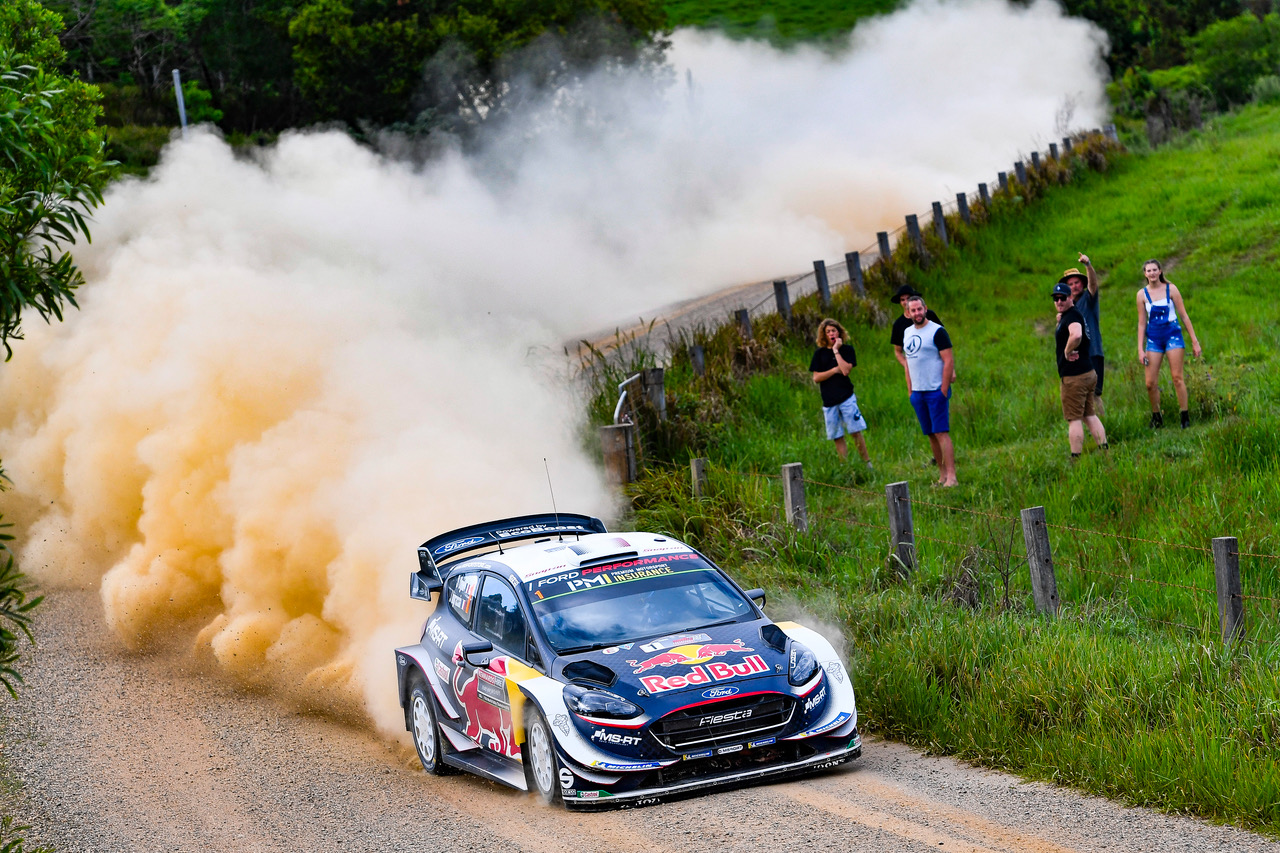 Elfyn Evans (7th)
"We all knew it would be difficult being early on the road today. The gravel was really loose and you could see how much it was cleaning and how much faster the road was getting with every car. Still, we delivered a clean and tidy drive and it was nice to show some speed through both passes of the Raleigh stage."
Teemu Suninen (9th)
"Today has been more difficult for me and I still have a lot to learn about how to drive in this loose gravel. I didn't have the best rhythm, but we got a bit better in the afternoon and now there is just one more day to go."
Hyundai Motorsport
Thierry Neuville (8th)
"Starting from second on the road here in Australia, you know it's going to be tough. We had to try and give it everything, to minimise the time loss but there's only so much you can do. Despite the slippery conditions, I really enjoyed the stages and we had a reasonable run all things considered. There was a small moment towards the end of the morning loop when we broke the rear wishbone after clipping a bank, but we were able to fix that. We have had no choice but to keep pushing, focusing on our driving and have an eye on what's happening in front in case anyone encounters any trouble. It's a frustrating situation but it's not over until it's over."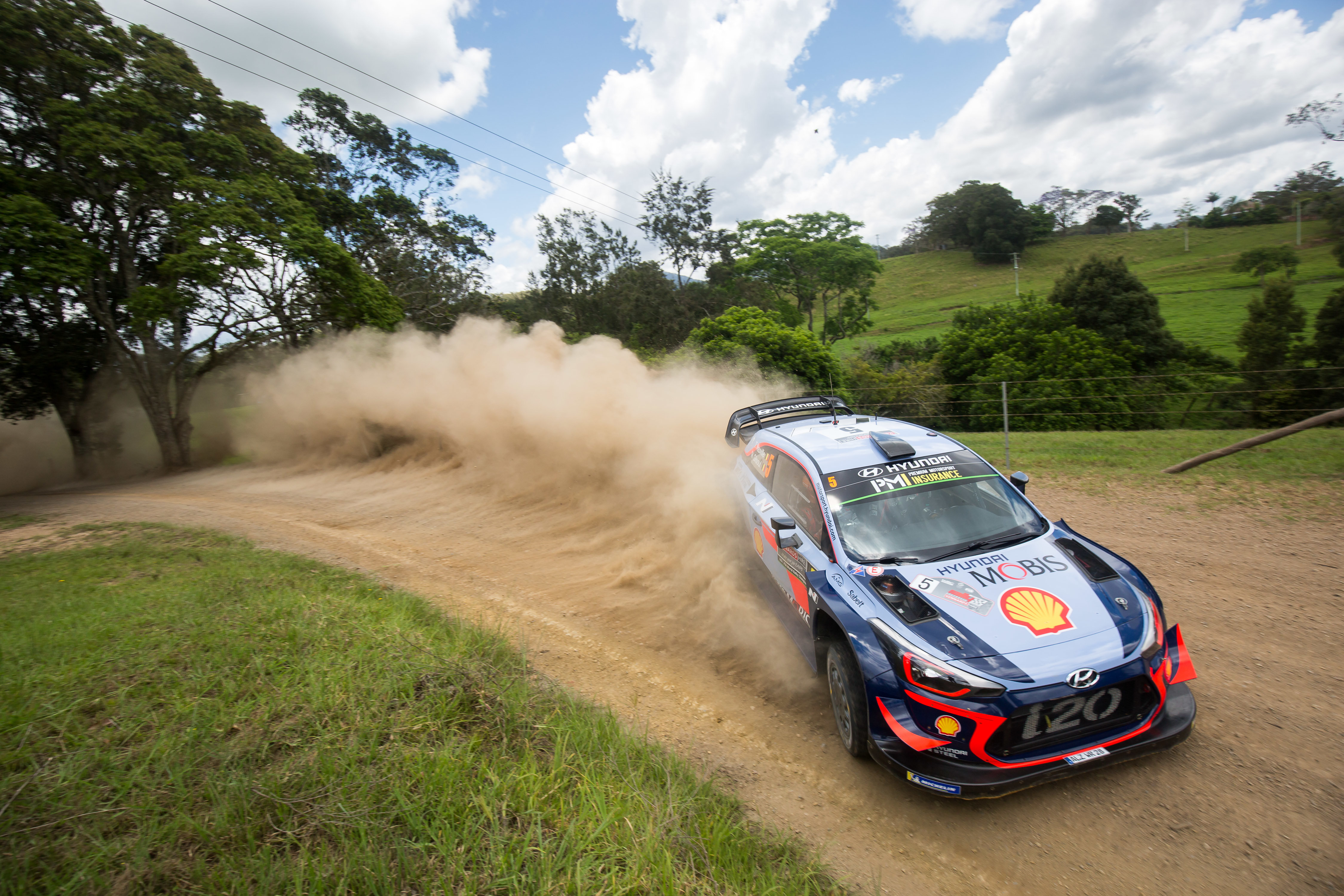 Andreas Mikkelsen (Rally2)
"Today we've been able to enjoy ourselves very much. It is always a pleasure to drive these beautiful Australian stages. Unfortunately, we are no longer fighting for a podium but we've tried to get into a good rhythm nonetheless. We haven't been taking those final risks, which enable you to compete for stage wins but I've been happy with our pace and performance in the i20 Coupe WRC today."
Sunday
The final day then. Normally, the stages are short, but we had a very large almost 84km's to go, over six stages. To fit it all in, it was another early start, with the first stage starting before seven in the morning. The start list looked like this – Serderidis, Breen, Suninen, Neuville, Evans, Ogier, Lappi, Ostberg, Paddon, Latvala, Tänak, Mikkelsen.
The rain had arrived and the first stage, SS19 Coramba was very muddy. Jari-Matti won the stage from Andreas and Thierry. These conditions were helping the Belgian, but how much? The gap to the leaders was still big and on balance, Ott had a better chance of the title, as he was ahead of Seb. Elfyn was doing a very good job, shadowing Ogier.
So, to SS20, Sapphire then and Hayden took this one from Latvala and Mads. Ott dropped to second place, five seconds behind new leader, Jari-Matti, after suffering a spin! In fact, Craig had spun at precisely the same place earlier and he suffered another spin as well later in the stage too!
Last stage before service then, SS21 Wedding Bells, and Craig suffered another spin after clipping something that was on the line. Lappi took the stage victory from a very quick Neuville with Toyota twins, Latvala and Tanak sharing the third fastest time.
After service, the re run of Coramba, SS22 and Thierry was going for it while the rain was pouring down. After reaching the 1km board, he spun after hitting a bank! He did get going again, however a light came on the dashboard. He found somewhere to stop and retired from the rally. Jari-Matti won the stage from Lappi and Tanak was third.
The re run then of SS23 Sapphire saw more drama. Ott stopped in the stage after an off, which he had got going after earlier in the stage, and was pushed to the side of the road by some spectators. Latvala was holding the lead now from Hayden and Mads was now in third after the demise of the Estonian. This confirmed Seb and Julien as this year's world champions, with their closest rivals now out.
The final stage then of the rally and the entire year…. SS24, Wedding Bells and the power stage. Top five was, Ogier, Lappi, Ostberg, Evans and rally winner Latvala, taking his first victory since Rally Sweden 2017.
FINAL STANDINGS
Latvala / Anttila (Toyota Yaris WRC) 2:59:52.0
Paddon / Marshall (Hyundai i20 WRC) +32.5
Ostberg / Eriksen (Citroën C3 WRC) +52.2
Lappi / Ferm (Toyota Yaris WRC) +1:02.3
Ogier / Ingrassia (Ford Fiesta WRC) +2:30.8
Evans / Barritt (Ford Fiesta WRC) +3:05.1
Breen / Martin (Citroën C3 WRC) +8:59.1
What an amazing rally. Seb and Julien emerged as champions again after a thrilling battle throughout the year. In their second year back, Toyota have taken the manufacturers world title. Very impressive indeed.
Let's hear then from the drivers, top three first.
Jari-Matti Latvala
"I am so happy to win again. It was quite a relief after such a long time! The conditions today were incredibly demanding, and it would have been very easy to go off the road. Everything went my way today, and I am sorry for Ott that his rally ended in the way it did. I was very excited and nervous at the start of the final stage, but we managed to do it. To win the manufacturers' title is fantastic. I am so proud of the team and what they have created. Everybody has worked so hard and they deserve this reward!"
Hayden Paddon
"A great weekend for us! I'm really pleased to be back on the podium and to take our best result of the season. This feels like a proper podium. I felt the last few we've benefitted from others' misfortune but we've definitely earned this one. Each year we've been getting one place better in Australia, so I must be on to win it next year! We've made good strategy calls all weekend and I've felt comfortable in the car. Thanks to the team and to the travelling Kiwi fans who have come out in their droves to support us. It makes all the difference. We have to see what happens next season but I hope this result helps our cause."
Mads Østberg
"It really has been a weekend of ups – particularly on Friday's leg when we were leading the rally – and downs, especially yesterday when we were a little bit less comfortable on the stages. It wasn't easy to come back after two months on the sofa and such a long break since Wales Rally GB. But we kept on fighting, we never gave up and continued to put pressure on our rivals today. Our consistency and strength today on the extremely slippery stages were rewarded in the end!"
Toyota Gazoo Racing WRT
Esapekka Lappi (4th)
"Today was definitely one of the toughest days of the season: the conditions were very tricky and that meant you couldn't enjoy the driving quite as much. It is nice to end this part of my career in this way, by helping the team to win the manufacturers' title. I really wanted to finish on top but at least we had a good rally where we were back on the pace. Thank you to everyone in the team for their support."
Ott Tänak (Retired)
"Congratulations to everybody in the team. They have done a great job. Personally, I can be disappointed about how it ended for me today, but in general I am really happy: I have the strongest car in the championship and strong people around me. It was a great battle all year; we were always trying our best. I went off in a really tricky stage with a lot of muddy places. I think it didn't change too much in either championship though. I am really happy with my season and we will keep pushing next year."
M-Sport Ford
Sébastien Ogier (5th)
"It's been an incredible season and the fight has been so close. Not so long ago we thought it was going to be difficult to take the title again, but we never gave up. We gave it everything and had such an amazing team around us. I am so proud of all of them and of course I want to thank Malcolm for another amazing job. What we achieved together over the past two years has been really special, and I am very proud of that."
Elfyn Evans (6th)
"Congratulations to Seb, Julien and the whole team. I'm glad they were able to secure this one and – even though it wasn't always easy – I'm glad we were able to help them where we could. Obviously for various reasons our season didn't go the way we wanted it to, but the speed was there and hopefully we'll have a chance to prove that again next year."
Teemu Suninen (DNF)
"It was a shame not to have finished this rally, but I am really happy for the team and for Seb and Julien who really deserved this Championship. Everyone has worked really hard and it's nice to see this result for them."
"For me, I think I showed some good improvement this weekend and was able to set some good times on Friday. On the weekend I learnt a lot about how to drive in the loose gravel, and I'm looking forward to next year when I can build on everything, I learnt this season."
Citroen Racing
Craig Breen (7th)
"It's been a really tough event for us, especially since our mistake yesterday meant we had to open the road on these very tricky stages today. Saying that, the positive for me is that once again we had really good pace in the C3 WRC, especially during the first leg."
Hyundai Motorsport
Thierry Neuville
"We gave it everything and had to take some risks today to try and capture the title. Even it was only a small chance, we had nothing to lose. In SS22, the conditions were really bad, and we simply went wide and clipped a tree. That was it, championship over. It has been a difficult and tricky weekend, and not the way we wanted the season to end but it's part of the game. I would like to say thanks to the team and everyone at Hyundai Motorsport in Alzenau for giving us the car to fight for the title this year. Congratulations to Sébastien and Julien; it has been great to fight with them this year. We knew there would be one winning crew and that two would go home empty handed. It's unfortunate we are the unlucky ones on this occasion. It's been a great season for WRC and we've attracted some new fans, so now we have a short break and we can look ahead to another season."
Andreas Mikkelsen
"In many ways I am pleased that the 2018 season has come to a close. It has been a troublesome year for me. This weekend is a perfect example; we've been quick and competitive at times but our event has been overshadowed by pure bad luck. Throughout the year we have made improvements and felt increasingly comfortable with the car, we just haven't been able to translate that into results. Still, it has been a great season for the fans and it has been a pleasure to be part of it. We have had great support from the team and we're all pushing in the right direction. We now look forward to a bit of time off, and then some proper testing ahead of Monte when we'll go again in good spirits."
Well, what an event! Look out soon for my season review.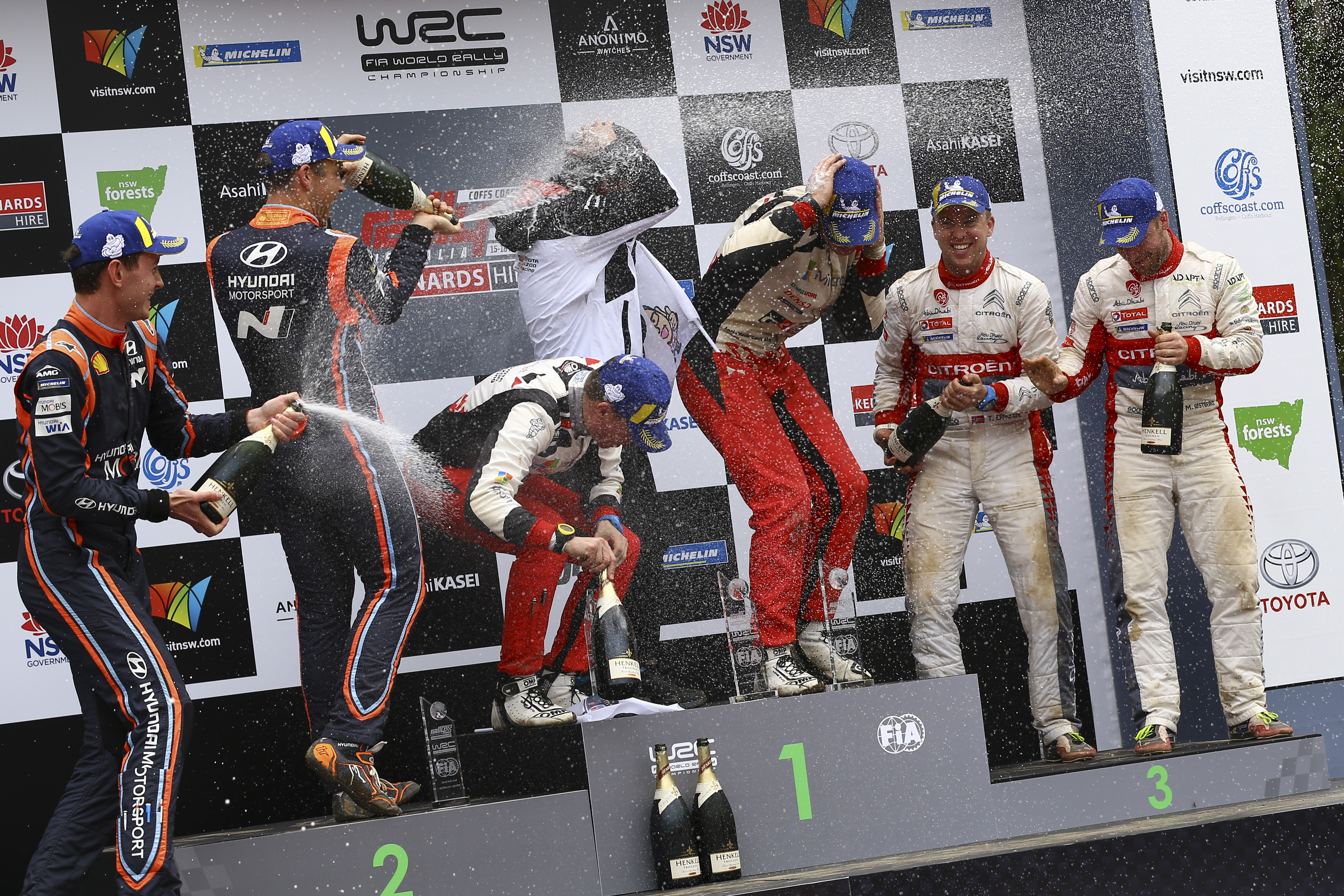 DRIVERS' WORLD CHAMPIONSHIP
Sébastien Ogier – 219 points
Thierry Neuville – 201 points
Ott Tänak – 181 points
Jari-Matti Latvala – 128 points
Esapekka Lappi – 126 points
Andreas Mikkelsen – 84 points
Elfyn Evans – 80 points
Hayden Paddon – 73 points
Dani Sordo – 71 points
Mads Ostberg – 70 points
MANUFACTURERS' WORLD CHAMPIONSHIP
Toyota Gazoo Racing – 368 points
Hyundai WRT – 341 points
M-Sport Ford WRT – 324 points
Citroën Total Abu Dhabi WRT – 237 points