The 12th round of the 2021 Moto2 season took us to Silverstone, on a cloudy and cool Bank Holiday weekend.
It didn't look like it was going to be Remy Gardner's day. The Australian started from the second row of the grid in fourth place, behind SKY Racing Team VR46 rider Marco Bezzecchi on pole who had smashed the outright lap record in qualifying. Jorge Navarro was in second and local favourite Sam Lowes in third. Joining Gardner on the second row were teammates Raul Fernandez in fifth place and Federal Oil Gresini Moto2 rider, Fabio DiGiannantonio in sixth.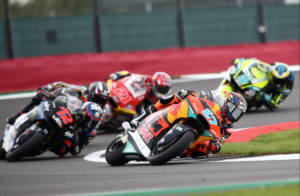 In the end Gardner emerged victorious after a hard-fought win over Bezzecchi, who nevertheless managed to hold on to the outright lap record. The fastest race lap changed hands multiple times over the course of the 18 laps – Gardner, then Navarro, then Lowes and Gardner again before being ultimately claimed by Navarro on lap 17.
Bezzecchi was the only one to go with the softer rear tyre option, which had served him well in qualifying, but would it be enough to dominate in the race?
Ai Ogura, the rookie Honda Team Asia rider, who had been impressive in the last two rounds, was back on the 5th row in 14th place after a disappointing qualifying. And before the race even started Marcel Schrotter, starting in 15th, incurred a long lap penalty for ignoring the mechanical failure flag in practice.
Bezzecchi got the best start off the line as Lowes moved up into 2nd on the first bend, and by turn 2 Lowes nipped past Bezzecchi to take the lead as Gardner moved up into 3rd. But after a couple of moments on the opening lap, Gardner was passed by his teammate and dropped down to 5th.
On lap 2, Bezzecchi regained the lead, pushing Lowes back down into 2nd and on lap 4 Lowes was passed by Gardner making up for lost time.
The top 5 started to break away – Bezzecchi, Gardner, Lowes, Navarro and DiGiannantonio stretched out a 1.5 second gap ahead of 6th place Raul Fernandez, whilst Gardner hunted down Bezzecchi to briefly take the lead but was unable to make it stick. Bezzecchi then had a moment in the middle of turn 15, causing Gardner to take evasive action to avoid contact.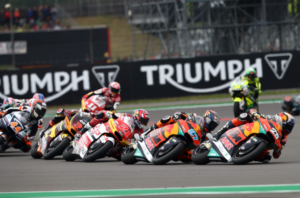 DiGiannantonio moved up into 4th place past Navarro as Lowes held onto 3rd, meanwhile Raul and Augusto Fernandez battled it out for 6th.
For the next few laps, Gardner and Bezzecchi swapped back and forth, with Gardner setting a new race lap record on lap 8. Navarro moved back up into 4th, and Lowes and Navarro closed in on the leading pair.
On lap 12, Gardner retook the lead, with Bezzecchi pushing hard every step of the way. On lap 15 Bezzecchi ran slightly wide, which allowed Gardner a little space to hold onto the front spot and he crossed the line almost half a second ahead of Bezzecchi.
Meanwhile, on lap 14 Navarro edged past Lowes into 3rd place, and Raul Fernandez crashed out at Farm – uninjured but his bike remained on the edge of the track – fortunately not causing a red flag incident.
Augusto Fernandez, who Raul had been battling with, managed to pass DiGiannantonio at the last minute, finishing 5th behind Lowes.
A combination of Gardner's win and the DNF from Raul Fernandez now stretches out Gardner's lead at the top of the championship – on 231 points he is 44 ahead of his teammate, with Bezzecchi in 3rd on 179 and Lowes 4th with 127.
But with the next race in Spain, in two weeks time, will we see Raul return to form on his home turf? And after such a hard-fought battle for the lead, can Bezzecchi regain the top step of the podium?
Race results:
1             Remy Gardner (AUS) – Red Bull KTM Ajo – 25 points
2            Marco Bezzecchi (ITA) – SKY Racing Team VR46 – 20
3            Jorge Navarro (SPA) – Lightech Speed Up – 16
4            Sam Lowes (GBR) – Elf Marc VDS Racing Team – 13
5            Fabio Di Giannantonio (ITA) – Federal Oil Gresini Moto2 – 11
6           Augusto Fernandez (SPA) – Elf Marc VDS Racing Team – 10
7           Aron Canet (SPA) – Aspar Team Moto2 – 9
8           Xavi Vierge (SPA) – Petronas Sprinta Racing – 8
9           Ai Ogura (JPN) – IDEMITSU Honda Team Asia – 7
10         Joe Roberts (USA) – Italtrans Racing Team  – 6
11          Thomas Luthi (SWI) – Pertamina Mandalika SAG Team – 5
12          Celestino Vietti (ITA) – SKY Racing Team VR46 – 4
13          Marcel Schrotter (GER) – Liqui Moly Intact GP – 3
14          Nicolò Bulega (ITA) – Federal Oil Gresini Moto2 – 2
15          Bo Bendsneyer (NED) – Pertamina SAG – 1
(Featured image: Courtesy of: Remygardner.com)