We talked with designer Sean Bull about his work in Formula E and his change from casual F1 fan to creator of fictional and real car designs, and show the person who stands behind some of the most popular fantasy F1 liveries.
Most of the F1 community knows it: the feeling weeks before the presentation of the new F1 cars. Especially when a team has a big new sponsor or has changed their engine partner for example, everybody talks about possible livery changes. How would Ferrari look without Santander? Or the new McLaren in an old-school papaya coat? What about Red Bull with the new Aston Martin deal, or Sauber with Alfa Romeo? And most importantly: how will the cars look with the new halo system above the cockpits?
Only a few of the many questions in this year's pre-season. Thats where the work of Sean Bull begins. A man who not only creates possible designs of real and fictional F1 teams—he also started with a real design for the Dragon Formula E team this season.
The fictional designs are iconic to many people. Thats why the disappointment is often big, when the teams reveal their real cars with a much more conservative livery.  Some people might ask why the real teams don't look as good as popular examples from designers like Sean Bull. Let's ask the man himself about this and know more about him, his hobby and his job at  the same time.
1.  First of all, congratulations on your first real car livery, the Dragon Racing Formula E cars and their driver suits. They look great. Could you tell us, what was your reaction when you learned that your design had been chosen for the car?
Sean: The Dragon design was months of hard work, working closely with the team's owner, Jay Penske to design and develop the teams refreshed identity this season after the departure of Faraday last year, going back to the team's roots of the striking red chrome and a more elegant and flowing design was a pleasure to draw and create, with the car lending itself heavily toward the livery layout. A classic use on subtle pinstriping around the key feature lines and the minimalist American flag motif that adorn the roll hoop and front wing are the result of continued fine tweaking and development.
The decision to split the liveries came quite late and continue what is left of the team's corporate DNA from last year with the split faraday designs, only presented in a more obvious and dramatic fashion this year, with each car being the mirror imprint of the other, something I wish F1 would be allowed to adopt with such difficulty telling the drivers apart from one another.
The race suits and garage design were also fun aspects to design and create, we went with a range of options before we settled on something more minimal and classy rather than anything too outlandish and obvious, and I believe they look great, with obvious relation between the cars, pits and corporate branding and I'm very proud to have been part of it and am certainly looking forward to working with the team for the rest of the season.
 2. Tell us what got you started designing. What inspired you to design car liveries, and is that your full time job now, or is it still a hobby for you?
Sean: I started, as I believe any fan of F1 has, sketching the cars watching the race as a young kid, and it's from then that it's always been my passion to be a car designer, so I studied Automotive Design at Coventry university and after gaining an industrial placement in my 3rd year I continued to work for that company as an Automotive Stylist after graduating in 2016. It was the skills in Photoshop and CAD learnt at university and work that helped me develop a hobby designing fantasy F1 liveries that slowly evolved into designing and creating the real thing for some big race teams around the world. Fortunately, it is still my side hobby and one that I take great passion in, but as I enjoy my main career as a car designer, it makes for a good break and free time relaxation, I'm just lucky enough that the livery work I do for 'fun' has given me the opportunity of a "second career".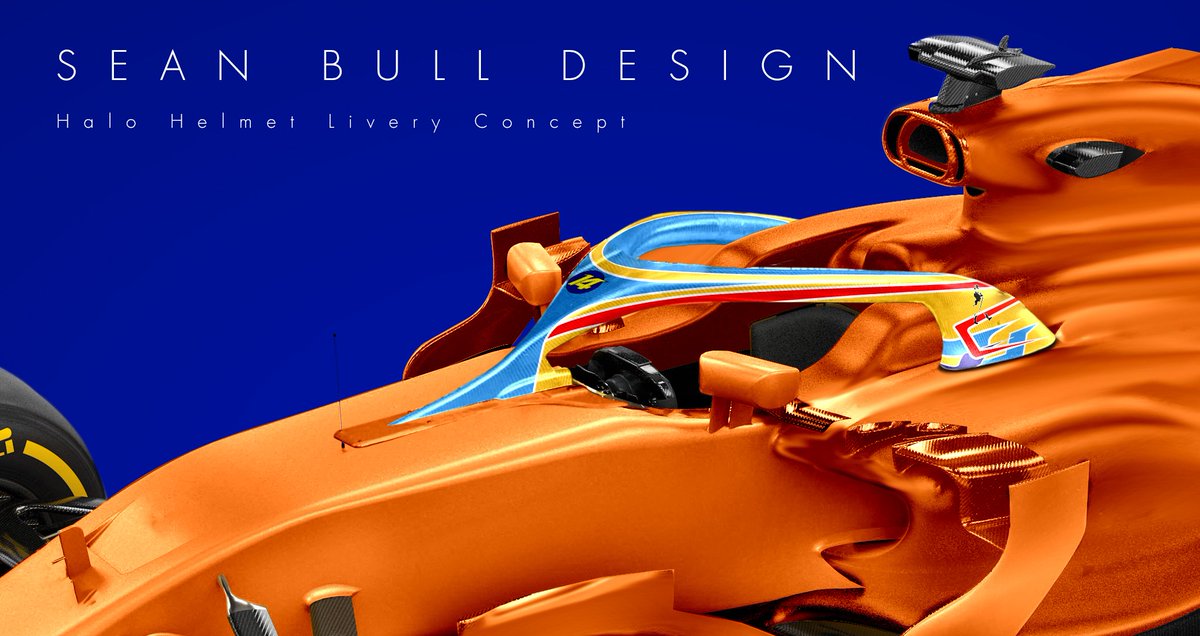 3.  Your designs for the upcoming year are everywhere on the web, especially during the winter break. Many are disappointed when the real cars are presented by the teams after the break. In contrast to your designs they are often more simple and less warmly received. Does this reaction make you proud?
Sean: As mentioned, this is what I love to do in my free time, so it's good to see how my fantasy designs are received by the public, and that's the difference between mine and the real ones that get presented in February. I'm not tied down to any corporate restrictions, branding guides or sponsor requirements, hence why my designs can be so much more extreme and dramatic compared to the real life counterparts. So I do have sympathy for the team's actual design departments, especially now knowing the creative restrictions that do apply after working on a few real world commissions.
 4.  Could you tell us how much time you spend on a typical livery design?
Sean: Usually when just playing around with my F1 designs, it's anything from ten minutes to an hour. The real time is spent creating my templates and trying to get them as photo-realistic as possible. That's where the hours and hours of work is spent. With the real-world teams it can be a lengthy process of design and development, or it can be relatively quick if the team love an initial concept and want to go with that. For example, the Dragon designs were five months from initial sketches to the final application, with changes and tweaks being made even as the car was being wrapped. However, in contrast the F2 livery for MP motorsport last year went straight from an initial sketch to the final proposal in a matter of weeks, such was the reaction from the proposed title sponsor the designs were created for!
6.  2017 has been a special year for you, with many successes. What is your next goal? Do you have an ultimate goal, perhaps designing a livery for an F1 team in the near future?
Sean: 2017 has honestly been the best year of my life, both professionally and personally. I was lucky enough to be engaged to my now-fiancée and we are getting married next year, so that was the personal highlight for me!
In terms of professional success, this year has been incredible. I only started in November 2016, so for all this to happen in such a small space of time has been amazing—especially the work with Leclerc, going to see my first F1 race as a guest of his, and the Red Bull work I have done with their North American team this year (I was lucky enough for them to fly me out to LA to meet them and see my GRC liveries in action at the last race of the rear). And to top off the year, the Formula E commissions with Dragon and the contest win with Mahindra have been incredibly well received!
Looking forward to the future, my ultimate goal is of course F1, and to gain a commission with a team there or eventually work as part of the team. I have other aspirations that I hope will be realised in the coming year, but they're all secret for now!