Unveiling the brand new car at their factory today, the W14 has gone through a dramatic change in terms of its livery. Last year, the W13 went back to the roots of Mercedes's nickname "The Silver Arrows" with an all silver livery. Vastly different to the 2021 and 2020 black liveries. However, given the German team's performances in 2022, they have reverted back to the black  primarily due to the weight limits.
The main concept of the W13 was retained but many parts were changed, inclyding the gulley bodeywork of the engine cover.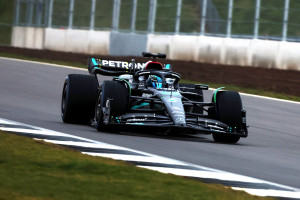 Speaking about the car, team principal Toto Wolff said "Our hopes and expectations are always to be capable of fighting for a World Championship. However, our competitors were very strong last year, and we are playing catch-up"
Driver George Russell, who picked up his first win at Brazil last year, said "I have been incredibly impressed with how the Team developed the car throughout last season. We have been building momentum throughout 2022 and we're excited to see how that has progressed over the winter."
Driver Lewis Hamilton added to his colleague's comments by saying "I'm excited to go racing again. I feel calm, energised, and have my focus sharpened. I'm ready to do what's necessary to win."
Mercedes ran on 15th February but only managed 15kms before issues arose. Their official shakedown is planned for tomorrow, 16th February before pre season testing in Bahrain 23rd to 25th February before the first race weekend on 3rd to 5th March.