Here's the story as to how Esapekka Lappi took his maiden WRC victory, on only his fourth top tier start!
We were treated to an amazing Finnish Rally this year. Just like last year, it will go down in history, but for very different reasons.  It all started as usual with shakedown on Thursday morning and once more it was very close.
SHAKEDOWN STANDINGS
Meeke / Nagle (Citroën C3 WRC)          2:14.3
Neuville / Gilsoul (Hyundai i20 WRC)   2:14.4
Tänak / Jarveoja (Ford Fiesta WRC)      2:14.8
Latvala / Anttila (Toyota Yaris WRC)    2:14.9
Sordo / Marti (Hyundai i20 WRC)           2:15.2
Breen / Martin (Citroën C3 WRC)          2:15.3
Østberg / Floene (Ford Fiesta WRC)     2:15.6
Paddon / Marshall (Hyundai i20 WRC) 2:15.6
Ogier / Ingrassia (Ford Fiesta WRC)       2:15.8
Lappi / Ferm (Toyota Yaris WRC)             2:16.0
Moving onto the first stage that evening and Ott won the stage from Thierry and Seb. The top ten looked like this.
1   Tanak 1m44.1s
2   Neuville   +1.1s
3   Ogier          1.5s
4   Breen       +1.6s
5   Latvala     +2.2s
6   Paddon    +2.5s
7   Hänninen +2.7s
8   Meeke     +3.0s
9   Evans        +3.1s
10 Sordo       +3.5s
13 Lappi        +5.7s
This was the full schedule that the drivers could look forward to on Saturday then and the day dawned bright and sunny, although there were reports that rain would be making an appearance later in the day.
FRIDAY JULY 28
6.05am: Service A (Jyväskylä – 15 mins)
7.12am: SS2 – Halinen 1 (7.65km)
7.45am: SS3 – Urria 1 (12.75km)
8.48am: SS4 – Jukojärvi 1 (21.31km)
10.06am: SS5 – Halinen 2 (7.65km)
10.38am: SS6 – Urria 2 (12.75km)
11.42am: SS7 – Jukojärvi 2 (21.31 km)
1.37pm: Service B (Jyväskylä – 30 mins)
3.00pm: SS8 – Äänekoski-Valtra 1 (7.39km)
4.13pm: SS9 – Laukaa 1 (11.76km)
5.11pm: SS10 – Lankamaa (21.68km)
6.09pm: SS11 – Äänekoski-Valtra 2 (7.39km)
7.22pm: SS12 – Laukaa 2 (11.76km)
8.30pm: SS13 – Harju 2 (2.31km)
9.00pm: Flexi Service C (Jyväskylä – 45 mins)
Just a short one to start the day, and Teemu would come out on top, showing all the drivers the way. Kris was just behind with Hayden just a few more tenths adrift. Overall, Ott still led with Thierry tumbling down the order to tenth. At the point Esapekka was 8.2 from first place.
SS2 – Halinen 1 (7.65km)
1 Suninen 3:39.7 (140kph)
2️ Meeke        +0.1
3 Paddon     +0.3
The news from Ogier at the end of stage 3 was not good. After a heavy landing, he started getting trouble from his throttle response, meaning that he'd lose just under 5 seconds and drop to sixth overall. The driver on the move was Teemu, who had slotted his Fiesta WRC into fifth overall. It was a Jari-Matti stage win, with Lappi admitting at the end of stage 2 that he'd been too cautious and deciding to let himself relax more. Top three quickest were all Finns. Incredibly, it wasn't yet 9am in Finland at this point, but we'd had those stages completed already!
SS3 – Urria 1 (12.75km)
1 Latvala 5:56.4 (144kph)
2 Lappi         +0.1
3 Suninen  +0.4
Coming into stage four Seb was in sixth place, but after a heavy landing from a very big jump, much further on in the stage would see the car slide off the road and hit a tree, tearing the nearside rear wheel from the Fiesta. They were out for the day and would both visit hospital to be checked out. With the other M-Sport car of Ott, he'd get to the end of the stage with a puncture. He'd run wide and believes he'd caught a rock at the edge of the road. Sadly, Hayden would hit the same rock, but the damage was far worse and the number 4 Hyundai was out for the day. Through all this drama, came new flying Finn Esapekka. He won the stage and moved from tenth overall into second! All this despite stalling on the line at the start! Craig Breen also had a fright, after a heavy landing something not feeling right at the front and he was left hoping that there was nothing wrong with the suspension at the front.
SS4 – Jukojärvi 1 (21.31km)
1 Lappi 10:06.3 (126kph)
2 Latvala    +1.3
3 Ostberg +5.6
Stage five then and it was another to go Lappi's way, with his teammate just a tenth off, keeping his overall lead at 5.2 seconds. Kris also gained a place, passing Juho for sixth. The other Citroen was going well, fourth quickest in the stage and keeping third overall.
SS5 – Halinen 2 (7.65km)
1 Lappi    3:36.5 (140kph)
2 Latvala    +0.1
3 Ostberg +0.5
Lappi was now really into the groove and completed stage six a full three seconds faster than Jari-Matti. Now the gap was just 2.2 seconds. In addition to that, Mads was closing on both Teemu and Craig, reducing the gap to them both by a second. He wanted third place.
SS6 – Urria 2 (12.75km)
1 Lappi   5:49.7 (144kph)
2 Tanak      +1.8
3 Ostberg +2.2
Stage seven, and it was another fastest time for Esapekka, three now in a row. The gap was now 1.6 seconds! Mads was also very quick moving from fifth into third overall with Craig now in fourth and Teemu in fifth. A service break followed this stage, allowing time for the drivers to work on their note for the afternoon loop.
SS7 – Jukojärvi 2 (21.31km)
1 Lappi   9:57.2 (140kph)
2 Latvala  +0.6
3 Ostberg +3.9
When they arrived for the start of stage eight at three in the afternoon, the rain had started. Also, with Seb out, Thierry would be first on the road. Mads didn't remain in third for long, as Teemu was 1.3 faster setting the quickest time and did a Mads, jumping from fifth to third! Jari-Matti and Esapekka set the same time, meaning the gap between them remained 1.6 seconds.
SS8 – Äänekoski-Valtra 1 (7.39km)
1 Suninen 3:27.4 (140kph)
2 Hanninen +0.2
3 Latvala       +1.1
Esapekka reduced the gap once more by half a second to Jari-Matti. Just incredible driving from the young Finn. Craig was also on the move, passing Mads, who was now back down into fifth place.
SS9 – Laukaa 1 (11.76km)
1 Lappi   5:51.0 (132kph)
2 Latvala  +0.5
3 Suninen +2.4
Lappi took the next stage as well, and after pushing really hard, emerged in the lead! Once more, it was a Finn 1-2-3-4, with Juho fourth fastest, despite damaging his suspension on a stray rock in the road. With that time, Juho had moved past Craig into fourth. Mads had a nightmare dropping to seventh overall. Elfyn in his Fiesta made a very good move, going sixth fastest and moving up from eighth into sixth overall.
SS10 – Lankamaa (21.68km)
1 Lappi  10:21.4 (126kph)
2 Suninen +0.7
3 Latvala   +1.4
Esapekka increased his lead to 3.5 seconds over Jari-Matti in stage eleven, with Teemu and Ott just behind him. Jari-Matti could only manage eighth fastest. Thierry passed Kris for eighth overall, but really for him, it had been a very quiet day, barely troubling the drivers at the front.
SS11 – Äänekoski-Valtra 2 (7.39km)
1 Lappi   3:23.4 (140kph)
2 Suninen +0.4
3 Tanak     +0.7
At the front of the leaderboard, not much changed in stage twelve, but further back, Mads passed Elfyn for sixth place. Craig Breen was also 4 seconds faster than Juho, thus moving back ahead of the Toyota driver into fourth.
SS12 – Laukaa 2 (11.76km)
1 Lappi   5:44.9 (132kph)
2 Latvala    +1.1
3 Ostberg +2.9
The final stage of the day then and Thierry was fastest, with Tanak and Breen just a few tenths behind.
SS13 – Harju 2 (2.31km)
1 Neuville 1:46.9 (120kph)
2 Tanak        +0.1
3️ Breen       +0.3
Top ten at the end of Friday
1    Lappi    1:11:36.4
2    Latvala        +4.4
3    Suninen    +19.0
4️   Breen         +33.0
5    Hanninen +39.1
6    Ostberg    +45.0
7    Evans          +45.1
8    Neuville    +58.0
9️   Meeke     +1:07.6
10  Tanak     +1:50.2
Let's hear from the drivers then.
Esapekka Lappi 1st said:
"I could never have imagined I would be leading Rally Finland. Just competing here in a World Rally Car has been a dream I have had since I was a small boy. That I am leading is hard to comprehend. But it's been a really clean run so far with no mistakes and the car has been perfect. I've given it my all. I won't force myself to fight against Jari-Matti if it means I will take too many risks. It feels to special to be leading this rally, the spectators are amazing, you just can't feel that anywhere else."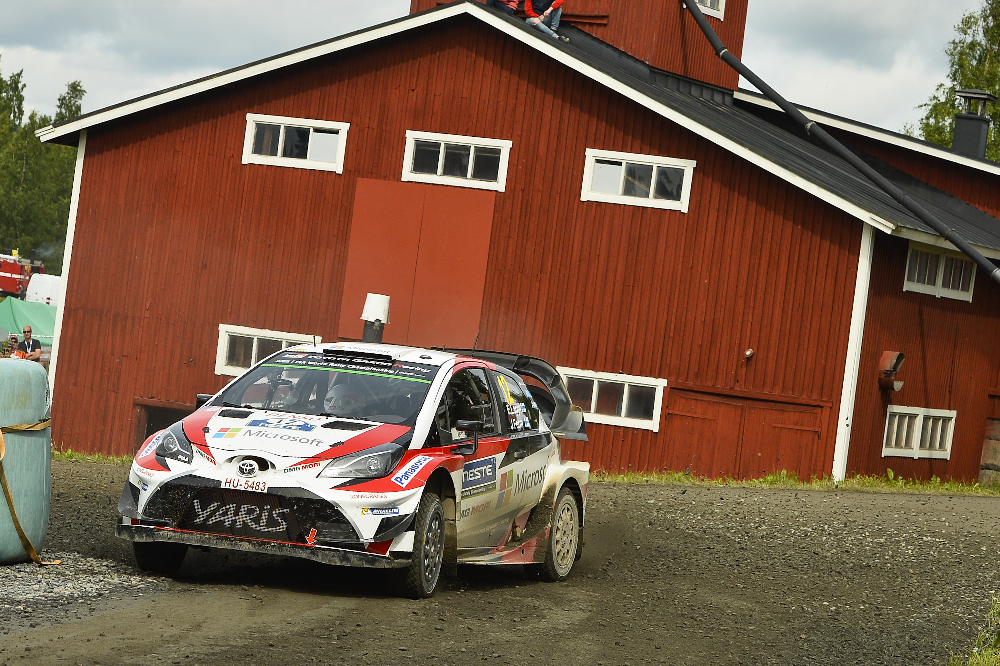 Jari-Matti Latvala 2nd said:
"Of course, Esapekka was always going to be fast, but I didn't think he was going to be such a hurricane and that we would be the top two in this position after the first full day. The car is working well; I'm very happy with the balance and generally my driving has been good. When you have no other issues and a good car, you can just focus on the driving. There's a little bit of a home advantage I think, as our car has been developed in Finland on roads like these. My confidence is high, but at the same time I'm trying to avoid taking any big risks."
Teemu Suninen 3rd said:
"I'm very happy to be sitting in third place today. This is my home rally and only my second time in a world rally car so it is special for sure. The Finnish fans have been amazing as always and I want to thank all of them for their support.
"I think we have driven well today and shown good pace with no mistakes, but there are still things to improve. I need to be more consistent and more precise with the driving lines as that is what brings the good times here with these cars.
"I would say that my main strength is that I seem to be improving quite quickly. Hopefully we can continue that and someday be fighting for the victory myself. That is not the objective this weekend – I just want to focus on myself and forget about my Finnish friends ahead."
Citroen Abu Dhabi WRT
Craig Breen 4th said:
"It's been a good day, even if everything wasn't perfect. This morning, after a bit of a 'big' landing over a jump, I had the feeling that there was something wrong with the handling and it was getting worse as we progressed. The team did their magic in service and the C3 WRC they handed me back was like new, but I had a few minor problems on the second loop. My pace notes weren't always perfect and I was a little too careful in places. Every tenth you give away is hard to get back, but there's still a long way to go – we haven't even reached halfway as yet."
Kris Meeke 9th said:
"Obviously, it wasn't quite the day I was hoping for. I just couldn't find the feeling that I had here last year when I won the rally. Despite our efforts and the work done in service, I couldn't place the car like I wanted to and I was struggling to feel the grip. And clearly, it wasn't ideal to contest the last few stages with the damaged steering."
Khalid Al Qassimi 20th said:
"It was a tough day, during which I lost a lot of time. I was constantly looking for traction and struggled to keep the car on the right line. We made a lot of changes to the set-up – the differential, the throttle, the springs – but I think there is still a lot we can improve."
Toyota Gazoo Racing WRT
Juho Hänninen 5th said:
"The general feeling here has been really good. The car has been working well. It is handling really well even on the high-speed sections and the jumps. This morning I wasn't fully confident because the grip was changing, but things improved this afternoon and the times were good. Then I hit a rock and damaged the suspension. We were lucky to be able to finish the day without losing too much time. Tomorrow we will continue from where we left off before."
Jipocar WRT
Mads Østberg 6th said:
"This was really frustrating, but something electronic in the rear was playing up and started locking up the rear wheels and that is something you really don`t want on these fast roads. I was back up to speed on the last stages of the day, and gained back one position, but it is nearly impossible to regain 25-30 seconds from the leaders in a rally like this where the margins are so tight. Still I aim to fight for a possible podium position. It's a long way to go and my speed is definitely there."
"We have done a good job during testing before the rally, and I really hope that we can continue without technical issues tomorrow. This is my favourite rally and we are not too far away from the last podium position. Torstein has done a tremendous job. I can tell you, it`s really not simple to step into a car like this in the fastest rally of the season. Both Torstein and I are determined to push to the maximum tomorrow and Sunday."
D-Mack WRT
Elfyn Evans 7th said:
"With no pre-event test, we've had to discover the optimum set-up out on the stages. I was struggling with understeer throughout much of the morning and that hampered our confidence. On these roads – and at these speeds – that confidence makes all the difference.
"That said, we're in seventh position with some very close gaps ahead. There's still a long way to go so let's see what tomorrow brings."
M-Sport WRT
Ott Tänak 10th said:
"The disappointment came early in the day so after that we just had to keep going. We ran slightly wide at the start of SS4 and picked up a puncture. We lost more than one and a half minutes which obviously ended our hopes of challenging for the victory. At these speeds, the gaps are so close, and it is very difficult to make up the time.
"Since then, we've just been focused on driving cleanly. There is still motivation as it's important for the team that we score as many points as possible. But you know the motivation is different when you are not fighting for the win. There is still a long way to go and a lot can still happen in this rally, so we just need to continue as we are and see what happens."
Sébastien Ogier said:
"There was a big jump about two kilometres before we crashed. The landing damaged the rear suspension and towards the end of the stage I got a bit distracted by it. I was too late on the brakes and we had an impact sideways into a tree.
"It's a real shame because our pace was really good and now we have missed an opportunity to score some good points for the championship. We had already lost some seconds with a throttle problem that was coming and going, but without that we were fighting right at the front."
Hyundai Motorsport
Thierry Neuville 8th said:
"It has not been an easy day. We have been struggling to find the required rhythm for these incredibly fast stages. Following Ogier's issue in the morning, we knew we had inherited an opportunity to close the gap in the Championship even further, but so far, we haven't made as much progress as we'd have liked. We have been first on the road for much of the day, which is of course part of the game, but we have been losing a bit to the other guys. The Toyota's are, as expected, much faster, but my focus now is on moving up the classification to the top-five, where a solid points haul will aid our Championship ambitions. This rally is not over yet, even if we are now on the back foot after a difficult Friday. There is plenty to play for."
Dani Sordo 11th said:
"There is not a lot to say, at least nothing really positive. We have not found the confidence in the car to tackle the rally with full attack. In Finland, more than anywhere else, you need to have full commitment inside the car; the smallest of lifts can make a huge difference on the timesheets. We have been trying all we can to get the right feeling but the others just have more. We will look at the information we have with the engineers this evening to see what we can do to improve for the rest of the rally."
Hayden Paddon said:
"There is no margin for error in Finland, and so that has proven today. We started well and showed some encouraging pace on the opening stages. Then, in SS4, we ran slightly wide on the same corner several other drivers did. Unfortunately, a rock hit back and we broke our suspension. It wasn't a huge amount of damage but enough to end our day prematurely. Still, the speed of the car is good and we were competitive; when you go just a tiny bit too fast here in Finland, there can be a heavy price to pay. We'll be back under Rally 2 on Saturday."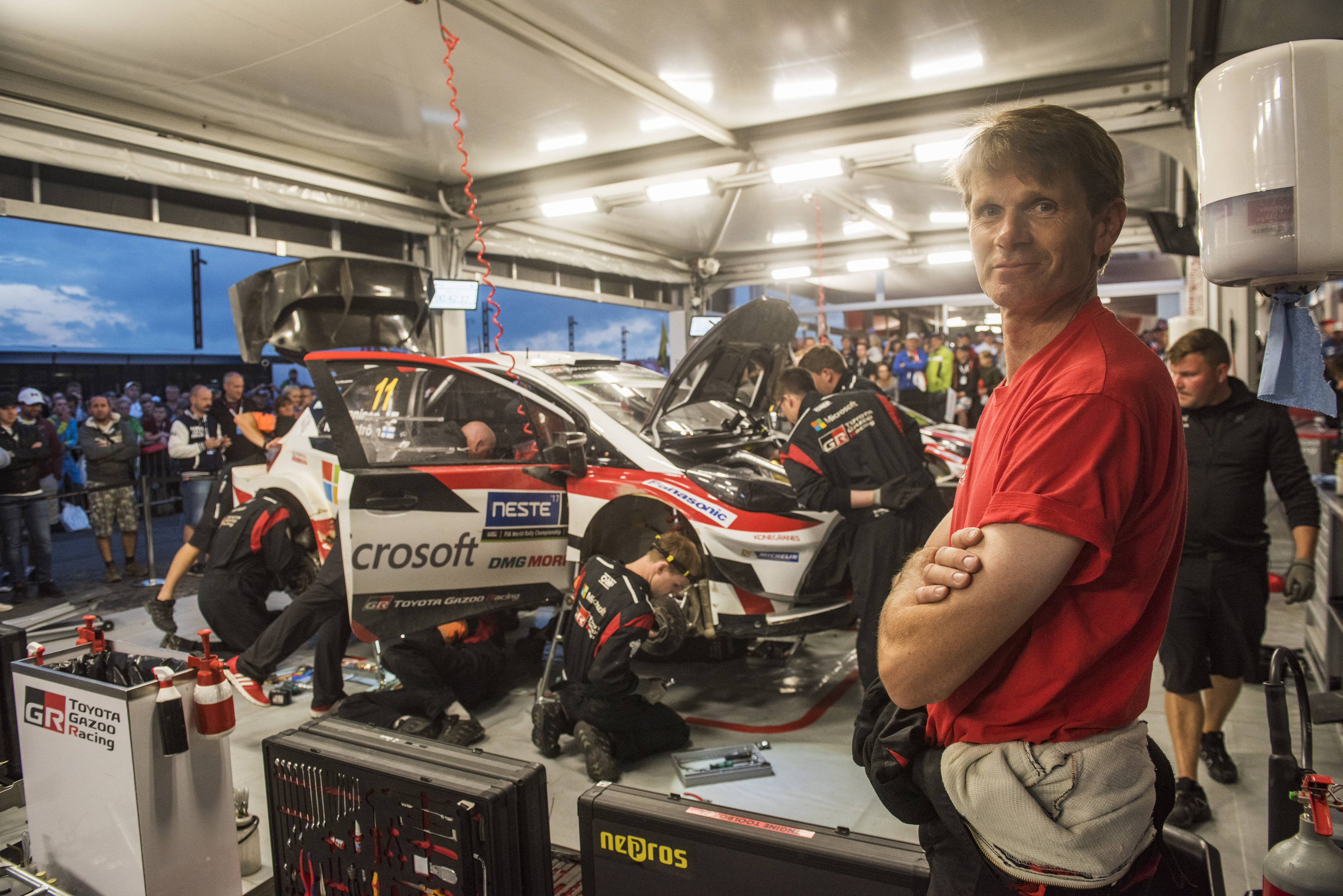 SATURDAY JULY 29
7.20am: Service D (Jyväskylä – 15 mins)
8.58am: SS14 – Pihlajakoski 1 (14.90km)
10.06am: SS15 – Päijälä 1 (22.68km)
10.49am: SS16 – Ouninpohja 1 (24.38km)
12.02pm: SS17 – Saalahti 1 (4.21km)
1.27pm: Service E (Jyväskylä – 30 mins)
2.55pm: SS18 – Saalahti 2 (4.21km)
4.08pm: SS19 – Ouninpohja 2 (24.38km)
5.16pm: SS20 – Pihlajakoski 2 (14.90km)
6.24pm: SS21 – Päijälä 2 (22.68km)
8.39pm: Flexi Service F (Jyväskylä – 45 mins)
Saturday dawned cloudy, but it wasn't raining. The roads in the first stage of the day were not as dry as you might expect. Latvala won the stage and his teammate, Esapekka was 3.8 seconds slower meaning that the gap was now six tenths of a second. At stage end, Jari-Matti said he pushed really hard, using the whole road. He had grass sticking out of his radiator- Evidence of how hard he'd pushed. Lappi said he wasn't going to fight with Latvala. Elfyn was on the move as well, passing Mads for sixth place.
SS14 – Pihlajakoski 1 (14.90km)
1 Latvala   6:53.9
2 Hanninen  +2.7
3 Suninen    +3.2
Watching the cars through stage 15 was amazing. They were sideways out of the corners and flying from the top of the crests on the road. Jari-Matti pushed like crazy, going through corners in fifth gear! The outcome of all of this this was he took the lead emphatically! Now with Elfyn's time being as good as it was and the spin that Craig suffered at a junction, the Welsh wizard climbed another spot into fifth!
SS15 – Päijälä 1 (22.68km)
1 Latvala 10:55.5 (124.6kph)
2 Evans          +3.7
3 Lappi          +5.4
Now it was time for the big one. It's an unbelievable stage, Ouninpohja…… Run in the opposite direction compared to last year as well. A real rollercoaster, cornering at 170kph- That's over 100mph! This stage does not have any straights, every part is either a left or a right-hand corner. They are blind as well. Only the ones that really know it, can push that hard. Jari-Matti was quicker again in this, increasing his lead to 7.3 seconds over Lappi. It was a Toyota 1-2-3 in this as well with Juho third through the stage and moving ahead of Teemu as well into third overall. Sadly, Mads went off and broke his suspension which dropped him down the field to eleventh place.
SS16 – Ouninpohja 1 (24.38km)
1 Latvala   10:56.9 (133.6kph)
2 Lappi             +2.5
3 Hanninen  +11.5
Stage seventeen saw Jari-Matti increase his lead to 7.8 seconds, through the shorter 4km stage, which was run again after afternoon service. He won it in the afternoon as well.
SS17 – Saalahti 1 (4.21km)
1 Latvala 1:58.4 (128kph)
2 Lappi       +0.5
3 Tanak      +0.5
At the end of stage 18, Jari-Matti had a 8.5 lead over Lappi with Juho just ahead of Teemu.
SS18 – Saalahti 2 (4.21km)
1 Latvala 1:56.4 (130.2kph)
2 Lappi        +0.7
3 Suninen  +1.0
It was time to run the big one again and the speeds would be even higher this time. Mads jumped over fifty metres! There would be drama in the Toyota of Jari-Matti though. Mid-way through the stage the car just stopped and there was nothing the Finn could do about it. He thumped the steering wheel in frustration. The dream was over again for another year. Esapekka passed the stricken Yaris WRC in the stage. When he reached stage end he was told he led again, but he sounded glum. He was disappointed he'd taken the lead in this way. Thierry finally found some pace and with everything, moved up into sixth position.
SS19 – Ouninpohja 2 (24.38km)
1 Lappi    10:49.8 (135.1kph)
2 Hanninen  +2.8
3 Neuville    +5.5
Final stage of the day, and there would be drama for Kris. A rock would puncture his tyre and the resulting damage would rip the front near-side of the car apart. Teemu won the stage, with Elfyn and Mads, giving us a Fiesta 1-2-3! With that time, it meant that Teemu was now in second overall! Just astonishing in only his second outing in a WRC car.
SS20 – Pihlajakoski 2 (14.90km)
1 Suninen 6:49.0 (131.1kph)
2 Evans          +1.3
3 Ostberg    +1.8
Top ten overall
1   Lappi     2:02:13.2
2   Suninen     +54.4
3   Hanninen  +55.4
4   Evans       +1:01.9
5️  Breen        +1:17.4
6   Neuville   +1:34.1
7️  Meeke     +2:09.6
8   Tanak       +2:14.1
9   Sordo     +3:48.0
10 Ostberg +4:21.4
So, here's the views of all the drivers.
Esapekka Lappi 1st said:
"It is amazing to be leading at this moment, although I have mixed emotions as I am disappointed for Jari-Matti. He was driving really well. I could not keep up with him without taking big risks, which I did not want to do. When I passed him I slowed down a little bit. I am used to leading with a gap as it happened last year and I know how to manage a lead. I must now concentrate and keep my mind clear. I will sleep well tonight."
Teemu Suninen 2nd said:
"I'm feeling good today. When I had a good feeling on the stages the times have been really good, but it was a disappointment to have lost so much time on Ouninpohja this morning. We lost about 20 seconds at a chicane and that has a big effect now as the fight is really tight.
"Tomorrow, I think all of us will have to keep the same pace as today if not more. I'll continue to focus on my own driving – on keeping a good rhythm and on not making any mistakes."
Juho Hänninen 3rd said:
"This morning was very good. It was a clear run. The afternoon was not so easy. I was a little bit too careful in the last stage, which was very narrow at the end, and I could have been a bit more brave. We are still in a good position, but it is very close with the cars around us. I will try to get second place, that's the goal for tomorrow."
D-Mack WRT
Elfyn Evans 4th said:
"It will be an exciting day tomorrow. It's fair to say that we were struggling yesterday, but it's been a pretty positive day for us today.
"Everything seems to have come together and we've been happy with our performance on most of the stages.
"The conditions suited us a bit better today and we also found a better balance with the car which helped regain some of the confidence we had been lacking previously.
"It's game on for tomorrow so let's see what we can do."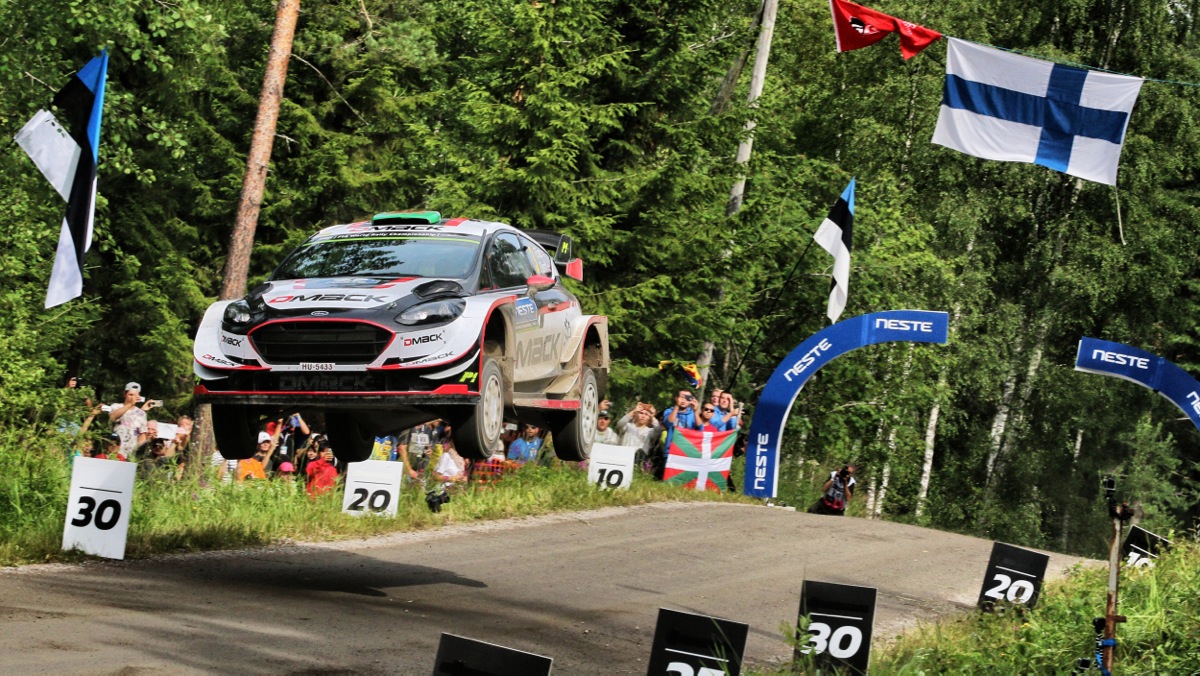 Citroen Abu Dhabi WRT
Craig Breen 5th said:
"It's been something of an up and down day, a bit like the roads here in Finland! I thought I could have been a bit faster in places, but I had a bit of trouble with the set-up we chose for the morning. It was better this afternoon, when there was more grip, but it still wasn't perfect. I feel like we're further away from the podium, but we're still only thirty seconds off second place. If luck is on our side tomorrow, we might be able to move up the standings."
Kris Meeke 8th said:
"Every year it's the same. Ouninpohja is simply one of the best rally stages, an incredible piece of road. The level of grip was good this afternoon and I was able to push because I had a good feeling in the car. We changed quite a few things on the set-up during the mid-leg service and we got some interesting information for the future, so that was pretty positive. On the final stage, we picked up a puncture after hitting a stone. I wanted to keep pushing but the tyre exploded, causing some fairly serious-looking damage. But it wasn't all that serious."
Khalid Al Qassimi 17th said:
"It was another tough day. We worked constantly with the engineers, and yet the car remains very sensitive and tricky to drive on these ultra-fast roads. I had a few moments, especially on the final stage, when we went wide into a ditch and hit some rocks. Fortunately, the damage wasn't too substantial and we are still in the race."
Hyundai Motorsport
Thierry Neuville 6th said:
"Another dissatisfying day for us, but we have gained a few places since yesterday thanks, unfortunately, to others experiencing trouble. We need to pick up as many points as we can, to try and close the gap to Sébastien. The car performed better in the afternoon loop, although it wasn't without its difficulties. In the final stage, I hit a rock in the narrow section and bent the steering. I had to back off a bit. We know that we need to rely on some luck to make up any more positions on the final day, but we'll see what happens."
Dani Sordo 9th said:
"These stages are fantastic and it is a privilege to drive them. The two runs through Ouninpohja were incredible, like a circuit inside the forest. Overall, we had a better afternoon loop when the stages had more grip, but it is just difficult to find motivation and enjoyment when the times are not there. We have not been in a position to fight for anything meaningful so we are just focused on getting through each stage – it is not an ideal way to approach a rally but we can do no more."
Hayden Paddon (Ret) said:
"There was nothing we could do about our retirement today. We were going through a blind left, into a right, when all of a sudden, I caught sight of a big football-sized rock in the road. In the split-second it took to see it, and I knew it would do damage. We could not avoid it and it broke the suspension arm. The real shame is the lack of mileage from this rally. We will be back out on Sunday to try and end this weekend on a high note."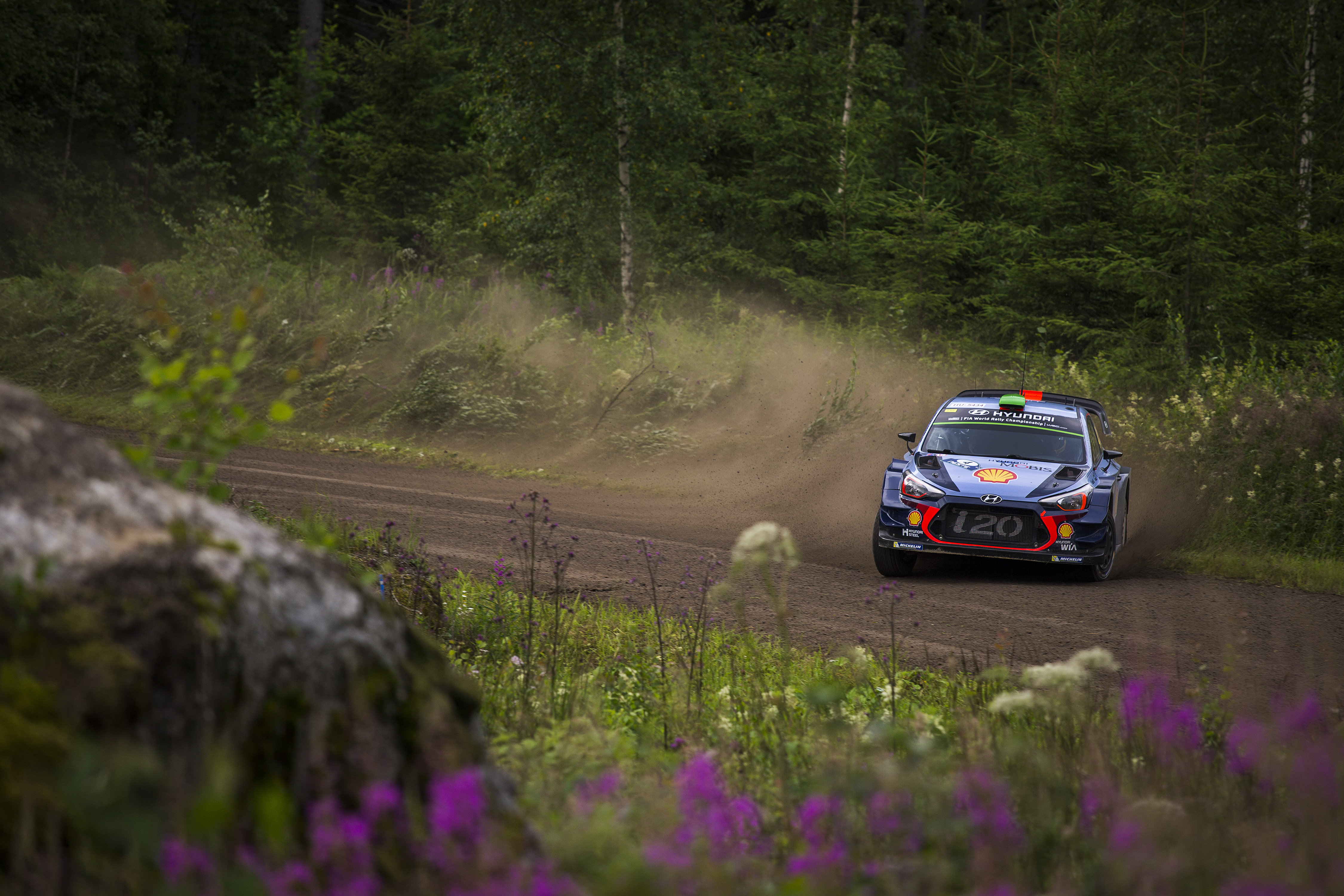 M-Sport WRT
Ott Tänak 7th said:
"The Finns have been quite dominant this weekend, but I think it would have been possible to be in that fight. After yesterday's time loss, there was no opportunity to see if we could do that and it's difficult to find the same confidence when you are not fighting for the win.
"We've just been trying to improve the feeling without taking too many risks. That said, it's still been a decent day and you can't help but enjoy yourself on these Finnish roads."
Jipocar WRT
Speaking about the spin on the first run through Ouninpohja-
Mads Østberg 10th said:
"It was nothing very dramatic, but we hit some rocks, was thrown off the road and damaged the suspension and brakes rear left on the car. We had to stop and check the damages and change a wheel, and continued on the stage without much effect from the brakes. That resulted in further time loss, and it really is quite scary to drive such a fast stage without brakes".
"Yesterday I played with car, today I have had to fight with it. We have worked all day to improve the set-up, and it has been a little better, but not the same as Friday".
The car still isn`t balanced as I would like, and we need a proper check-up during end of day service. We aim to go for some good stage times tomorrow and possibly some points on the "power stage".
8.00am: Service G (Jyväskylä – 15 mins)
9.25am: SS21 – Lempää 1 (6.80km)
10.08am: SS22 – Oittila 1 (10.12km)
11.47am: SS23 – Lempää 2 (6.80km)
1.18pm: SS24 – Oittila 2 Power Stage (10.12km)
2.21pm: Service H (Jyväskylä – 10 mins)
3.00pm: Podium
Sunday morning, and Esapekka had a very healthy lead of nearly 50 seconds. It was bright and sunny. Who would complete the podium? We had Teemu, Juho and Elfyn covered by just seven seconds.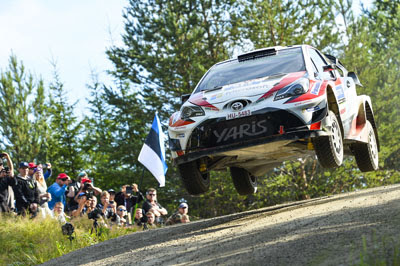 Stage 21 went to fourth placed Elfyn and with that, the gap came down. Further back Citroen pairing Khalid Al Qassimi and Kris Meeke both had damage, so they both returned to the service park.
SS21 – Päijälä 2 (22.68km)
1 Evans 10:42.3 (127.1kph)
2 Tanak +     0.6
3 Suninen  +1.9
With the problem fixed on Jari-Matti's Toyota, he returned to the top of the time sheets with a quickest time through stage 22. Incredibly, with Juho going through the stage faster than Teemu, they were both now on the same overall time, 49.4 seconds down from Lappi. Elfyn was also continuing his hunt for a podium finish.
SS22 – Lempää 1 (6.80km)
1 Latvala 3:08.4 (129.9kph)
2 Hanninen  +1.1
3 Evans         +1.8
Latvala was back in the groove and took the next stage, thus setting him up well for later, as this stage would be run again as the power-stage. Thierry didn't do very well at all, after running wide twice and losing several seconds as a result. Evans was the one on the move however, passing Juho on the leaderboard and into third place. Juho had made a mistake, hitting something at the side of the road, losing time as a consequence.
SS23 – Oittila 1 (10.12km)
1 Latvala 4:52.1 (124.7kph)
2 Suninen  +3.2
3 Evans       +3.7
A combination of things happened in this stage that meant Juho would jump back into second overall. Firstly, he would set the same time as Jari-Matti and despite Elfyn being just 1.1 seconds slower than that, it was enough to put the Welsh wizard behind the Finn. The other thing was that Teemu dropped out of that battle completely after he spun in a very quick right-hander, which turned the car around and pulled the bumper into the hedge. Incredibly, Esapekka ran wide as well, damaging his rear wheel. Just shows how on the limit that they drive these cars.
SS24 – Lempää 2 (6.80km)
1 Hanninen 3:08.3 (130kph)
2 Latvala         +0.0
3 Tanak           +0.5
It was the last stage! The power-stage gives points for the top five best times. Jari-Matti wanted this one, and he had reason to be optimistic after being fastest earlier. However, his time would be beaten and he would ultimately be fourth quickest. Ott would win the stage and take max points from it. What would happen between Evans and Juho? Incredibly, with Juho only fifth fastest, 2.7 seconds slower, Elfyn was second fastest through the stage and it was enough to put him into second overall, just three tenths of a second faster after 25 stages! Just amazing.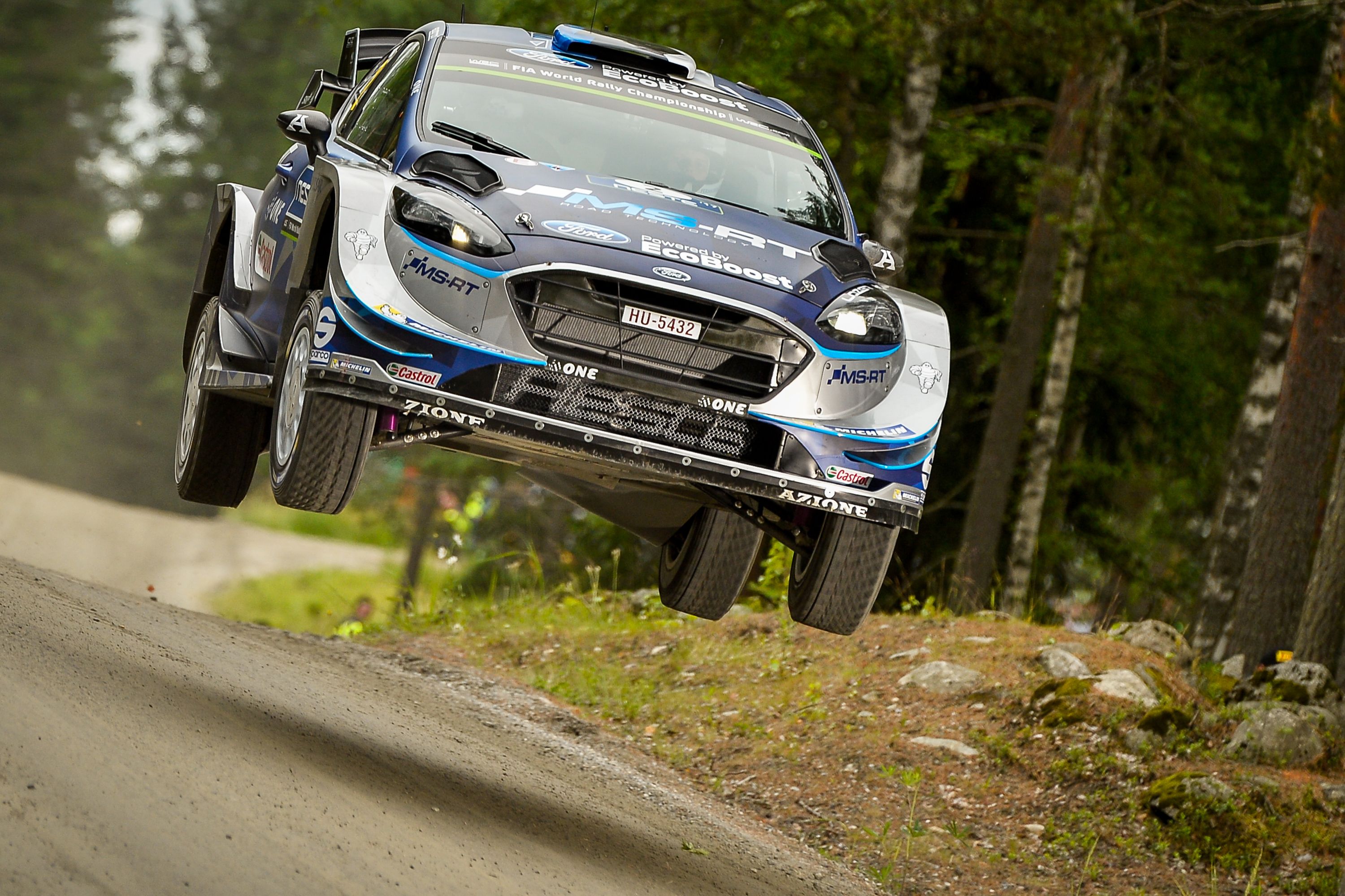 Esapekka had won the rally and what a result for him in only his fourth event at this level.
SS25 – Oittila 2 (Power Stage) (10.12km)
1 Tanak   4:48.6 (126.2kph)
2 Evans        +1.5
3 Neuville  +2.0
1  Lappi    2:29:26.9
2  Evans          +36.0
3  Hanninen  +36.3
4  Suninen   +1:01.5
5️  Breen       +1:22.6
6  Neuville   +1:33.1
7  Tanak       +1:53.6
8️   Meeke    +3:12.6
9   Sordo      +4:11.5
10 Ostberg +4:21.2
Let's hear from the drivers at the end of this amazing historic event.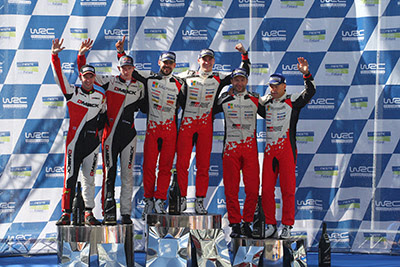 Esapekka Lappi 1st said:
"I'm not normally an emotional person but this is amazing. What a rally. I could never have imagined that we could get a result like this, so it's a very big surprise. I have to say a big thank you to the team because they have built such a great car in a very short period."
Elfyn Evans 2nd said:
"We're really chuffed to come away from Rally Finland with second place – especially as that wasn't looking likely on Friday evening. We kept at it, kept pushing and managed to claw our way back up the leader board. It's a really positive way to finish the weekend.
"Friday was a very difficult day for us. We started without a test and were really struggling with the balance of the car throughout that opening day. We made some changes which helped quite a lot and the longer stages and drier conditions helped too. We started making our way up the order and it all went from there.
"Going into this morning, it was a very difficult situation to be in. There was an element of wanting to push for the best result, but at the same time it was really important to secure good points for the team. It wasn't an all-out attack, but it all worked out in the end.
"It's not the win, but it's still a strong weekend and we can be pleased with the job we have done this weekend."
Juho Hänninen 3rd said:
"It's been an amazing weekend and I'm very happy with this result. Of course, I tried to get second, but we made a few mistakes. I'm still very happy to be on the podium for the first time in my career. Thank you to the team and this fantastic car that made it possible."
M-Sport WRT
Teemu Suninen 4th said:
"Of course, it's disappointing to have lost out on a podium in the final stages, but we had to try. This is our last planned rally in a world rally car, so I had to try. Unfortunately, I just ran a little bit wide and had a high-speed spin which dropped us out of that battle.
"I'm disappointed right now, but in the morning, I think I will feel better – knowing that I was fighting for a podium on only my second time in this car.
"We had really good pace all weekend – honestly more than we had expected before the rally – and I am happy with that. A big thanks also to all of the fans and the team for their support which has been pushing me to do my best."
Ott Tänak 7th said:
"The Finns have been quite dominant this weekend but I think we had the pace to be in the fight. Unfortunately, we will never know what would have been possible – our disappointment coming quite early in the rally.
"To score the top times here in Finland you need to be fully confident, and it's hard to find that when you're not fighting for the best positions. But it's still been a fairly decent weekend. Driving in Finland is always a lot of fun and we showed our speed with the fastest time through the Power Stage."
Citroen Abu Dhabi WRT
Craig Breen 5th said:
"It wasn't our best day in terms of pure performance. I knew that I couldn't make up the ground on the leaders in normal racing conditions so I just focused on containing Thierry Neuville. For sure, it's a good run of fifth places but I'd like to get back onto the podium before the end of the season!"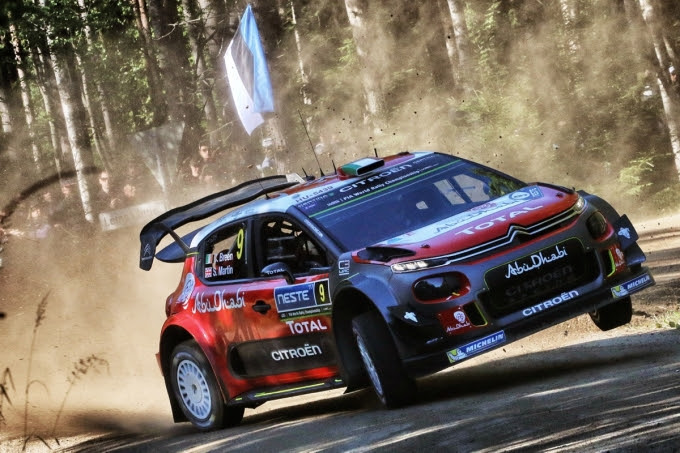 Kris Meeke 8th said:
"Although there weren't many miles to cover, it was still a proper leg with some typically fast Finnish stages. As I had nothing to gain by taking risks and was low on confidence, I played it safely to bring the car home."
Khalid Al Qassimi 16th said:
"Like yesterday, I was first on the road and that made my job a little more difficult. The roads were very slippery this morning and it wasn't easy to read the level of grip. So I drove without any real feeling, but there wasn't much else I could do."
Hyundai Motorsport
Thierry Neuville 6th said:
"We set out to score more than Ogier this weekend, and we were able to achieve that. We had a very difficult weekend so to salvage some points is crucial. The Power Stage was a key moment, as we scored three vital extra points to move to the top of the Championship. This levels the playing field with four events left of the season, so it has been an important result. We know everyone is pushing hard to keep us in contention, so we have to put this complicated rally behind us and look forward to Germany, the team's home event, where we know from the past that we can perform well."
Dani Sordo 9th said:
"I am relieved that this rally is over. I have never had the right feeling all weekend, and on these fast roads you need to be fully committed to perform at the highest level. It has been complicated, not only for me but also for the team, so we have to put this behind us and look forward to the next event. We cannot let this weekend affect us; we need to stay concentrated and push flat out for victory in Germany!"
Hayden Paddon said: "It has been one of those weekends for us. After our retirements on Friday and Saturday, we wanted to approach these final stages in a positive manner and to get some time behind the wheel. This rally has perfectly illustrated our season, where anything that can go wrong does go wrong. The Power Stage was another example, when the car unexpectedly went straight on at a third gear corner. Still, we got to the end of the rally and I am sure, one day in the future, we will look back and laugh at our bad luck this year. I am sure we could have fought for the podium this weekend, and that is the positive that we will take away."
Jipocar WRT
Mads Østberg and co-driver Torstein finished Rally Finland in 10th place, after a challenging but also positive weekend on the superfast Finnish roads.
Mads 10th said:
"I`m not thinking so much on the end result, because this has actually been my best rally this season. Except for some bad luck with the off-road excursion yesterday, we have been genuinely competitive this weekend with many top-three stage times. Torstein has also done a fantastic job jumping into the co-drivers seat on relatively short notice. We will just have to work with the positive experiences from this rally, and therefore I am really positive before the rest of the season".
Thinking of the coming weeks ahead, Mads continued,
"It's really tough with two WRC-rallies and one ERC-event in only 17 days. But also, very interesting and challenging with the chance to evaluate three different codrivers. I am looking for a permanent codriver to partner me further on and Torstein, Patrick and Emil are all possible candidates for this job".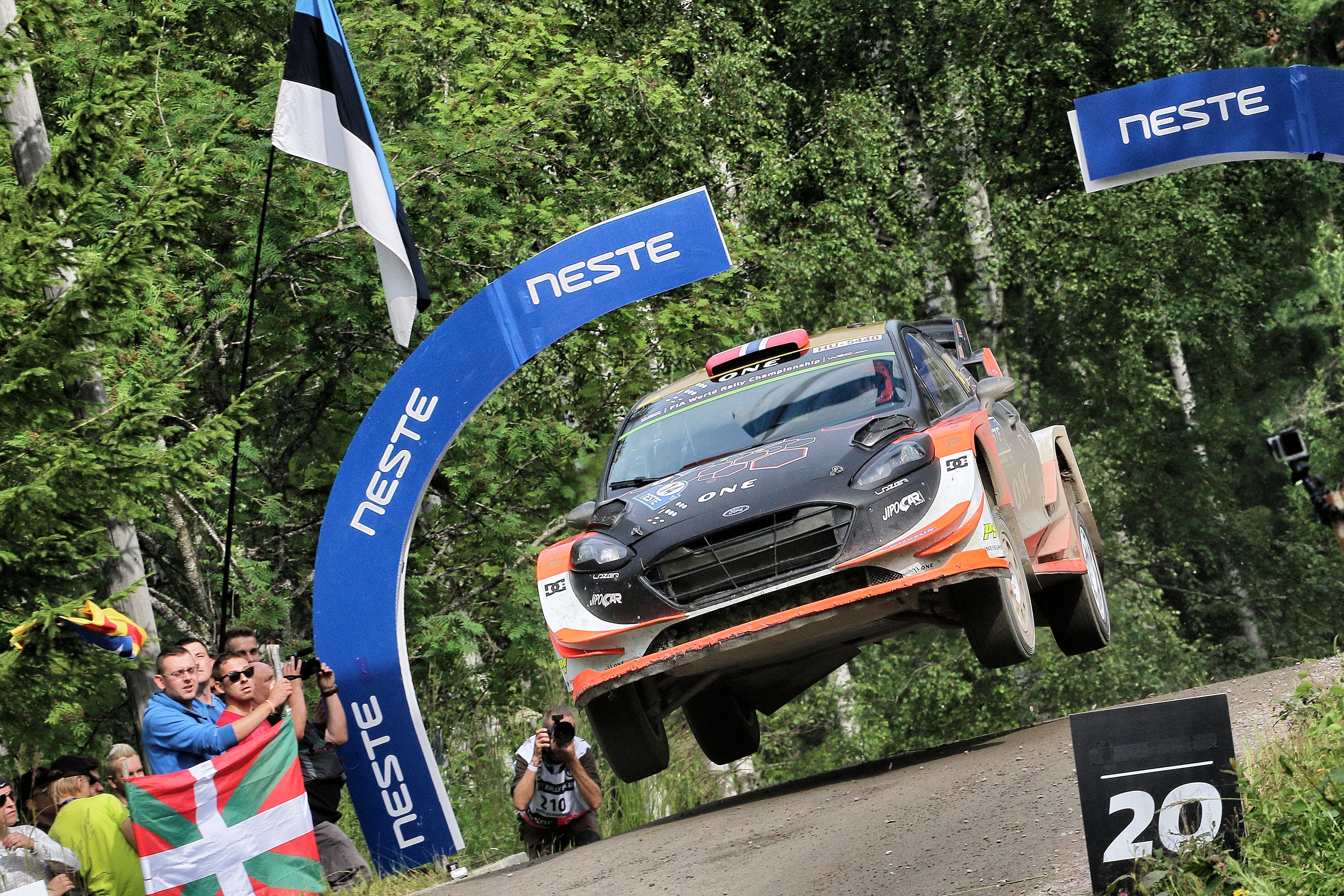 Well, the championship has just got very interesting indeed. With Seb not scoring any points at all and Thierry finishing in sixth place and scoring enough points to bring him level with Seb at the top. We have a four-event battle to look forward to for this year's championship. It starts in two weeks in Rally Germany!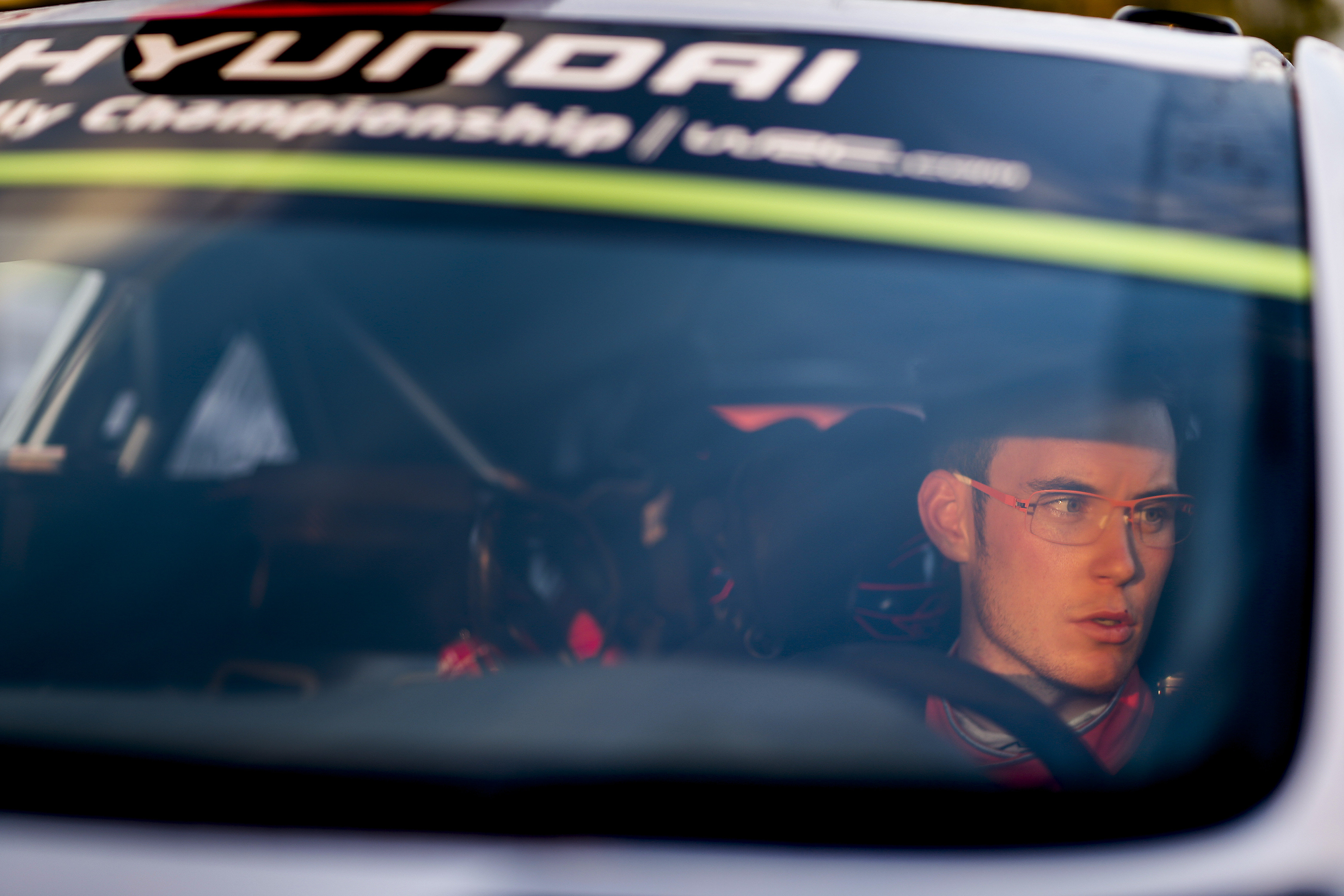 2017 FIA World Rally Championship for Drivers' Standings
After round 9
1              T. Neuville             160
2              S. Ogier                 160
3              O. Tanak                119
4              J.M Latvala          114
5              D. Sordo                 84
6              E. Evans                  79
7              C. Breen                 53
8              H. Paddon             51
9              J. Hänninen          46
10           E. Lappi                  45
2017 FIA World Rally Championship for Manufacturers' Standings
After round 9
1              M-Sport World Rally Team                                              285
2              Hyundai Motorsport                                                           251
3              Toyota Gazoo Racing World Rally Team                  193
4              Citroën Total Abu Dhabi World Rally Team            135
Warren Nel
3rd August 2017