Juan Manuel Fangio's record in motorsport speaks for itself.
In a career that spanned nine World Championship F1 seasons, 'El Maestro' won five titles for four different teams (Alfa Romeo, Ferrari, Mercedes, and Maserati), and took victory in 24 of the 52 races he entered. That 46.15% success rate is the best of any driver to have ever raced in F1, a feat which is made all the more impressive when it considered that, in the period he raced, there was an average of just eight races per season.
Of those 24 wins, Fangio arguably saved the best for the last.
He arrived at the infamous Nurburgring Nordschleife for the 1957 German Grand Prix with a chance to claim a fifth World Championship.
Things initially looked promising when Fangio qualified on pole, but at the start of the 22-lap race he dropped back to third behind the Ferraris of Mike Hawthorn and Peter Collins. By the third lap, Fangio managed to retake the lead, making use of his softer Pirelli tyres, and set five new lap records in quick succession.
However, Fangio had started the race with only half a tank of fuel, and so on lap 12 he came into the pits for refuelling and for new tyres.
Even by 1950s standards, his stop was slow. A fumble with a wheel nut meant Fangio lost over a minute and he emerged back out on track over 40 seconds behind Hawthorn and Collins, who were on a 'no-stop' strategy and harder Englebert tyres. Any attempts to retake the lead would have to be done on track.
To Ferrari, it looked as if Fangio's first two laps were positively sedate, and they signalled to Hawthorn and Collins that it looked like Fangio would not be a threat, lulled into a false sense of security.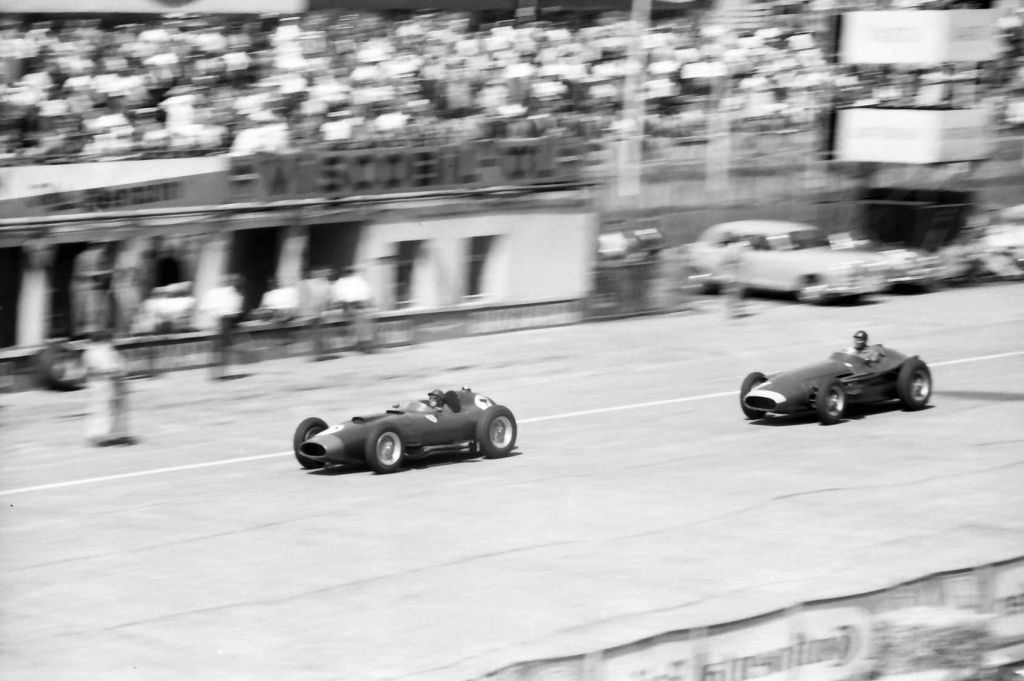 Owing to the technology of the time and to the length of the Nurburgring circuit, the teams were only able to communicate with their drivers once every fourteen miles using boards held out from the pits, and Fangio used this to his advantage. He put the hammer down, carving into their lead at a rate of 10 seconds a lap. Once Ferrari realised what the Argentinian was doing, it took them a long time before they were able to make Hawthorn and Collins aware and urge them to pick up the pace.
On lap 18, Fangio completed the first ever lap of the Nurburgring with an average speed above 90mph. He would go on to break the lap record a further ten times, with his fastest lap of 9mins 17.4 seconds a huge 8.2 seconds quicker than his pole time.
Fangio ate up the distance between himself and the top two drivers and, on lap 21, he caught and passed both Collins and Hawthorn to retake the lead.
Three and a half hours after the race started, Fangio took the chequered flag to claim victory, 3.6 seconds ahead of Hawthorn.
His fastest lap was over 24 seconds faster than the lap record from the previous year, and neither Hawthorn nor Collins could get within 10 seconds of it. To add the icing to the cake, his victory meant Fangio wrapped up a fifth World Championship, a record which would take 47 years to be beaten.
"I have never driven that quickly before in my life and I don't think I will ever be able to do it again," Fangio would later say, somewhat prophetically. He would retire the following year having not won another race.
His performance at the 1957 German Grand Prix has rightfully gone down in history, cementing the race's position as one of motorsport's most legendary.