20-year-old Brit Jamie Chadwick started from pole position in the first ever W Series race this afternoon in Hockenheim.
The 18 female drivers took to the grid in their mechanically identical Formula 3 race cars to begin the 30-minute race.
Chadwick made a good start going into turn one, but she outbraked herself at the hairpin, going wide and giving the lead to Sarah Moore.
Canadian driver Megan Gilkes and Emma Kimilainen from Finland made contact going down the straight into the hairpin, bringing the safety car out and forcing the duo to retire from the race. Fortunately, both were okay.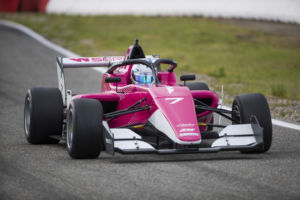 As the safety car period ended, three Brits led the field: Moore, Chadwick and Alice Powell in third.
Sarah Moore went wide at turn one at the restart which gave Chadwick back her lead. Spaniard Marta Garcia made some brave moves and moved up to third position while Moore fell down to P6.
Dutch racer Beitske Visser and Fabienne Wohlwend from Liechtenstein were fighting it out for P4 as Powell went on a charge for the lead, gaining quickly on Jamie Chadwick.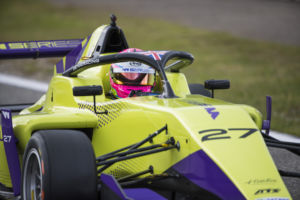 The middle of the pack were bunched up for much of the race. Japanese driver Miki Koyama was doing a superb job, progressing up to 9th from her starting position of 17th with ten minutes of the race remaining. She fought hard with Esmee Hawkey, Vicky Piria and Australian Caitlin Wood for the final points in the top ten.
With less than five minutes to go, Chadwick pulled out a comfortable gap in the lead, as Powell began to defend 2nd position from 18-year-old Garcia, the youngest driver on the grid.
Italy's Vicky Piria dropped to P15 after having a spin and picking up a marker board in sector two before rejoining the pack.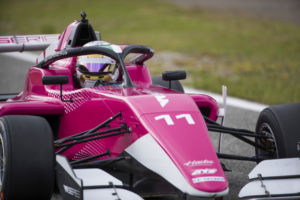 After a difficult start, Jamie Chadwick claimed her maiden victory in the W Series, winning the maximum of 25 points and making motorsport history. Fellow Brit Alice Powell and Spain's Marta Garcia joined her on the podium in 2nd and 3rd.
Visser finished in 4th, followed by Moore, Wohlwend, Koyama, Pepper, Rdest and Wood rounding out the top ten.
It was a thrilling first race in Hockenheim for the W Series, and hopefully, one of many more. Round two of this new and exciting series will take place on the 18th May in Zolder, Belgium.