On Saturday McLaren junior driver and much acclaimed star of the future Lando Norris finally secured the FIA European Formula 3 title at Hockenheim with two races still left to run. Those who follow the series closely will have been surprised not to see him clinch the championship sooner, and he would have. Had it not been for a last lap tangling with Ralf Aron during the last race of the penultimate round at Spielberg. Even more impressively, Norris becomes the first non-Prema Powerteam driver to win the F3 title in the past six years, highlighting the amazing work both the driver himself, and his team, Carlin, have done over the course of 2017.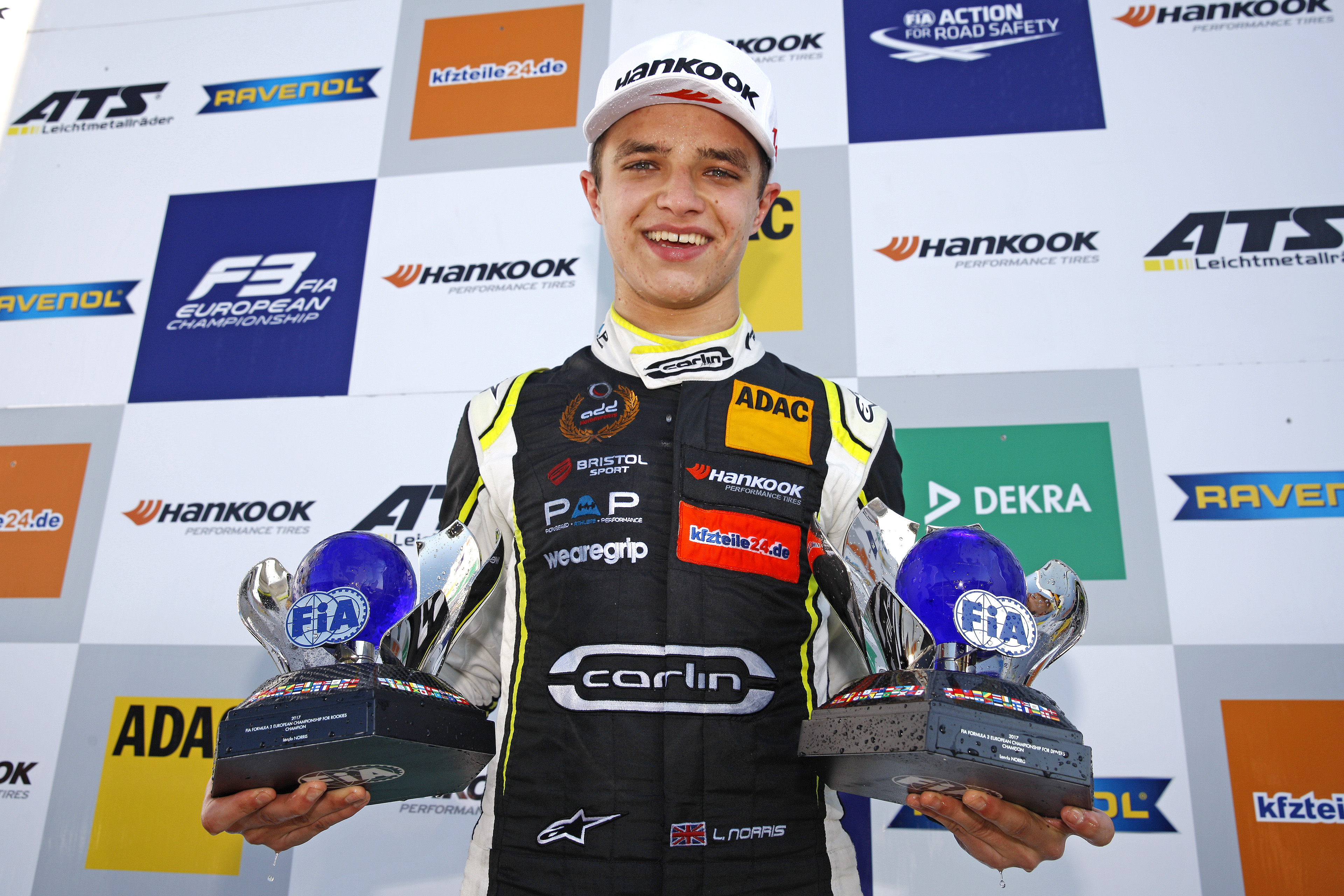 While Norris' season got off to a shaky start, in the latter half of the year the consistent results started to roll in and in a tightly packed field, Norris began to emerge as a favourite for the title. No doubt he benefitted from a downturn in form from one of his nearest rivals, Swedish driver Joel Erikkson, and the disappearance of Prema's usual dominance. But Norris took the chances when they came his way and in the end there was little doubt that he would walk away with the title. His ability to keep improving over the course of the season it was makes him such a strong competitor, and is probably part of the reason why the young British driver has won the title in almost every series he has competed in to date.
This ability to keep building on his natural talent and skill start, is probably most evident in his race starts. In the first few rounds of 2017 while Norris would ordinarily pull out stellar qualifying performances, he would struggle to get off the line smoothly, sometimes stalling completely. It didn't always mean he was destined to finish down the order, but it certainly did not help his case. However, by the last few rounds, Norris seemed to have conquered these demons and removed the weakness from his arsenal.
It is also probably no coincidence that Norris really hit his stride just after his participation in the in-season test for McLaren at the Hungaroring back in August. Whether it the positive press he received after an impressive first showing F1 machinery provided a confidence boost for the seventeen-year-old, or he unlocked a new level to his performance working with them, the effect was positive. Expectations were high after his showing during the two-day test, and it would have been very easy for the young driver to buckle beneath it all, but if anything it seemed to spur him on to prove that he could live up to the hype.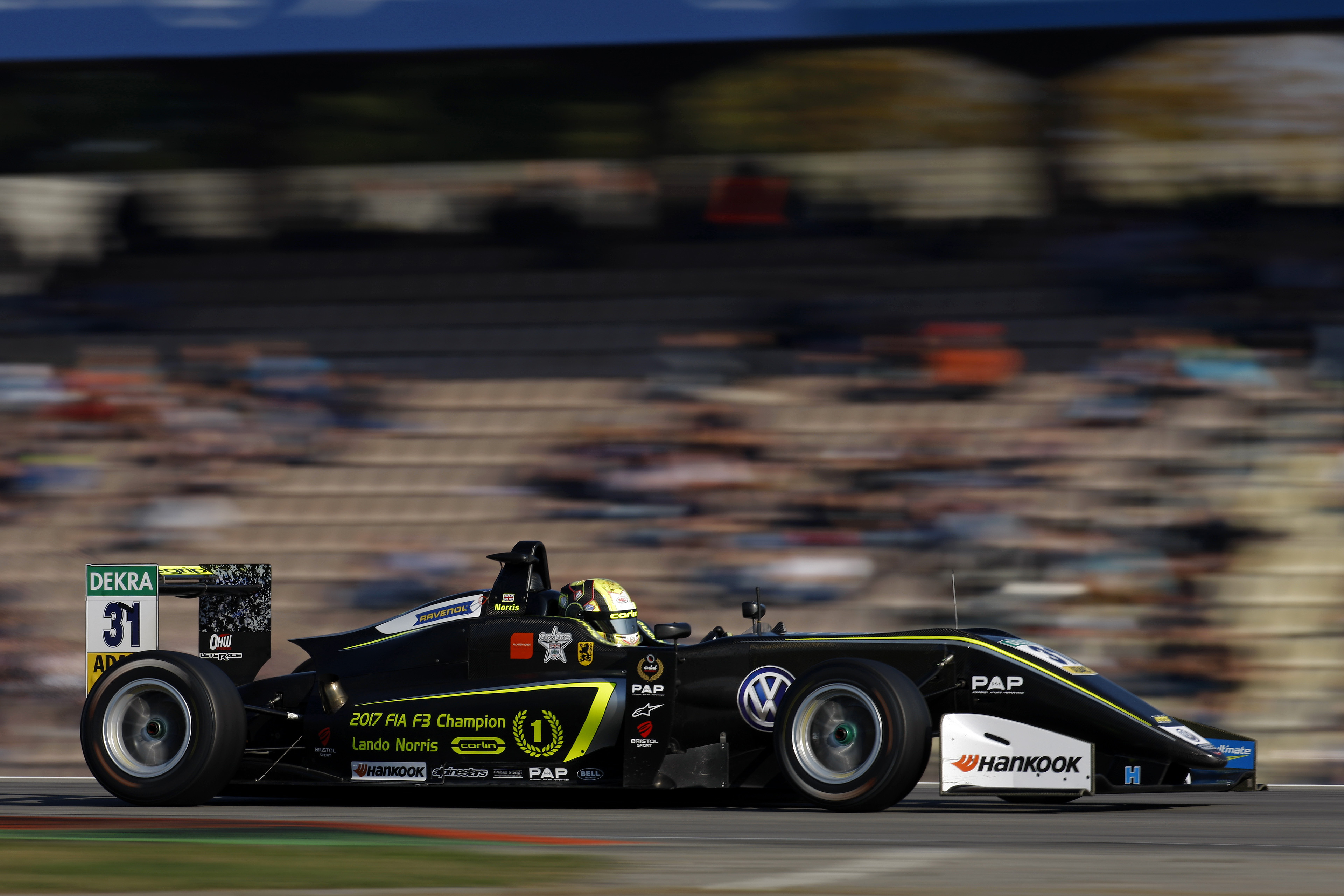 2017 marks another year in what is shaping up to be quite an impressive junior career for the most recent recipient of the McLaren Autosport BRDC Award. Since his 2015 MSA Formula title, Norris has added the top prize of every full series he's competed in to his resume. And the Formula 3 title makes it his fifth championship in around two years, which can go someway in explaining why he is rated so highly.
So what's next for the young British driver? Reports indicate that he will most likely become McLaren's official reserve driver in 2018, taking that role from F1 World Champion Jenson Button. Most likely he will attempt to follow up his Formula 3 success with a stint in either Super Formula or Formula 2 – with many linking him to a F2 seat at Prema Racing who just took Charles Leclerc to the title in his rookie year.
Though he is certainly setting himself up for success in Formula 1, where he will hopefully find himself in the future, next season would perhaps be a season or so too soon. The raw ability is undoubtedly there, but as his early season difficulties and rashness in Austria show, there are still a few choice areas where some ironing out is required. It is easy to forget just how young Lando Norris is, and sometimes it does peek through in his racing. However, he is not yet eighteen, so time is on his side.