Qualifying:
Dark clouds loomed above the Assen track, just waiting to burst, making every lap count for the riders.
Francesco Bagnaia (Ducati) made the most of it and secured his 4th pole position this season ahead of championship leader Fabio Quartararo (Yamaha) and Jorge Martin (Ducati) in 3rd.
Honda rider Pol Espargaro would be sitting out of Sunday's race due to damage to his ribs and even though he set 3rd fastest lap Martin would be racing with an infected wrist.
Race:
The weather wasn't exactly clear blue sky, but it was declared dry for race day.
The action started almost immediately: with lights out Joan Mir (Suzuki) and Luca Marini (VR46) collided into eachother, while Bagnaia got a flying start. Quartararo went wide on the first corner ending up in 4th place, but managed to pass Martin and Aleix Espargaro (Aprilia) through turns 2 and 3 to take back 2nd. Aleix wasn't just going to let him have the spot though and on the next corner passed him right back. Slightly further back Marco Bezzechi (VR46) passed Jack Miller (Ducati) for 5th. As the first lap ended would the momentum continue for the rest of the race?
Starting lap two and Bagnaia led A. Espargaro, Quartararo and Martin.
By lap 3 Aleix had secured fastest lap while the rookie Bezzechi made a move on Martin to take 4th.
Bagnaia was having issues in front trying to shake Aleix. Behind him Fabio took fastest lap and was chasing them both down.
Lap 4 saw Miller take his penalty from qualifying in the form of another long-lap penalty. We all know how last weeks penalty ended up, would history repeat itself this time?
Suddenly with 22 laps to go El Diablo made a move out of nowhere, trying to undertake Espargaro into turn 5. Resulting in both the top championship contenders colliding into the gravel. Aleix managed to remain upright on his Aprilia and rejoin the race, albeit in 15th. Seconds later Fabio had also rejoined the race, in last position behind his teammate. Bagnaia, oblivious to the carnage behind him, then had a 1.064 second lead ahead of Bezzechi and Martin.
There didn't seem to be any significant damage to Espargaro's bike as he started to take positions back. By lap 8 he was in 14th place. Now a man on a mission, how far back up the pack could he manage?
Meanwhile the Yamaha weekend was going bad to worse as Frankie Morbidelli crashed out on the same corner as Fabio 2 laps later. On the next lap, turn 8, Darryn Binder also ended his race early and Fabio pulled into the pits to try to retire but was told by his team to go back out, with 17 laps left – this would prove to be a mistake.
Alex Rins (Suzuki) was Espargaro's next target managing to pass him on lap 9 for 13th while his teammate, Maverick Vinales made a move on Brad Binder (KTM) to claim 4th place on lap 11.
The man on the move – Espargaro then made quick work of both the Gresini racers taking 11th and with it another fastest lap.
Yamaha's mistake sending Quartararo back out to race resulted in yellow flags being waved for him on lap 13, where once again on turn 5 Quartararo crashed for a second time. This time high-siding from his bike and looking like he'd hurt himself.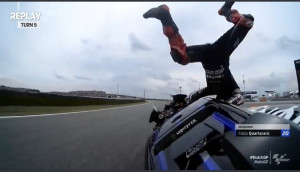 Following on from his penalty Miller was up to 6th place by lap 15. Behind him Johann Zarco (Ducati) and Joan Mir (Suzuki) were battling for 8th but, it was Espargaro that calculated a move passing them both claiming the 8th spot for himself.
By this time there were wet weather flags being waved by the marshals, declaring it a wet race. The riders had a choice to either stay out on track or go the pits and swap their bikes. It must not have been raining very hard as no rider decided to swap.
Lap 18 and Vinales took 3rd place from Martin. Was Martin's wrist starting to hurt from the infection? Was the rain starting to affect visibility or tyres? Whatever was effecting Martin he fell back to 6th. But his troubles didn't end there – going from strength to strength Aleix made up another place with 7 laps to go and was catching Martin who was 2.176 seconds ahead. Could he manage to catch him in time for the chequered flag?
Next lap and Miller managed to pass his teammate for next year – Binder to take 4th.
By this point of the race, the rain seemed to have eased and the flags had stopped waving. With tension mounting could Bagnaia hold on for just 5 more laps or would the pressure get to him? Would the rookie be able to remain in his podium position? Could Vinales keep his first podium place for Aprilia? Where would Aleix end up? Would there be a classic Assen surprise at the end?
Miller was stalking Vinales and was looking likely to take the last spot on the podium, Maverick was riding defensively though – Miller knew he had to make a move and decided to with 1 lap to go but, he went wide and Maverick took it back. While behind them Espargaro had clawed the seconds down between himself and Martin and had taken 6th.
Last lap – Bagania led Bezzechi and Vinales but as they were crossing the line the Assen surprise came in the form of Espargaro taking 4th place, passing both Binder and Miller in a breathtaking pass on the last corner. In doing so claiming some more all-important championship points. Now with only 21 points between him and Quartararo.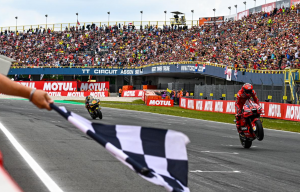 Top ten race finishers:
| | |
| --- | --- |
| 1st | F. Bagnaia |
| 2nd | M. Bezzechi |
| 3rd | M. Vinales |
| 4th | A. Espargaro |
| 5th | B. Binder |
| 6th | J. Miller |
| 7th | J. Martin |
| 8th | J. Mir |
| 9th | M. Oliveira |
| 10th | A. Rins |
Vinales claimed his first Aprilia podium, Bezzechi claimed his first premier class podium, along with VR46's first Moto GP podium and all was forgiven between Fabio and Aleix, after Fabio apologised to the Aprilia team and to Aleix.
Top four championship standings:
| | | |
| --- | --- | --- |
| 1st | F. Quartararo | 172 points |
| 2nd | A. Espargaro | 151 points |
| 3rd | J. Zarco | 114 points |
| 4th | F. Bagnaia | 106 points |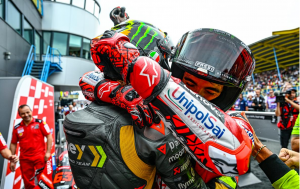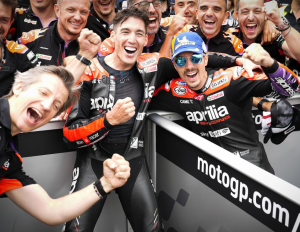 With 5 weeks to wait for the next Moto GP round at Silverstone (August 5th/ 6th and 7th), the teams and riders can take a well earned rest and come back stronger. The championship is still wide open.
The first half of the season may now be over but what surprises will the second half have installed for us?
Featured image: Courtesy of Moto GP website.