Aleix Espargaro has taken his first sprint race win of the season in a fantastic and aggressive race from the Catalan rider. He took the lead of his home sprint race on lap 7 and quickly pulled out a comfortable lead, eventually crossing the line with a 2+ second lead over his nearest rival. He celebrated with a wheelie that lasted for the entire start-finish straight, soaking up the cheers from his adoring home crowd.
Despite starting on pole, Pecco Bagnaia was clearly thrilled with his silver medal – his 9th podium in 11 sprint races, showing he clearly relishes this new weekend structure! It was a hard-fought 2nd place – he put up a good defence against Espargaro, with some characteristic late-breaking, and then faced a challenge from Maverick Vinales.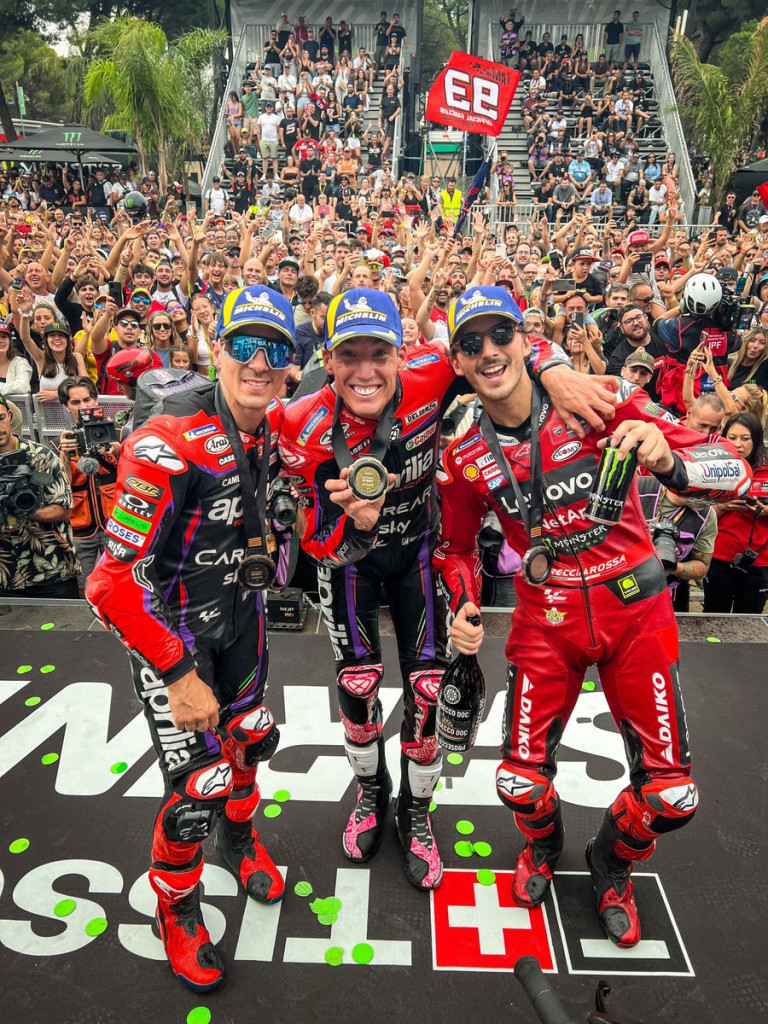 Despite coming achingly close to 2nd place, and getting up alongside Bagnaia a few times in the final laps, Vinales was forced to settle for 3rd place. He clearly tried everything in his wheelhouse but didn't quite have enough to pass the championship leader.
Further back, it was a positive race for Marc Marquez who has struggled a lot this weekend. He started the race in 12th but was quickly up to 8th after a flying start off the line – it seemed the light rain and slippery conditions suited Marquez and he was able to capitalise on this in the early stages. He enjoyed a close battle in the latter stages of the race for 10th place, fighting with Alex Marquez, Luca Marini and Fabio Di Giannantonio.
It was a tricky day for Jack Miller, Joan Mir and both Yamaha riders, Franco Morbidelli and Fabio Quartararo. None of these riders were able to make waves in the field. Morbidelli and Miller crossed the line in 15th and 16th, a whopping 16s away from the race winner, with Quartararo coming home in 18th and Mir in 21st and last.
AS IT HAPPENED
Much like qualifying, the weather threatened to add significant chaos to the race – the rain began to fall during the warm up lap which forced the teams to rush to prepare the spare bikes with wet weather tires. However, it wasn't quite wet enough for the riders to opt for these bikes and everyone lined up on the grid with their slick tires on.
As the lights went out, Pecco Bagnaia leapt in to a comfortable lead, with Maverick Vinales slotting in behind, in 2nd. Jorge Martin took 3rd after enjoying a flying start from 5th.
It was a great start also for Marco Bezzecchi, climbing from 10th to 5th, and Marc Marquez, leaping from 12th to 8th.
Despite a very strong qualifying session, Miguel Oliveira quickly undid all that hard work as he dropped back from 3rd to 7th in the early stages.
As the riders came to the end of the first lap, Aleix Espargaro came past his teammate to take 2nd away from Vinales. Bagnaia was quickly pulling out a comfortable lead and soon had a 0.5s gap over the chasing pack.
On lap 4, Pol Espargaro crashed after going wide at turn 5 – he made the sensible decision to lay the bike down before hitting the barrier and was able to walk away from the incident.
On the following lap, his brother Aleix was now close enough to Bagnaia to pull up alongside him. However, in classic Bagnaia fashion, he was so late on the breaks that Espargaro wasn't able to get out of 2nd place.
At the halfway point in the race, we had Bagnaia leading, from Espargaro in 2nd, Vinales in 3rd, Brad Binder in 4th and Oliveira in 5th. There was then a 1.3s gap back to the next group, made up of Martin, Bezzecchi, Marc Marquez, Enea Bastianini and Johann Zarco in 6th to 10th respectively.
At the first corner of lap 7, Espargaro finally made his way past Bagnaia, much to the joy of his home crowd. Before the lap ended, he had already pulled out a 0.49s gap over the championship leader and looked to be quickly checking out at the front.
The race settled down for the final laps, with the only action coming from Vinales who was quickly catching up to Bagnaia. He spent the final two laps of the race right on Bagnaia's tail but sadly wasn't able to get past him like his teammate could. This battle eventually gave Espargaro a 2+ second lead as he crossed the line to take his first sprint race victory.
FULL RESULTS
| 1st | Aleix Espargaro | Aprilia |
| --- | --- | --- |
| 2nd | Pecco Bagnaia | Ducati |
| 3rd | Maverick Vinales | Aprilia |
| 4th | Brad Binder | Red Bull KTM |
| 5th | Jorge Martin | Prima Pramac |
| 6th | Miguel Oliveira | CryptoDATA RNF |
| 7th | Johann Zarco | Prima Pramac |
| 8th | Marco Bezzecchi | Mooney VR46 |
| 9th | Enea Bastianini | Ducati |
| 10th | Alex Marquez | Gresini |
| 11th | Marc Marquez | Repsol Honda |
| 12th | Luca Marini | Mooney VR46 |
| 13th | Fabio Di Giannantonio | Gresini |
| 14th | Raul Fernandez | CryptoDATA RNF |
| 15th | Franco Morbidelli | Yamaha |
| 16th | Jack Miller | Red Bull KTM |
| 17th | Augusto Fernandez | GASGAS Tech3 |
| 18th | Fabio Quartararo | Yamaha |
| 19th | Iker Lecuona | LCR Honda |
| 20th | Takaaki Nakagami | LCR Honda |
| 21st | Joan Mir | Repsol Honda |
DNFs: Pol Espargaro (GASGAS Tech3)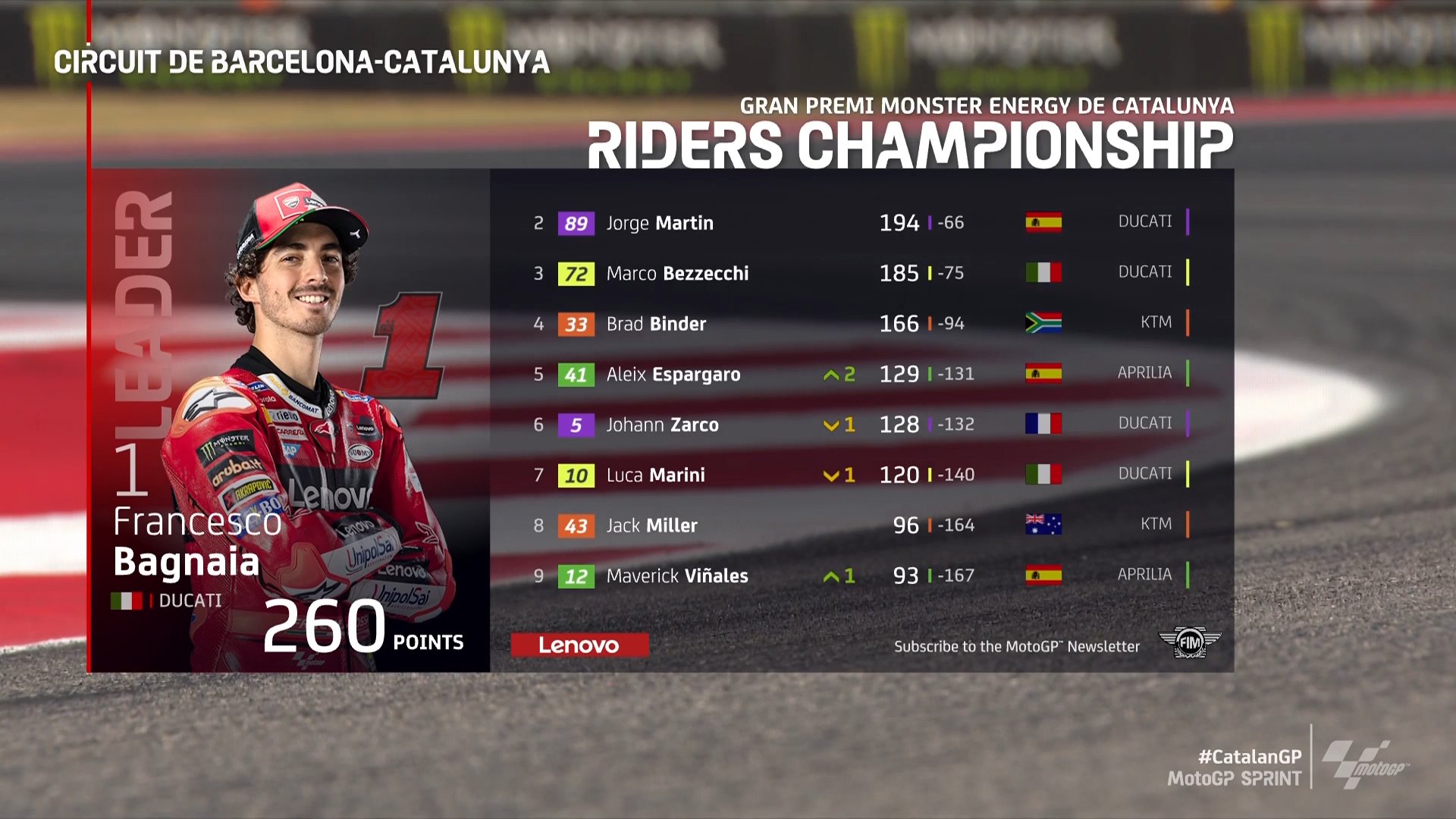 Feature Image Credit: MotoGP