Dennis Foggia took a dominant win on the Thai GP making it his third in the past six races, leaving a glimmer of hope that his fight for the championship is still on.
While his championship rivals struggled in qualifying, with Izan Guevara 11th and Sergio Garcia further down in 20th, Foggia lined up on Sunday's grid with clear track ahead on pole position.
The start couldn't have gone any better for the Italian, holding his lead and having a clean getaway as Stefano Nepa moved his way up to second after a good start from fourth.
Meanwhile there was drama almost straight away as the first lap came to a close, when championship contender Garcia found himself on the ground after a collision with Adrian Fernandez.
There was a couple of other crashes as the race unfolded, Kaito Toba and John McPhee fell down in separate incidents which brought both of their races to an early close.
Back at the front it was still Foggia out in first as a group of six riders formed in the lead pack. This number slowly began to fall as Jaume Masia, Diogo Moreira and David Muñoz dropped back down the field.
Garcia's day continued to get worse as he went a lap down at the beginning of lap 12, there was nothing he could do as he let rival Foggia by when the blue flags waved.
Garcia eventually retired to the pits shortly after the halfway point in the race, with the opportunity to score any points well and truly gone.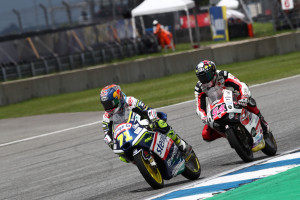 There was little standing in Foggia's way as the race went on, leading quite comfortably throughout the entire race bar one slight mistake at the end of lap 13 which allowed Ayumu Sasaki into the lead, albeit very briefly as the Italian quickly moved back ahead two corners later.
With a few laps to go and with Foggia pulling away, Sasaki and Riccardo Rossi battled it out for second place which went on right until the final corner on the last lap as Rossi made a last effort move up the inside on his Japanese rival, but had to settle for third after running wide.
But out front there was no stopping Foggia, his win putting on stamp on what was a strong performance at Buriram, winning the race by over 1.5s from second placed Sasaki.
A tense fight for fourth place ended with Nepa taking the position at the line, ahead of championship leader Guevara who took a good haul of points despite a tough weekend.
Three rounds remain and there's 49 points separating the top two in the championship, but anything can happen as Moto3 heads to Australia in less than two weeks' time.
Image credit: Gold & Goose/Red Bull Content Pool