Rea (Kawasaki KRT) set the fastest time in superpole with a time of 1:30.947, followed by Razgatlioglu (Pata Yamaha), and Rinaldi (Aruba.it Ducati) in second and third respectively.
Conditions in Most were much cooler then previous rounds, with the threat of rain hanging in the air.
Lights out for Race 1 and it's Toprak Razgatlioglu with the hole shot into Turn 1 followed closely by Rea and Bautista (Aruba.it Ducati). Locatelli (Pata Yamaha), was having all kinds of early issues, and ran straight off the track into Turn 1, narrowly avoiding colliding with the leading riders.
Next lap and positions were as follows: 1. Razgatlioglu 2. Rea 3. Bautista 4. Bassani (Motocorsa Ducati) 5. Redding (BMW Motorrad) 6. Locatelli 7. Rinaldi 8. Lowes (Kawasaki KRT) 9. Baz (Bonovo action BMW) 10. Gerloff (GRT Yamaha WorldSBK Team).
With 20 laps remaining, it was Bassani in 4th who set the new fastest lap of 1:32.303. Toprak, and Rea were pulling away from Bautista who was struggling to keep contact.
Next lap, and it was the turn of Toprak Razgatlioglu to set a new fastest lap. Rea was still all over the back of the reigning champion and looking for an early pass. Meanwhile Rinaldi had a terrible start from 3rd and now found himself in 7th.
With 17 laps of 22 left Rea makes his move, cutting  under Toprak to take over the lead. The Kawasaki was showing good acceleration out of the corners.
Next lap, and Toprak responded by out-braking Rea down the straight into Turn 1 to re-take the lead. The constant battling at the front had allowed Bautista to catch up, and there was now a three way battle for the lead. Toprak made a mistake and ran slightly wide, and Rea was quick enough to snap back and take back the lead.
With 14 laps to go, Rea held a gap of 0.2s to Toprak behind in P2. Further back Redding was having a great race, and was now up to 4th after getting past Bassani. Positions were as follows: 4. Redding 5. Bassani 6. Locatelli 7. Rinaldi.
Next lap, and Toprak again retook the lead into Turn 1, out-braking Rea. A few corners later, Rea responded by cutting under Toprak to take back the lead. All the while Bautista waited for his chance to strike back in 3rd. With light rain now falling around the track, riders were allowed to enter the pits to change their tyres.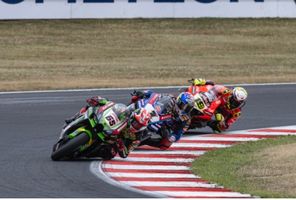 On lap 11 of 22, Bautista made his move, getting through on Toprak and then using the power of the Ducati to blast past Rea down the straight, moving from 3rd to 1st in a couple of corners. The Ducati, as it had all season, was again showing good late race pace. Redding and Bassani had caught the lead group, with five riders now vying for the race win.
With 10 laps to go, it was British rider, Redding who set the new fastest lap of 1:32.545. Further back it was: P7 Lowes, P8 Rinaldi, P9 Lecuona and P10 Gerloff.
With 9 laps to go, Toprak re-took Rea into Turn 1 to take over 2nd, while Rea was now in 3rd with Redding behind. Rea responded a few corners later taking Toprak. Next it was the turn of Redding to take Toprak into turn 20, moving into 3rd. Toprak was now in 4th, while Redding was having one of the best races of his season so far.
With 7 laps to go, Redding took Rea into turn 1. The gap to Bautista was now 0.6s and closing. The pace at the front was too high for Bassani, who had now lost contact with the group and was adrift in 5th.
Next lap and positions were as follows: P1 Bautista, P2 Redding, P3 Rea and P4 Toprak.
With 4 laps to go, Bautista looked to be controlling a gap of 0.7s to Redding in 2nd.
Next lap, and again Toprak takes Rea into turn 1 to take 3rd, while Rea was now in 4th. Meanwhile Bautista looked comfortable at the front, and had pulled the gap out to 0.9s. Redding had the bit between his teeth, but wasn't able to reduce the gap to the Spaniard.
Penultimate lap and 2nd and 3rd places were still very much up for grabs. Bautista, barring any incident, looked to have the win sewn up.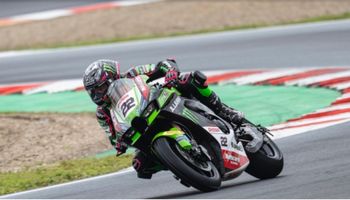 Last lap, and Bautista crossed the line to take Ducati's 1000th win in World Superbikes. Toprak made a lunge on Redding, cutting inside him and forcing him wide to take 2nd. Meanwhile Redding after going wide had to hold off Rea, which he did to take his first podium of the season. It was a disappointing result for Rea who took 4th. Bassani was 5th, 6th Locatelli, 7th Rinadi, 8th Lecuona (Honda HRC), 9th Lowes, 10th Gerloff.
Result top 5:
Bautista (Aruba.it Ducati)
Razgatlioglu (Pata Yamaha)
Redding (BMW Motorrad)
Rea (Kawasaki KRT)
Bassani (Motocorsa Ducati)
Championship top 3:
Bautista – 271
Rea – 242
Razgatlioglu- 223