Ott Tanak and his co-driver Martin Jarveoja have taken their second victory on the incredible roads in Finland. Here's the story of how it all came together for the young Estonian pairing.
Friday
With ten stages on day one and Ott Tänak opening the road, it would be interesting if his championship rivals could take advantage and get ahead of him on the leaderboard.  The start list looked like this – Tänak, Ogier, Neuville, Suninen, Meeke, Mikkelsen, Lappi, Latvala, Greensmith, Breen.
The first stage of the day, SS 2 – Oittila (19,34 km), and it was a stage victory for Jari-Matti, with Lappi and Meeke second and third fastest. Ott though was only nine tenths off his teammates pace and held the overall lead from his teammates. Ogier and Neuville held fifth and ninth at this point.
Into SS 3 – Moksi 1 (20,04 km) then and Kris set a great pace and, but you could argue Ott was even better with second fastest time, with Jari-Matti in third. In the Hyundai camp, Craig Breen, with Paul Nagle alongside him was going well and setting some great times and held sixth overall at the end of this stage, ahead of both Andreas and Thierry.
Jari-Matti won SS 4 – Urria 1 (12,28 km) from Craig, with Esapekka and Ott setting the same time to both go third fastest. Craig's pace allowed him to pass Seb, taking fifth overall at this point. The M-Sport duo of Teemu and Gus were down in eighth and tenth, with Thierry between them. Incredibly, Ott still held the lead.
SS 5 – Ässämäki 1 (12,33 km) saw Ott take stage victory, 1.1 seconds ahead of Craig, who increased the gap to Seb. Esapekka and Andreas were equal third fastest. Kris was now 4.2 seconds from his teammate in second place. Further back, Thierry passed Teemu, moving into eighth position.
The final stage before the service break, SS 6 – Äänekoski 1 (7,80 km) and Jari-Matti took it by just a tenth of a second from Craig, who was clearly getting very comfortable in his Hyundai. Latvala's pace lifted him above Kris, the Finn retaking second overall. It had been a good morning for Tommi's team, winning every stage so far.
After lunchtime service, there was a change in the lead, after Jari-Matti won SS 7 – Moksi 2 (20,04 km) with Esapekka and Kris just one tenth of a second slower. Ott emerged in second overall, now just four tenths off the lead. The gap between Craig and Seb reduced a little in their battle over fifth position.
Andreas won SS 8 – Urria 2 (12,28 km), breaking the stranglehold that Toyota had held on stage victories, with Esapekka and Jari-Matti second and third fastest. The outcome of all of this was Jari-Matti held the lead by just six tenths of a second from Esapekka, Ott and Kris who were all on the same overall time. Andreas' pace was enough to move him ahead of Seb and into sixth place. Incredibly, Craig was now just ten seconds from the lead, and feeling very comfortable.
Jari-Matti took SS 9 – Ässämäki 2 (12,33 km) from Esapekka, with Kris in third, and these were the top three as well. Craig lost a little time to Andreas, but still held fifth overall. Sadly, the two Fiesta's were in ninth and tenth place, and it was a surprise to see Teemu so far off the pace.
It was an incredible SS 10 – Äänekoski 2 (7,80 km), with Jari-Matti and Kris sharing the fastest time, plus Seb and Andreas equal second fastest, and this had the result of Kris moving ahead of Esapekka, pushing the Finn down to third overall.
The final stage of the day then, SS 11 – Harju 2 (2,31 km) and it was a second stage victory for the Hyundai Motorsport team, with Thierry winning the stage from Seb and Kris, who set the same time. The top four were separated by just 2.6 seconds. Just incredibly close!
STANDINGS AFTER DAY 1
Latvala / Anttila (Toyota Yaris WRC) 1:04:01.1
Meeke / Marshall (Toyota Yaris WRC) +1.2
Lappi / Ferm (Citroën C3 WRC) +2.4
Tänak / Järveoja (Toyota Yaris WRC) +2.6
Breen / Nagle (Hyundai i20 WRC) +14.2
Mikkelsen / Jaeger (Hyundai i20 WRC) +14.6
Ogier / Ingrassia (Citroën C3 WRC) +15.3
Neuville / Gilsoul (Hyundai i20 WRC) +30.9
Suninen / Lehtinen (Ford Fiesta WRC) +52.6
Greensmith / Edmondson (Ford Fiesta WRC) +1:38.3
Here's the thoughts of the drivers after day one.
Toyota Gazoo Racing WRT
Jari-Matti Latvala (1st)
"It's been a really good day. There were a couple of stages where the time was a little bit down, but generally I was able to have a strong performance. It has been so tight and the pressure has really been on, so it's pleasing to be able to keep up the speed and not make mistakes when you're trying to find the difference anywhere you can. Tomorrow I think the morning loop is going to be crucial because there are some new sections, and the profile of the road is generally a bit different: Wider with more crests and jumps."
Kris Meeke (2nd)
"It's been a good day I've really enjoyed it. In Finland it's so important to make a good start and get away with the lead group, and we were able to do that this morning. The stages and the pace-notes were new to me on the first pass, so I could be a lot calmer this afternoon with that knowledge. I think there was a bit more road cleaning on the second pass but I think we made the most of our position. It's so close between the top four, so it's going to be exciting to see how it develops tomorrow."
Ott Tänak (4th)
"Generally, I'm feeling pretty good at the end of the day. The conditions were challenging running first on the road, but in the morning, I had a good flow from the beginning, the car was working well and so I could focus on the driving. This afternoon the conditions were much tougher, and it was a bit frustrating as I was pushing hard and we lost a few places. But we are still very close, and tomorrow we should have a much better road position than we had today, so everything is to play for."
Citroën Total WRT
Esapekka Lappi (3rd)
"It's good to be back among the frontrunners and on the pace, especially at this rally, which means so much to us as Finns! My C3 WRC was perfect today and I really enjoyed driving on these stages. It's crazy that the gaps are so small after such a long day. It looks like it will be a huge battle at the front tomorrow, but you can count on us to keep fighting!"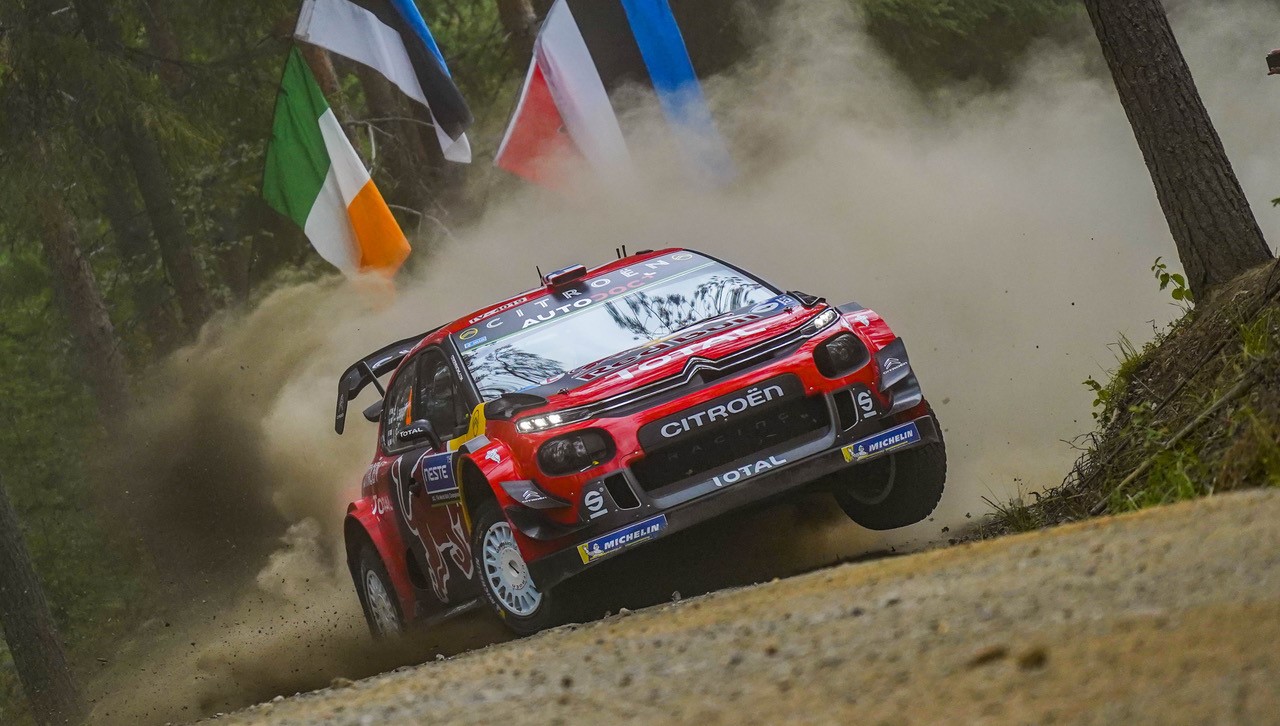 Sébastien Ogier (7th)
"I think we had a very good day. I was comfortable in the C3 WRC, but our position in the running order certainly didn't make our lives any easier. I would've loved to end this first day in a better position so we could start further down the running order tomorrow, but I will at least have more cars ahead of me than today. It's still very tight, so we have to keep pushing as hard as we can. We're still in the fight to score some big points."
Hyundai Motorsport
Craig Breen (5th)
"It has been an unbelievable day and it's gone better than I could have ever imagined. I have missed the feeling of being back in the WRC so I've felt on top of the world. I won't be completely happy until we're banging in the quickest times but I have picked up confidence in the car as the day has gone on, and that is half the battle. I have not been getting carried away; my goal is to support the team as best I can, taking no risks. The Hyundai i20 Coupe WRC is probably the finest car I've ever driven and to get the opportunity to drive on these Finnish roads is something very special. The times have been incredibly close; it's really testament to the quality of the WRC that one second in a stage can make such a big difference on timesheets. I can't wait for tomorrow."
Andreas Mikkelsen (6th)
"We've had a pretty good day and I'm happy with what we've achieved. The morning loop was clean and the times were incredibly close. I planned to ramp things up a bit in the afternoon, and we were able to take a stage win. The feeling inside the car has been really nice and it's been highly enjoyable to drive. We've struggled on these high-speed gravel stages before so it's nice to see our work taking steps in the right direction. I'd like to say thanks to everyone at Hyundai Motorsport who have worked so hard on the car for this event; there's been no summer vacation there to get a perfect job done."
Thierry Neuville (8th)
"We started the rally in a very positive frame of mind and with a stage win on Thursday evening. Unfortunately, we weren't able to replicate that during Friday's stages. The feeling with the car itself was not so bad and we kept pushing hard during the day but we should have been able to set faster stage times. We have tried a number of different things but something hasn't quite clicked yet. The rally is still long so we'll continue to give it everything we've got."
M-Sport WRT
Teemu Suninen (9th)
"It's really hard for a Finn when they're not fast in Finland, and it's been a really disappointing day for us. The driving feels good, but we are struggling to find the pace. In the past I have been beating Ogier and Tänak in the same car, so I know I can be fast here. But we are missing something this weekend, and need to do our homework and try to be faster."
Gus Greensmith (10th)
"I can't say today wasn't enjoyable – it was amazing – but the learning curve was as big as the jumps – massive! Obviously, we started off quite cautiously in the morning and the times weren't really where we wanted them to be. I managed to be there or thereabouts with my team-mate in the afternoon which was really good, but there seems to be a big gap to those further ahead. We'll try a few different things tomorrow, and I'm sure the time will come to us."
Saturday
Being the longest day, with eight stages totalling 133km. The startlist looked like this – Greensmith, Suninen, Neuville, Ogier, Mikkelsen, Breen, Tänak, Lappi, Meeke, Latvala. We found out that Seb had a bad night's sleep as well, after he'd been sick throughout the night. It would make his day interesting indeed.
Ott took the first stage, SS 12 – Pihlajakoski 1 (14,42 km) and jumped straight into the lead. Esapekka was second fastest and Jari-Matti third. Andreas was also on the move, passing Craig for fifth position. Further down the field, Kalle Rovanpera was driving his Skoda Fabia R5 out of his skin, posting an almost four seconds faster time than Gus Greensmith.
Into SS 13 – Päijälä 1 (22,87 km) and it was a 1-2-3 for Toyota with Kris leading Jari-Matti and Ott. Ott fell to second overall, although just two tenths of a second from new leader and teammate Jari-Matti. Also, on the move was Craig, who repassed Andreas in their battle over fifth place.
Into SS 14 – Kakaristo 1 (18,70 km) and Ott retook the lead. It wasn't a happy time though at Toyota, as Kris and Jari-Matti both damaged their cars. Kris was out for the day, after breaking his suspension, whilst Jari-Matti had a bit more luck only damaging a tyre. There were a few more changes on the leaderboard, with Esapekka, Andreas and Seb moving up ahead of Craig who was now in sixth place after the demise of Kris.
SS 15 – Leustu 1 (10,50 km) was won by Jari-Matti, beating Ott who continued to hold a strong 13 second lead over his remaining teammate. Esapekka had made third place his, and Seb closed a little on Andreas for fourth place.
Esapekka won SS 16 – Pihlajakoski 2 (14,42 km) and jumped ahead of Jari-Matti into second place. Seb backed up his younger teammate, going second fastest and passing Andreas as well and moving into fourth place. The gap between Andreas and Craig remained very small as well.
The status quo continued in SS 17 – Päijälä 2 (22,87 km), with Ott winning from Esapekka who increased the gap he had over Jari-Matti, whilst Craig edged closer to Andreas. Gus Greensmith was doing his best to learn the stages, but he was struggling out there, now over three and a half minutes off the lead.
SS 18 – Kakaristo 2 (18,70 km) saw Esapekka win, pipping Ott by just half a second, whilst Andreas moved ahead of Seb into fourth place, but only by four tenths of a second. Could Seb take back the position in the following stage? The two M-Sport Fiesta's were two minutes and four minutes off the lead sadly, just down to the fact that they were opening the road.
The final stage of the day then, SS 19 – Leustu 2 (10,50 km) and it was a stage win for Andreas, thus increasing the gap between him and Seb, who had driven well given his lack of sleep, whilst Ott was only one tenth slower, thus maintaining a sixteen second lead over Esapekka.
STANDINGS AFTER DAY 2
Tänak / Järveoja (Toyota Yaris WRC) 2:08:49.4
Lappi / Ferm (Citroën C3 WRC) +16.4
Latvala / Anttila (Toyota Yaris WRC) +28.8
Mikkelsen / Jaeger (Hyundai i20 WRC) +50.5
Ogier / Ingrassia (Citroën C3 WRC) +53.1
Breen / Nagle (Hyundai i20 WRC) +59.1
Neuville / Gilsoul (Hyundai i20 WRC) +1:19.3
Suninen / Lehtinen (Ford Fiesta WRC) +2:05.3
Greensmith / Edmondson (Ford Fiesta WRC) +4:09.7
Here's the thoughts of the drivers then after day two.
Toyota Gazoo Racing WRT
Ott Tänak (1st)
"It's been a really good day. This morning it was really intense as everyone was pushing hard. It was good that we were able to build a bit of a gap to Esapekka [Lappi], as this afternoon he did a very good job, and we had to follow his pace. At the same time, I felt really comfortable in the car and it was working very well. In the very rough places, I was a bit more careful, but in the smooth and fast sections I really enjoyed it and we had a good rhythm. I think our advantage is good but there is still some way to go so there is still a lot of focus needed."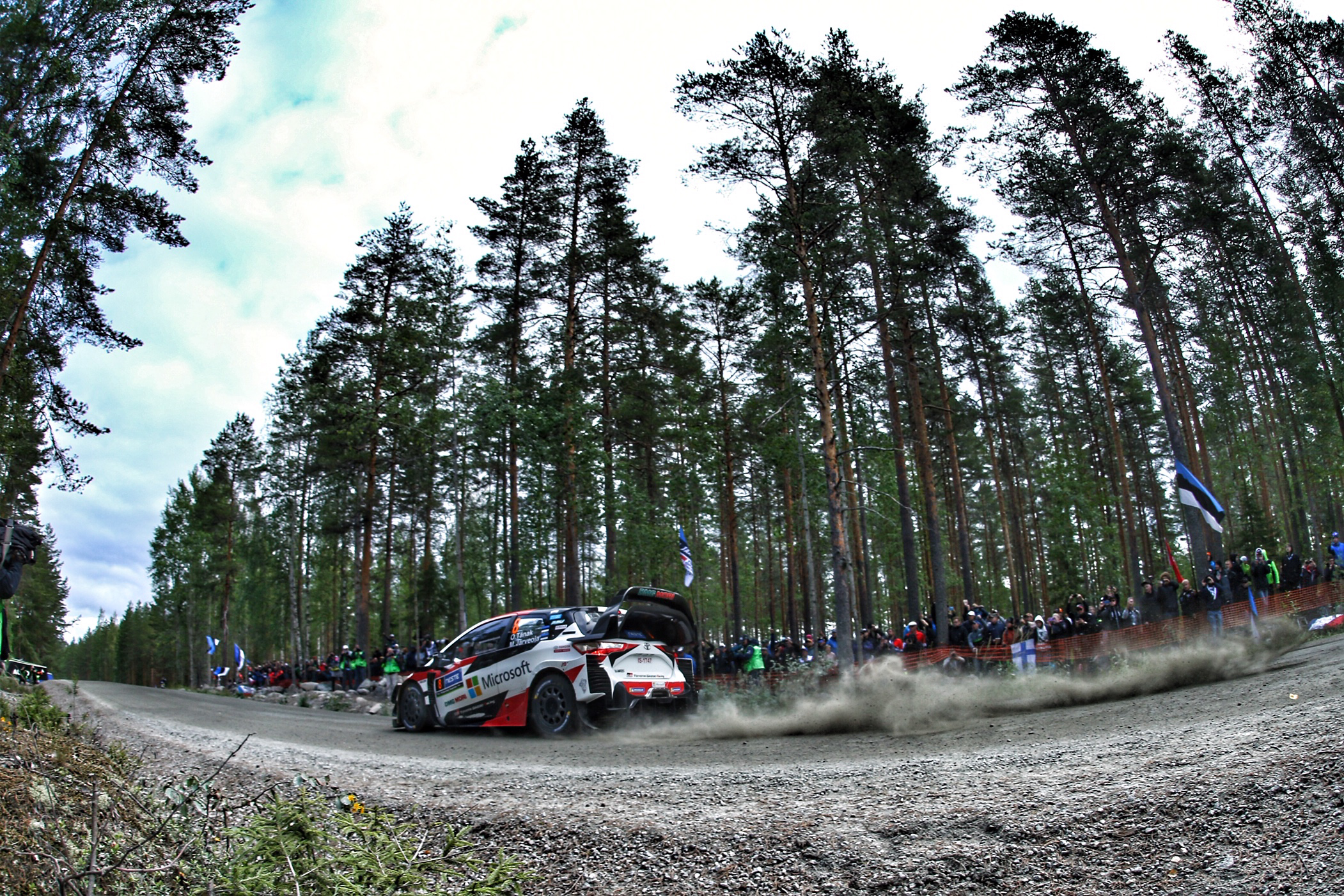 Jari-Matti Latvala (3rd)
"We had a fantastic morning speed-wise, fighting for the lead with our team-mates, and I had a really good feeling with the car. But in Kakaristo I was too fast in a right-hander, ran wide into a ditch and hit a big rock. In the afternoon, I knew that I couldn't afford to make any more mistakes so I tried to find a comfortable speed where I would be avoiding risks. At the same time Esapekka was able to raise his pace, so I couldn't match that. I'm a bit disappointed that I couldn't find the right rhythm, but to get the points is the most important thing: To be on the podium tomorrow would be a really important result for myself, but also for the team."
Kris Meeke (Retired/Rally2)
"It had been an incredible fight from the beginning of the rally, and I was enjoying it again this morning: I was in a good rhythm and the car felt phenomenal. In Kakaristo, we came to a fast, fifth-gear right-hand corner, and I just dropped a wheel off the camber on the outside. Normally that wouldn't be a big problem but there was a massive rock just sitting in the ditch, and I didn't know it was there, so it was a big surprise. I'm gutted: When the battle is so close like that, and everyone's trying to do their best for the team, it's very disappointing to have to stop."
Citroën Total WRT
Esapekka Lappi (2nd)
"Obviously, it's been a very positive day for us! After what happened in the morning loop, I was expecting to suffer on the second runs on these wide and fast stages, but I really went for it and it has worked out pretty well for me so far. We found the right balance to push without overdriving the stages or drifting outside of the lines. I'm going to continue at the same pace tomorrow and am absolutely determined to secure the result."
Sébastien Ogier (5th)
"I'm pleased that it's over because I was running really low on energy this afternoon. I can't wait to get to bed, to be honest. I had to really push myself all day so I'm glad to have made it through the leg without making any mistakes because it was sometimes very difficult to keep up the concentration. Tomorrow will be another day and I hope that I will be able to recover sufficiently tonight so that I can do myself justice and fight all the way to the finish."
Hyundai Motorsport
Andreas Mikkelsen (4th)
"It has been an epic fight, with positions changing hands back and forth throughout the day. I've enjoyed it, competing with everything we have on some truly beautiful stages. It's been really cool. The car has given me all the confidence I need on both loops. We made a few adjustments to our pace notes for the afternoon, specifically for the wider sections, and although it was rough at times we gave it our maximum. The second run through Kakaristo was just what we needed to keep hold of fourth place. Following that up with our second stage win of the weekend was perfect. A lot of fun!"
Craig Breen (6th)
"There were a few more struggles compared to yesterday, mainly on the narrower sections where I lacked confidence. I've never had such a stable car so it takes time to get used to committing fully. SS17 was a particular highlight today; there was not a millimetre left out on the stage and I think it was one of the best stages of my entire career. We didn't end the day so positively, unfortunately. We lowered the ride height of the car for the last stage but the conditions were rougher than we expected so we lost a bit of time. We are still in a close battle and there are plenty of positives from today."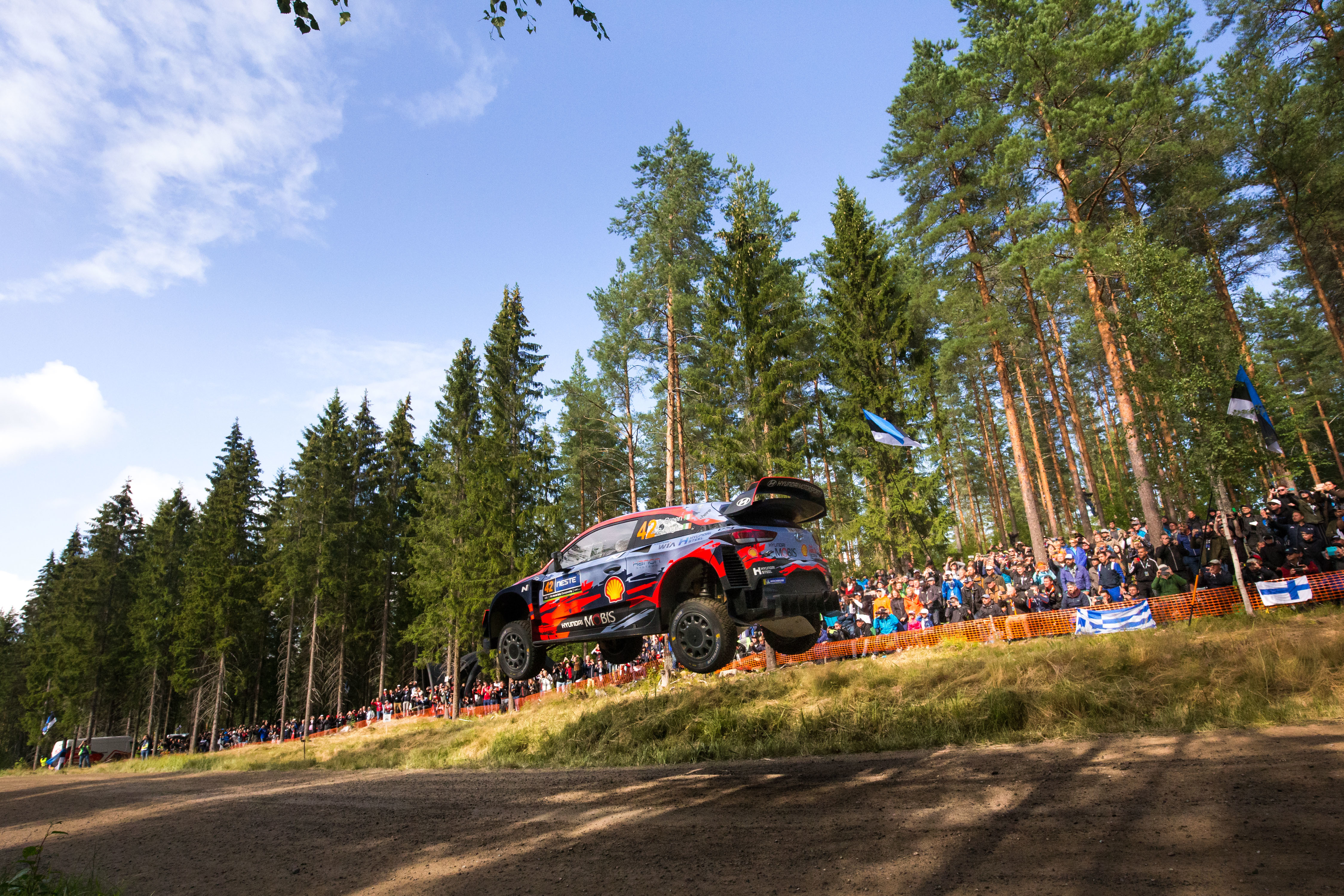 Thierry Neuville (7th)
"A much better feeling and a more positive day overall. Of course, the road cleaning has made life far from perfect but we're trying to enjoy ourselves and work within the confines of what is possible. We lost too much time yesterday but everyone is pushing really hard and we have to keep an eye on the championship, rather than a single stage result. I don't think we could have done much more today. The only slight disappointment was picking up a bit of rear damage late in the afternoon loop. Even if we're not in the position we would like to be, we have to accept where we can make a difference, and salvage what we can from the weekend."
M-Sport WRT
Teemu Suninen (8th)
"We went a bit softer with the car this morning to try and find some more traction, but it makes the car quite unpredictable. We went back to the base set-up for the afternoon, and that felt better. Now we need to get the confidence to drive on the limits and get the most out of the car."
Gus Greensmith (9th)
"It's been pretty tricky for us out there today. We tried some big set-up changes this morning, but it didn't work out. The car felt much better in the afternoon and I was really enjoying the driving, but we had to clear a line through the ruts left by the national crews. I know tomorrow's stages pretty well, so I think I'll give it bit of a push to see how good I am at cleaning the road – but not too much, because I promised Rich that I would bring the car back in one piece!"
Sunday
The final day beckoned, with four stages totalling 45km. The startlist looked like this – Meeke, Greensmith, Suninen, Neuville, Breen, Ogier, Mikkelsen, Latvala, Lappi, Tänak.
Ott picked up from where he left and won SS 20 – Laukaa 1 (11,75 km), with Seb, who was feeling much better, and Jari-Matti his closest challengers. Esapekka made it past through – last year this was the stage that saw him crash out. Kris restarted as well, setting the ninth fastest time. Ott now had a lead of twenty seconds over Esapekka.
Seb had problems in SS 21 – Ruuhimäki 1 (11,12 km), with something moving around in his footwell. Jari-Matti won the stage, going through seven tenths faster than Andreas who had really made fourth overall his own. Seb still managed to be third fastest in the stage, making us wonder how much faster he'd have been without his issues. Sadly, Gus retired from the rally on this stage.
Into SS 22 – Laukaa 2 (11,75 km), the penultimate stage, and Andreas was quickest, with Esapekka and Seb just a few tenths slower in second and third. The big news from this stage was that Craig had taken a twenty second penalty, thus allowing Thierry through into sixth place. Also, Kris broke his suspension, bringing his return to the action to a premature end.
The final stage then, SS 23 – Ruuhimäki 2 Power Stage (11,12 km) and you'd have forgiven the leader if he'd taken it easy. However, he flew through the stage and was almost seven tenths faster than Thierry, with Andreas, Seb and Jari-Matti finishing off the fastest five, and thus taking the powerstage points.
FINAL STANDINGS
Tänak / Järveoja (Toyota Yaris WRC) 2:30.40.3
Lappi / Ferm (Citroën C3 WRC) +25.6
Latvala / Anttila (Toyota Yaris WRC) +33.2
Mikkelsen / Jaeger (Hyundai i20 WRC) +53.4
Ogier / Ingrassia (Citroën C3 WRC) +56.1
Neuville / Gilsoul (Hyundai i20 WRC) +1:32.4
Breen / Nagle (Hyundai i20 WRC) +1:38.2
Suninen / Salminen (Ford Fiesta WRC) +2:33.8
Let's hear then from the drivers!
Toyota Gazoo Racing WRT
Ott Tänak (1st)
"It feels really good to get this victory. It was very important to get a good result here to help us in both championships. I would say that this is a perfect result to begin the second part of the season. I think it's a great boost for the whole team and now we need to keep pushing. I focused on having a clean run through the first three stages today, and then on the Power Stage I pushed. I tried to have a fast and clean run with no mistakes, and we were able to get the maximum points. Now we need to continue in the same way, starting with Germany."
Jari-Matti Latvala (3rd)
"I'm really really Happy to be back on the podium here on Rally Finland. It has been almost nine months since I last had a podium, a really really long time. I think the opportunity was there to go for second place, but this time I think it was better not to take the risk. We really needed the points for the future, not just for myself but also for the team. Today I was more relaxed than yesterday afternoon and the performance was good. This result gives us more confidence to keep fighting for more podiums in the upcoming rallies."
Kris Meeke (DNF)
"Restarting today, we didn't have much to fight for with our road position, but I'm disappointed with myself for making a stupid error in the penultimate stage. On a long left-hander, I put car sideways and hesitated a little bit, and when I lifted off the throttle the car went more to the inside of the corner than I wanted it to. There was a big stone in the grass and we hit it. It's really not been the weekend that I wanted, so we need to pick ourselves up before Germany."
Citroën Total WRT
Esapekka Lappi (2nd)
"I'm very pleased for the team – they deserve this result for having been patient and supportive during the first part of the season, when things were difficult. We worked really hard – and well – together so that the C3 WRC suited my driving style more effectively, especially on the front diffs and I really felt full of confidence driving the car this weekend. I literally felt like I could do what I liked in it! From the first run in the shakedown, I knew that things were looking good. I now hope to keep up this level of performance for the rest of the season."
Sébastien Ogier (5th)
"It was a tough weekend for us. To be honest, I had higher expectations at the start. As always, I gave it absolutely everything. For sure, Saturday's leg – when I was really low on energy – didn't help matters, but even today, when I felt better, unfortunately I wasn't able to do more."
Hyundai Motorsport
Andreas Mikkelsen (4th)
"Fourth place, even if it wasn't quite a podium, means a huge amount to me. We have been involved in an incredibly close battle with Sébastien for much of the rally, and it has really come down every tenth of a second, fighting right to the very end. Thankfully, we had the speed and performance in the car, and the confidence in ourselves, to get the job done. It's been a tough rally in the past, so it's fantastic to have cracked the code this weekend. I have had a good feeling with the car all weekend and we've been able to set some competitive times. This is thanks to the efforts of the whole Hyundai Motorsport team over many months. We had some upgrades on the car for this rally, including some specifically to help my driving, which have worked wonders. I feel like my old self again!"
Thierry Neuville (6th)
"We gave it everything we had this weekend and it is important to focus on the positives. We were able to take away from really important points for both championships, including four from the Power Stage. We could not have done more. The car has shown an improvement in these fast gravel conditions, which is encouraging. We didn't have the best of tests ahead of this rally, and I struggled to find the right feeling on Friday, which really dictated our weekend. We keep our heads high and look forward to the next one.
Craig Breen (7th)
"This has been an amazing rally I have to say. To have the opportunity to return to this level of rallying has been very special and I am incredibly grateful to everyone who has made it possible. I have enjoyed myself immensely as part of the Hyundai Motorsport team, and I was immediately comfortable in the car. We knew the job we had to do this weekend, and I think we've achieved that; it's been a privilege to play our part in the team's championship efforts."
M-Sport WRT
Teemu Suninen (8th)
"It's always fun driving in Finland, but it's been frustrating to look at the times this weekend. We know that we have the pace, but this wasn't our weekend. We weren't able to challenge for the top positions, and have some homework to do before the next one".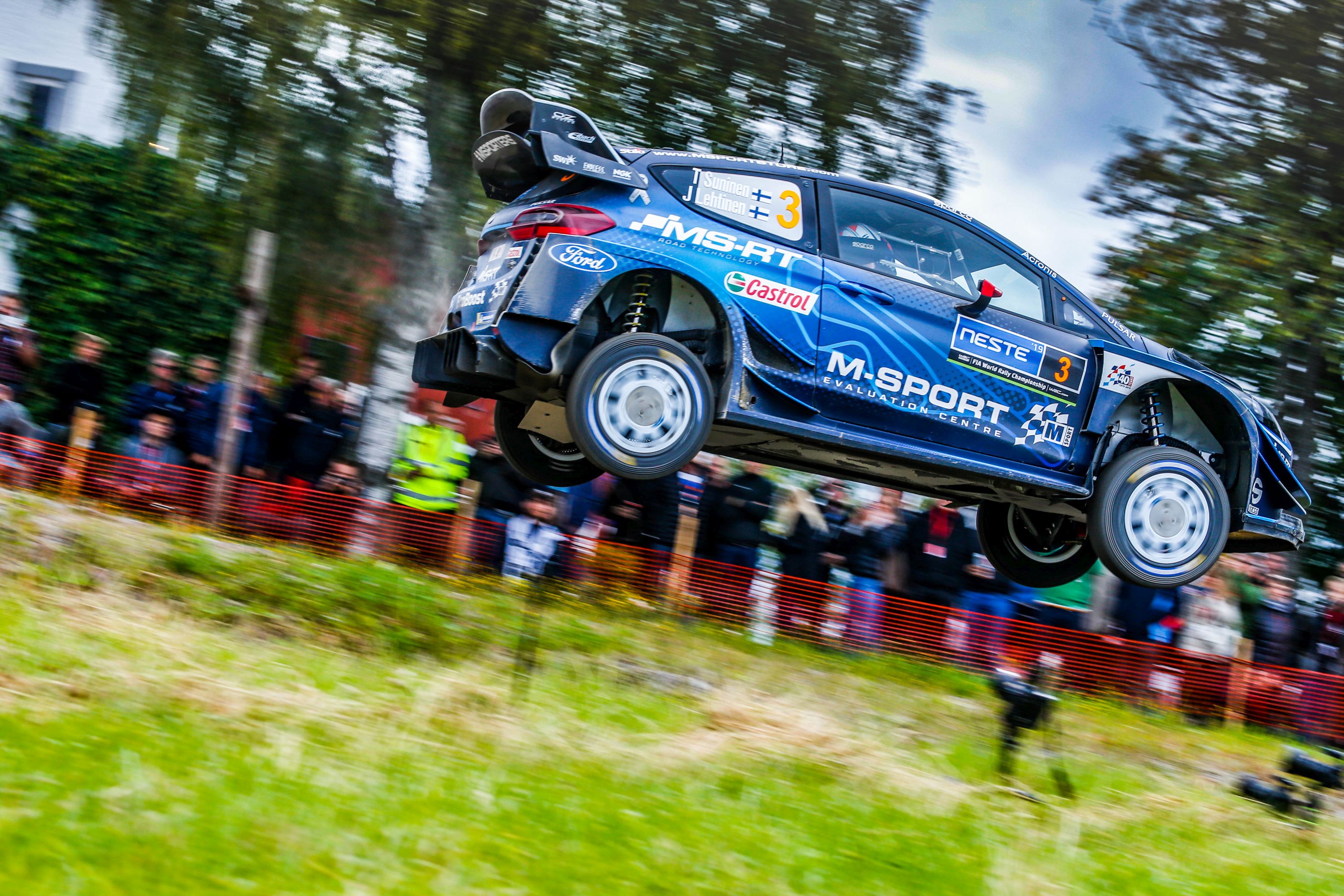 Gus Greensmith (DNF)
"I thought I heard a pacenote that I knew I didn't have in that stage [Ruuhimäki, SS21]. At that point I got distracted, tried to read the road, and then missed the braking for a sharp left. I tried to pull it round, but hit the tree and took the wheel off. It's disappointing, but Elliott [Edmondson, co-driver] and myself are both okay which is obviously the most important thing."
DRIVERS' WORLD CHAMPIONSHIP
Ott Tänak – 180 points
Sébastien Ogier – 158 points
Thierry Neuville – 155 points
Elfyn Evans – 78 points
Andreas Mikkelsen – 71 points
Teemu Suninen – 66 points
Kris Meeke – 60 points
Esapekka Lappi – 58 points
Jari-Matti Latvala – 56 points
Dani Sordo – 50 points
MANUFACTURERS' WORLD CHAMPIONSHIP
Hyundai WRT – 262 points
Toyota Gazoo Racing – 236 points
Citroën Total WRT – 198 points
M-Sport Ford WRT – 158 points
Summary
An incredible drive then from Ott Tänak and co-driver Martin Jarveoja, who had kept his timeloss throughout Friday's stages to a minimum, allowing him to get a great road position for the rest of the weekend. He didn't panic as well, when his teammates started to challenge him at the top. Once they fell from the front, he made the event his own. Jari-Matti Latvala got away lucky I feel, after hitting the same rock as Kris Meeke, but only suffering a puncture and damage to the bodywork at the rear, rather than suspension damage. The Toyota team were looking at a 1-2-3 until that point.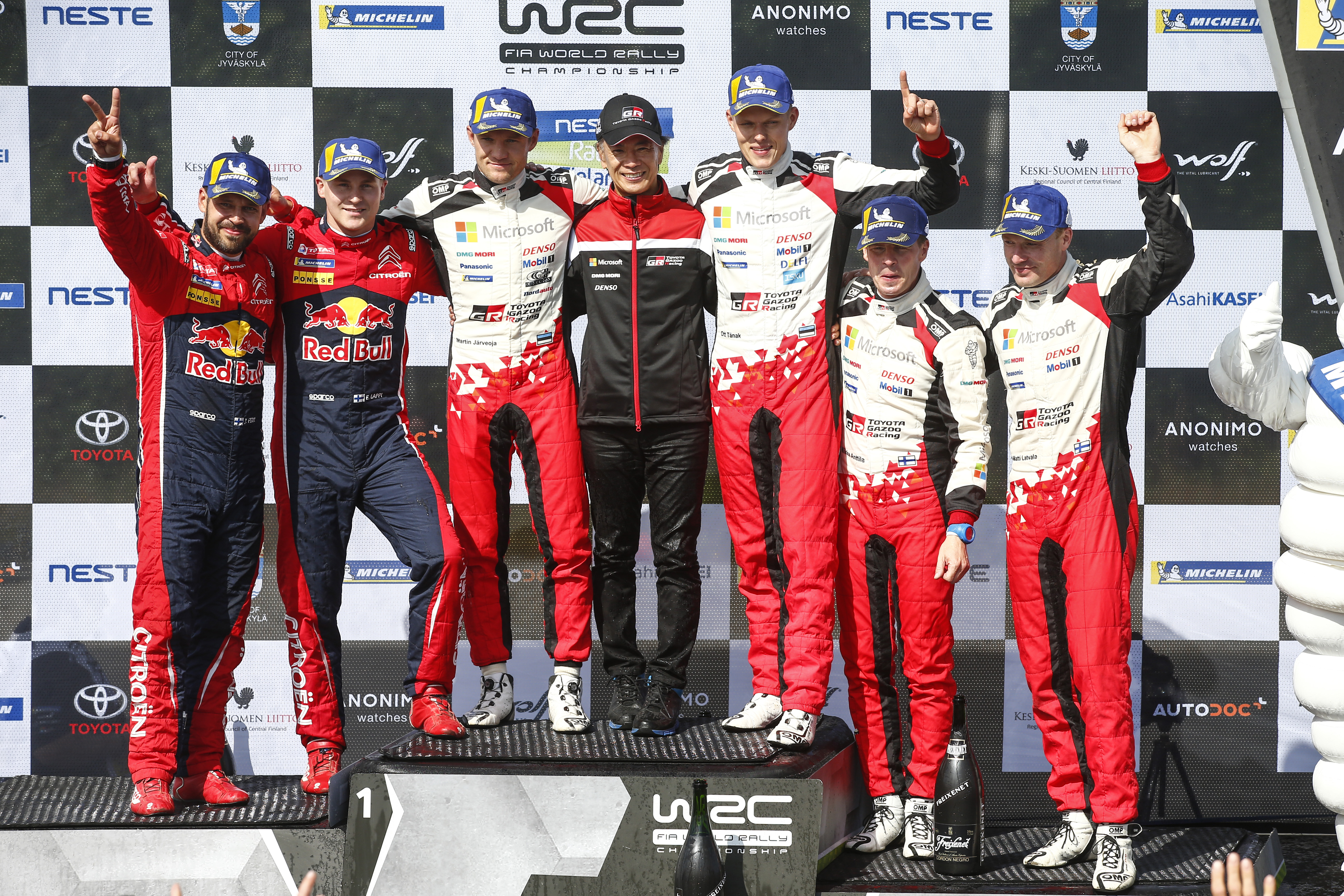 Whether they'd have got that is a moot point, as Esapekka had his best event of the year, looking like he and the Citroen team had got the car to a point where he could show his considerable skills. The young Finns teammate and current world champion Seb suffered throughout Saturday, but came through to bag some important points for the defence of his world title.
Hyundai had an interesting event, with the regular drivers being overshadowed by Craig Breen throughout Friday, and the Irishman having to take a time penalty on Sunday to allow Thierry through into sixth place. Andreas drove really well to get up to fourth though, but if Seb and Kris had not had their problems, it's fair to say would he have been behind them I suspect.
Finally, M-Sport didn't have a great event. Teemu just couldn't get on the pace, and after Hayden Paddon crashed during his test, they didn't really have anyone to lead the team. Of course, they were missing Elfyn and Scott (who are the team leaders at the moment) as he recovers from the back injury sustained at last months Rally Estonia. Gus Greensmith did his best, given the circumstances – He's still learning the way with the top spec WRC machine, plus had not competed in Finland before either – That's a steep learning curve!
The next event is Rally Germany. It runs from the 22nd to the 25th of August. Look out for my preview in the days before.