Qualifying
Qualifying was first up and Group A saw Nato, Fenestraz, Ticktum and Evans all through to the duels. The DS Penske duo of Vandoorne and Vergne both lost their lap times due to a technical infraction which dropped them to the back of the grid.
Gunther, Hughes, Mortara and Sette Camara all went through to the final from Group B. Fenestraz appeared victorious over Dan Ticktum for the first session of quarter finals, Nato beat Evans in the second quarter final, Hughes beat Mortara and Sette Camara beat Gunther in the 3rd and 4th quarter finals respectfully. However, Sette Camara got his best lap time deleted so Gunther took his place in the duel. Before their duel however, it was a nissan quarter final with Nato vs Fenestraz and Fenestraz won that battle. Hughes took victory over Gunther in the second semi final so it was Hughes against Fenestraz for the battle for pole.
It was a tight battle which saw Fenestraz snatch the position from Hughes after Hughes made an error. Fenestraz, however, used more power than he was meant to and got the pole snatched away!
Race:
The 29 lap race started by Hughes leading the race with Cassidy trying to make a lot of places up. Cassidy went up to P7 by the end of lap 1. Jake Hughes held the lead from the two Nissans and from Ticktum and Gunther in P5. Dennis managed to get Cassidy on lap 2. Rowland who started P13 is up to P7. By lap 3 rowland managed to make up to P6. A yellow flag then came out on lap 3 due to lotterer and retiring. Rowland took his first attack mode on lap 3. Evans and Gunther were battling on the final sector of lap 3 which Gunther managed to win. Nick Cassidy made a big move on lap 5 to make up 2 places at once. Cassidy made HUGE moves to go up to P2 after Hughes took attack mode! Hughes went down to P4 just ahead of Ticktum. Evans managed to make his way up to P5 after a lunge in the hairpin. Cassidy and Nato took their attack mode together which allowed Ticktum to make his way up to P1. ahead of Evans and Fenestraz. Fenestraz and Cassidy attack their way up the hull after turn 1 and Fenestraz manages to keep the position over the New Zealander.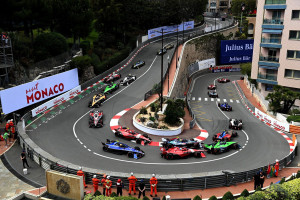 Lap 13 saw Cassidy lead the race from Evans and Fenestraz who are 2nd and 3rd. Lap 14 saw a titanic battle between Evans and Dennis coming out of the tunnel to battle for position. Gunther had a big moment in the swimming pool section of the track on lap 15but he managed to keep it goether. Evans took the lead of the race at the start of lap 16 . While ths was going on, Vergne and Vandoorne managed to make their way up to P13 and P14 after starting at the back of the grid. Bird and Nato collided after the tunnel and Da Costa suffered a puncture and fell to the back of the grid. Both Maseratis took attack mode on lap 17 and fell to P7 and P8 with Gunther leading the way. Cassidy managed to get the lead of the race on lap 18. Dennis tried to get ahead of Evans into the hairpin but he didn't manage to make it stick. Hughes and Ricktum Kept switching positions on lap 18 too with Ticktum taking the position. Fenestraz tried to get Dennis into the hairpin but didn't manage to get him. Ticktum tried to squeeze Vergne into the wall down into the hairpin but Vergne managed to make it out. Mortara appeared to lose his front wing. Ticktum had an issue after he collided with another driver. Nato had to slow down and Gunther stopped on track which resulted on a safety car on lap 22/29.
The safety car came in on lap 25 and Cassidy and Evans went battling for the win with Dennis not far behind. Bird went for attack mode but he managed to miss it! There was no added laps to the race. Muller collided with Bird on lap 28 which resulted in Muller stopping on lap and the safety car being deployed which ended this race. Nick Cassidy won the Monaco EPrix and takes the lead of the championship. Mitch Evans finished P2 and Jake Dennis finished P3. The front row finished P4 and P5 with Fenestraz finishing ahead of Hughes. Ticktum managed to hold onto P6 with Vergne going from p22 to P7. Buemi finished P8 with Vandoorne finishing P9 and Evan's teammate Sam Bird collecting the final point position. Sam Bird later received a penalty so Pascal Wehrlein picked up P10.
The concludes Formula E for 1 month where we head to Jakara for a double header!