Amid this series of articles on motorsport races that have firmly cemented themselves in history, it perhaps would be short-sighted to look solely at races that are considered legendary for the right reasons. When it comes to races that are considered legendary for the wrong reasons, there is arguably no better place to start, in recent memory at least, than with the 2005 United States Grand Prix.
The drama – or should that be farce? – began during Friday practice, when a tyre failure sent Toyota's Ralf Schumacher hurtling into the barriers at the banked final corner, the fastest part of the track.
Michelin – who provided tyres to Toyota as well as to McLaren, Williams, BAR, Red Bull, and Sauber – duly conducted an investigation into what had caused the failure. This investigation did not prove fruitful, and so Michelin could not guarantee that their tyres could safely complete the entire race without a similar incident happening again. Michelin boss Pierre Dupasquier even estimated that the tyres would last no more than ten laps, a not insignificant suggestion seeing as tyre changes during a race were banned in the regulations at this point in time.
A meeting was held on Saturday evening to decide what should be done to resolve the issue, with rumours swirling round that over the course of the past couple of years, multiple Michelin tyre failures had occurred that had been caused by the design and construction, but had been instead falsely blamed on 'outside factors'.
Almost every major player in the paddock was in attendance, including Bernie Ecclestone, two senior Michelin representatives, every team principal bar one, and Indianapolis' Circuit President, Tony George. Jean Todt, whose Ferrari team was supplied by Bridgestone, declined to attend.
In this meeting, the Michelin representatives suggested that a chicane should be installed at the final corner, to minimise the load placed on the tyres. Ecclestone paused the meeting and left to consult Jean Todt and FIA President Max Mosely, who was not at Indianapolis, and returned to say that Todt had refused to agree to the idea, putting him at odds with the other nine teams, who had all given their consent. What's more, Max Mosely had apparently implied that if a chicane was installed then the race would no longer be sanctioned by the FIA and thus would become non-championship.
The meeting adjourned with no resolution having been agreed upon and, in an official letter to Charlie Whiting, Pierre Dupasquier said that if the circuit remained unchanged then he could not permit the Michelin teams to race.
The FIA, though, doubted whether Dupasquier would follow through on his warning, and so, come Sunday morning, it was still not 100% clear whether or not the Michelin teams would take part in the race.
Michelin had flown in new tyres of a different specification from their headquarters in Clermont-Ferrand overnight, only to find that they had the same defects and issues as the original batch.
All 20 cars trundled round on the formation lap, with Toyota's Jarno Trulli having secured the team's first ever pole position. At the end of the lap, though, all fourteen Michelin-clad cars peeled off into the pits.
This resulted in the absurd sight of only Michael Schumacher and Rubens Barrichello of Ferrari, Narain Karthikeyan and Tiago Monteiro of Jordan, and Christijan Albers and Patrick Friesacher of Minardi lining up for the start of the race. If someone with no interest in or knowledge of the sport was shown a photo of the final grid without any context, they'd be forgiven for thinking someone had photoshopped the other fourteen cars out.
Angry and frustrated fans in the grandstands started booing, with some throwing plastic bottles onto the track to express their displeasure.
Once the race got underway, not much of note occurred, save for Albers and Karthikeyan switching positions a couple of times.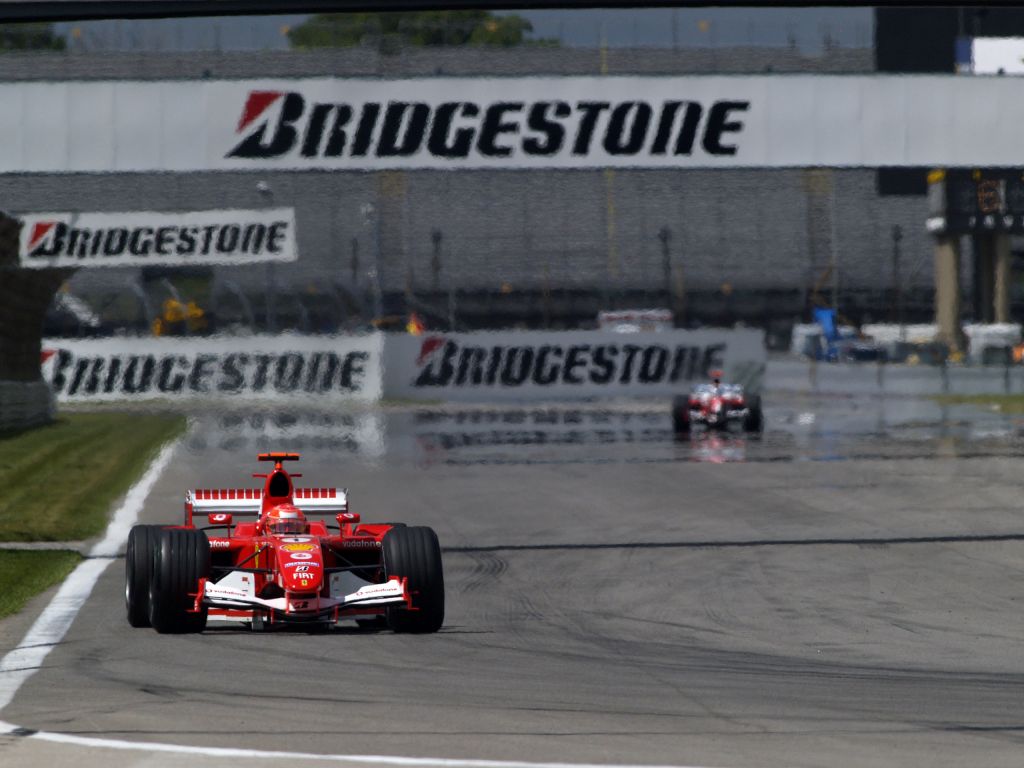 By lap 10, many fans started to leave the grandstands, and reports in some newspapers suggested that the police had had to be called in as crowds surged on Indianapolis' ticket offices, demanding refunds.
The race went on to be won by Schumahcer, with Barrichello in second and Monteiro in third, but the on-track results faded almost into insignificance.
As soon as the chequered flag fell, the blame game started. Because all 20 cars had taken part in the formation lap, F1 had technically fulfilled its contractual obligation to the Indianapolis circuit, but it was another matter entirely when it came to the fans.
Some argued that Max Mosely had failed to find a compromise that suited all those involved, and had shown a certain lack respect by not attending the race in person to sort the situation out. Furthermore, the FIA had not taken seriously the warning given by Dupasquier that his teams would not take part, essentially calling his bluff and leaving the door wide open for the ensuing debacle to take place.
Others directed their ire at Michelin for not bringing suitable tyres to the weekend with them and, in an attempt to pacify some of this anger, the manufacturer announced that they would give out refunds. They even offered to buy 20,000 tickets for the following year's race, which would then be handed out for free to any disgruntled fans willing to accept them. Dupasquier would go on to retire later on in 2005, the criticism he faced no doubt still ringing in his ears.
Perhaps the only upside of the whole affair was Tiago Monteiro's third-place finish. He became the first, and so far only, Portuguese driver to finish on the podium in a Grand Prix.
This small glimmer of salvation aside, the 2005 United States Grand Prix will rightfully go down in motorsport history as one of the most legendary races to have occurred. Its infamy, however, will always be rooted in farce, and the mere mention of its name will forever leave a bitter taste in the mouth.