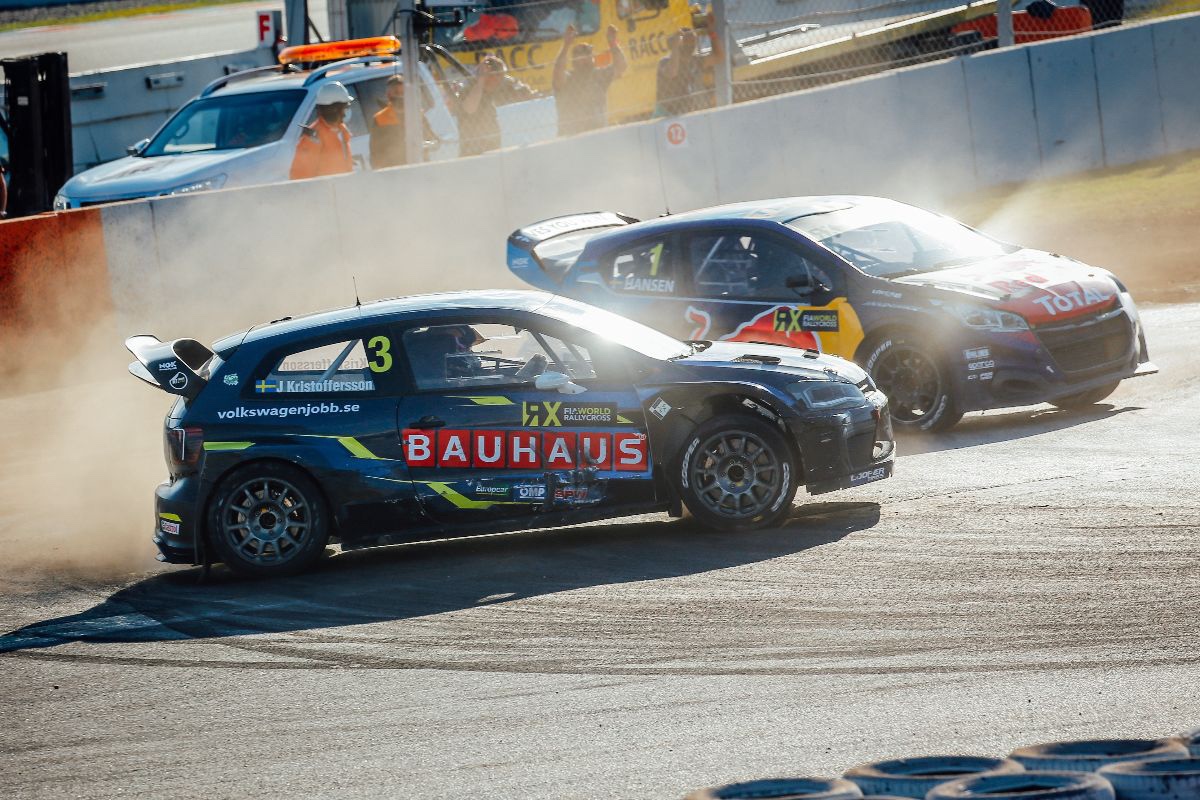 image courtesy of WRC
The Circuit de Barcelona-Catalunya plays host to the seventh and eighth rounds of the FIA World Rallycross Championship. This is the sixth event of the year to be held behind closed doors and only 295 event personnel have been permitted entry, if they produce a negative PCR test result before entering the venue.
Championship leader Johan Kristoffersson has taken three wins this year in rounds one, three and five and the double world champion is looking strong as he is currently 17 points ahead of his nearest rival, Mattias Ekström.
Ekström, the 2016 world champion, has won rounds two and six in this COVID impacted season and has only missed out on being in the final on one occasion. This has led KYB Team JC to first in the team's standings going into this round. His performances have been supported by his teammate Robin Larsson, who achieved his first podium in the second round in Latvia. He currently sits fifth in the individual standings.
Niclas Gronhölm has achieved one win at his home event in Finland and this has helped him into third place in the standings. GRX Taneco also have Timur Timerzyarnov who came third in his one final appearance. They currently sit in third place behind Team Hansen in the team's championship standings.
Finishing in first and second place in the event here last year, Team Hansen will be hoping for a similar result this weekend. Current world champion Timmy Hansen sits in fourth place in the standings with two third places and a visit to the final in all but one round. Kevin Hansen lies in sixth place in the standings with his best result of the season coming in round six at Latvia with a third place.
Timo Scheider of ALL-INKL.COM Münnich Motorsport has had his best start to a World RX season by making it to three finals and sits in eighth place in the standings. Team owner René Münnich will not be contesting this round and hands over his car to Mandie August who is only the second ever female to start a World RX event.
Monster Energy GCK RX Cartel had a more successful weekend in Latvia by both drivers making it to the semi-finals. Norwegian Andreas Bakkerud has improved to seventh in the standings and Liam Doran sits in thirteenth place.
GCK Bilstein driver Anton Marklund has been suffering multiple technical difficulties but has worked through these to sit in tenth place.
GCK UNKORRUPTED have withdrawn from this event stating that their cars are not race ready and this was the safest decision for their drivers. This means that Guerlain Chicherit and Rokas Baciuška will not be participating in rounds seven and eight.
Joining the permanent competitors this weekend is Tamas Karai in the Audi S1 RX, who also competed in Finland finishing in thirteenth and sixteenth place in rounds three and four respectively. Oliver Bennett returns to World RX action in his Mini Cooper for the first time this year. Patrick Guillerme joins the event in his Hyundai i20 and Enzo Ide will be making his first start of the year in his Audi S1 RX.
The rallycross track is situated around turns 10 to 15 of the Formula 1 circuit and is 1135m long. 60% of the track is asphalt and the remaining 40% is gravel. The safety of the track has been improved this year by introducing a steel guard rail where the rallycross turn three, a long right hander, is replacing a previously used tyre wall.
The event starts a 1030 local time on Saturday and 0930 on Sunday and if the previous events are anything to go by, this will be a spectacular event to watch.