2018 – Race Report #08
Smidl and Stefanko battle it out in Austin
Prague, Czech Republic: Michal Smidl and Martin Stefanko went head-to-head in a nail-biting race at Circuit of The Americas. Smidl took his eighth win of the season, whilst Dolezal was best of the rest in third.
The two F1 esports finalists topped the timing sheets, with Smidl edging out Stefanko by four tenths. Dolezal and Polesny took the second row, whilst Blazek set a time fit for fifth. Honzik and Chlebec start sixth and seventh with Prochazka and Kostialik behind. Basko steps in for Zoubek and qualified in tenth, Sykora with his penalty and Lukas complete the order.
Round eight of the 2018 Mercedes-Benz Virtual GP Championship saw the racers take on the Circuit of The Americas (COTA) in Austin, Texas. Purpose-built for Formula One in 2012, the track has since hosted various series including the World Endurance Championship, American Le Mans and Australian V8 Supercars.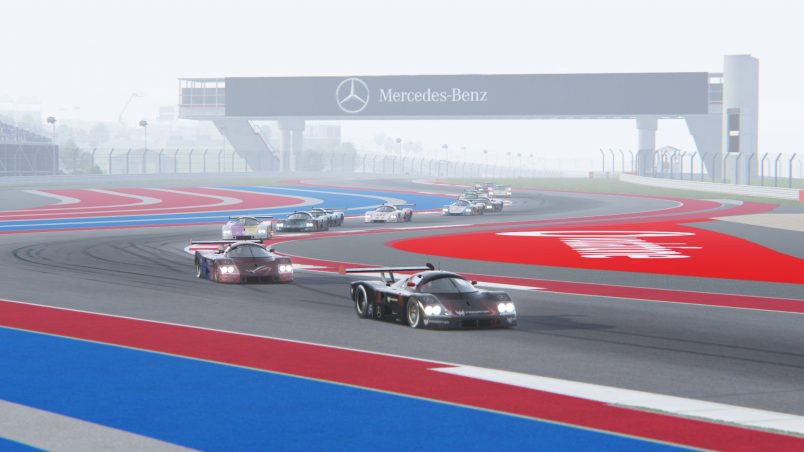 It was a clean start for the pack as the green light was shown, with Smidl maintaining the lead ahead of Stefanko. But despite starting the race in eleventh, Sykora had moved up to sixth by turn six.
Honzik was the first to start making moves, by late braking into turn twelve to bump passed Kostialik for seventh place. At the back of the pack, Basko ran wide at the same corner.
A few laps later, disaster struck for Polesny as the Predator pilot got into a spin and plummeted down the order into eleventh.
He wasn't the only driver to enter a spin as moments later the Vodafone of Prochazka was spotted losing the rear and spinning at turn 11.
Chlebec with the switch back takes Sykora at turn twelve but Sykora fights back and snatched the inside of turn 16 to take back sixth place.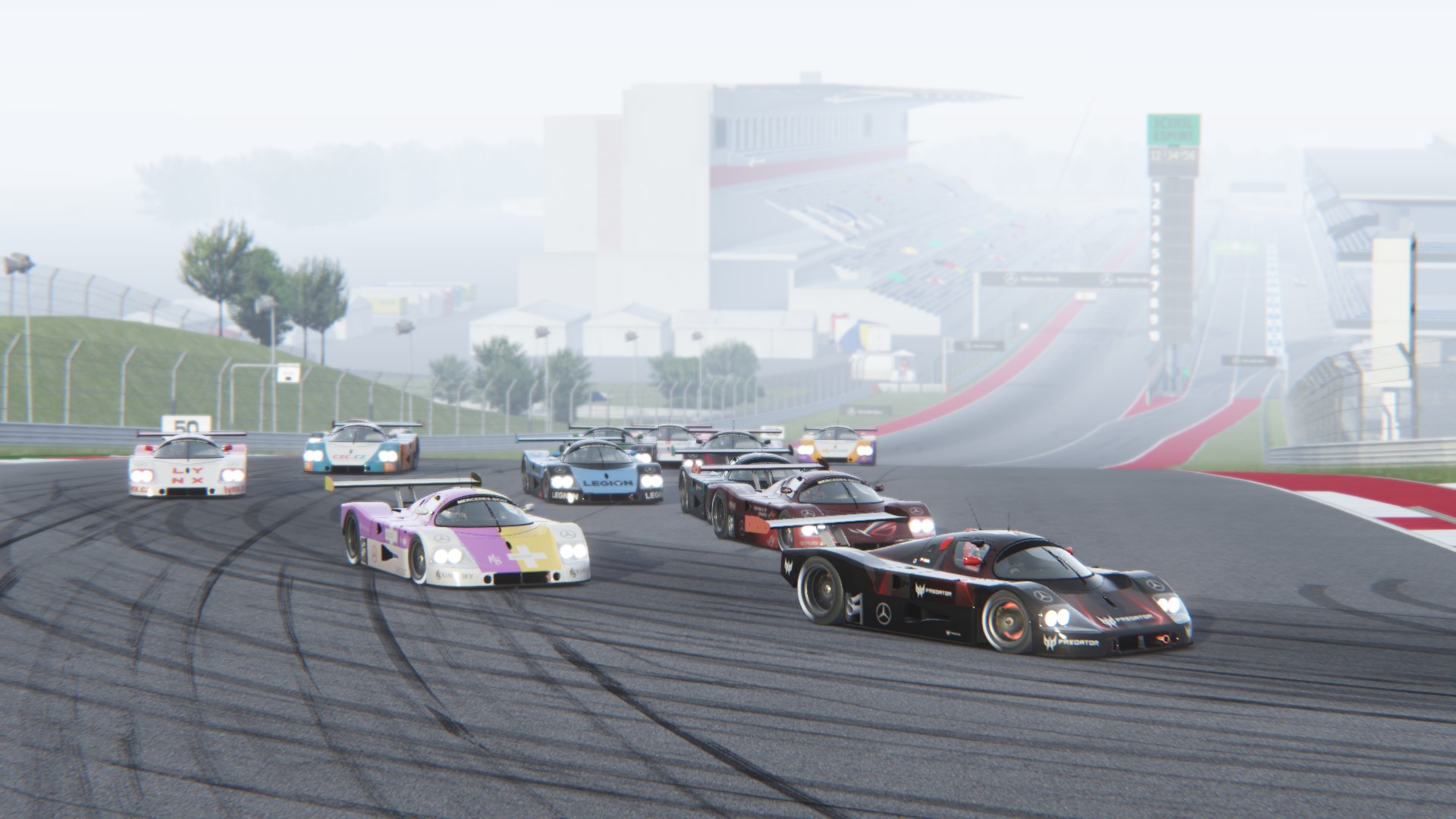 Meanwhile Stefanko had caught up to Smidl and the battle intensified for the lead. After multiple laps nose to tail, Stefanko finally dived to the inside of turn one, but the ROG pilot ran deep and locked up allowing Smidl to retain the lead.
Braking too late into turn 16 sent Honzik straight into Blazek, which ultimately then spun around the Lenovo Legion driver. However just a few corners later, the Thrustmaster pilot yielded back fourth position.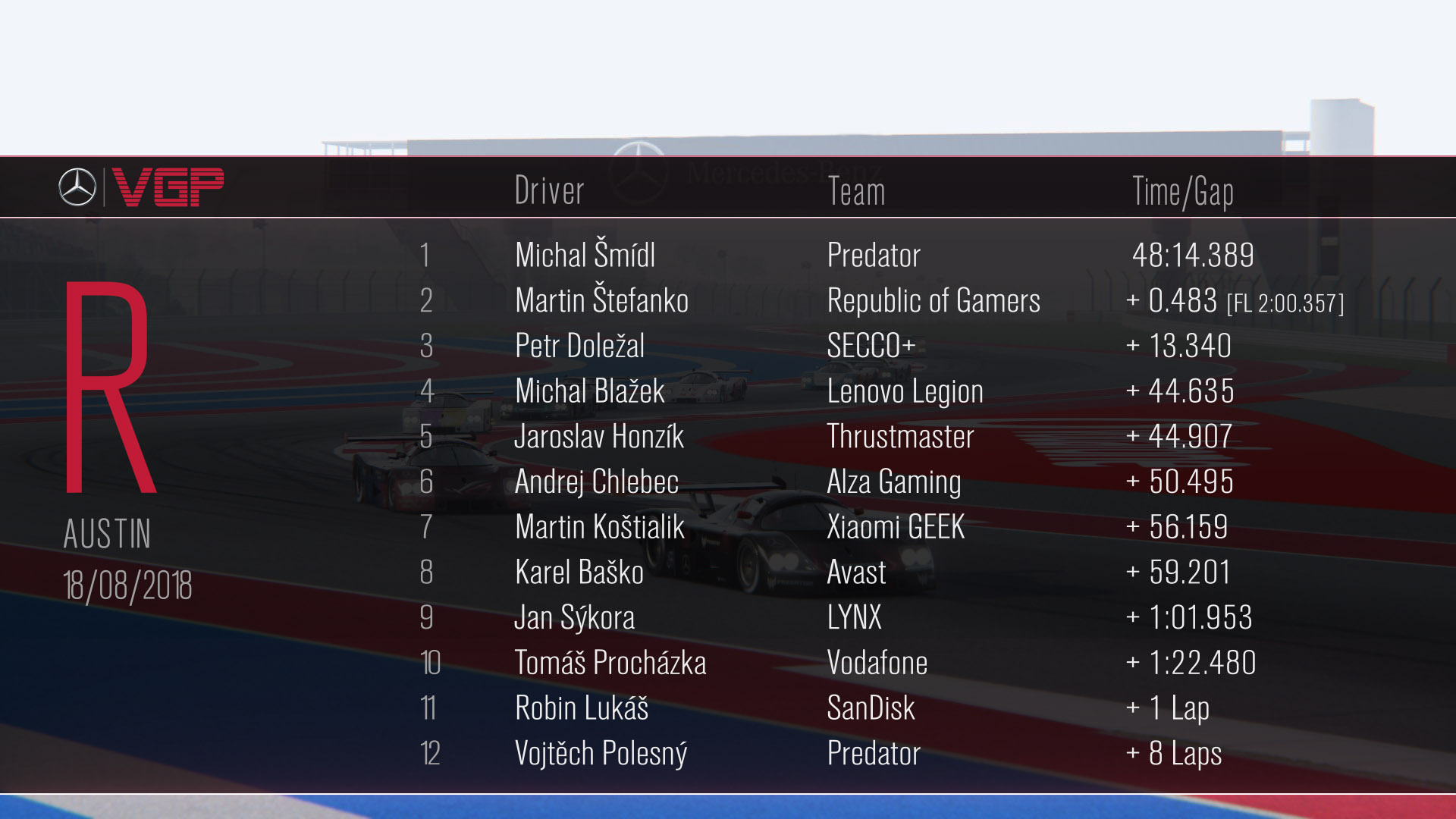 Mercedes-Benz Virtual GP
17.09.2018
Smidl took the race win despite race long pressure from Stefanko. Dolezal finished third in best of the rest. Blazek and Honzik went across the line in fourth and fifth place. Chlebec ended up in sixth. In seventh and eighth was Kostialik and Basko. Sykora and Prochazka completed the top ten, leaving Lukas out of the points. Polesny was the only retirement.
Vote for your driver of the day and to follow us on our social media platforms. Join us next time when the Mercedes-Benz Virtual GP championship goes back to single- seaters at Silverstone!
Race Replay (EN)